Disclosure of Material Connection: Some of the links in this post may be "affiliate links." This means if you click on the link and purchase an item, I will receive an affiliate commission. Disclosure in accordance with the Federal Trade Commission's 16 CFR, Part 255. This site is a participant in the Amazon Services LLC Associates Program, an affiliate advertising program designed to provide a means for sites to earn advertising fees by advertising and linking to Amazon.
Wicked Gifts For Super Villain Fans
Not everyone has a penchant for superheroes. And we totally get that. Rooting for the good guy (who almost always wins) can get kinda boring. Plus the baddies always have the coolest powers and aren't weighed down by a moral compass! If you have someone you're shopping for that loves the bad guys as much as we do, you're in luck! We've kidnapped and tortured the internet gremlins to hand over their most powerful gift ideas for our readers!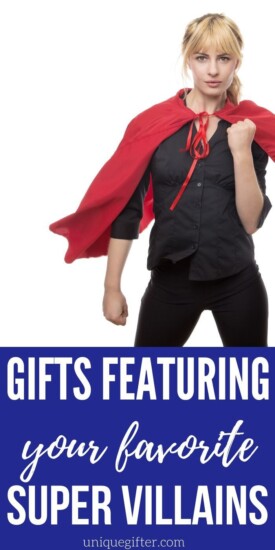 Gift Ideas For People Who Love The Bad Guys
Are you ready to be your villain's favorite anti-hero with these amazing gifts?
Minimalist Magneto Poster
Grab your fan this poster that shows off their mutant pride in a trendy minimalist fashion!
Joker HaHaHa Neon Sign
This LED powered neon sign is a must-have for any fan of the Joker. Seriously. They'll love this!
Loki Plush
Now your villain fan can own their very own God of Mischief! They also offer a variety of facial expressions to customize your gift!
Dr. Doom Mask
This mask is scaled to fit most adult heads and would make a great piece of decoration when your villain doesn't need their disguise!
Harvey Dent/Two Face Action Figure
You don't have to flip a coin to figure out that this action figure is the perfect gift for your supervillain fan!
Bane Cat
This cat is adorable and terrifying at the same time! You can merely adopt him for any Bane fan!
The Governor (Walking Dead) Teddy Bear
Buy your villain fan the cutest dystopian politician to ever exist! Looking at him you'd never know what he was capable of!
Most Wanted Avengers Villains T-Shirt
This officially licensed t-shirt has villainiest (if that's not a real word it is now!) villains from the Avengers comics!
The Shredder Shredder
If your fan loves puns as much as they love ninjas and bad guys, oh boy! This will make a great gift for them!
Ultron MK1 Mask
This mask is perfect for cosplay. Support your evil robot friend with this cool glow-in-the-dark face shield!
Dark Phoenix Dice Bag
If your supervillain fan is also a D&D enthusiast, this awesome bag is perfect for their away games, because let's face it, everyone loves Dark Phoenix. As long as it isn't the newest one.
Lex Luthor Funko Pop!
This exclusive Funko will soon be a rare commodity – much like Lex's hairline. Grab it while it's still there!
The Penguin Bust Piggy Bank
Be a gentleman (or woman) and grab your super villain fan an awesome piggy bank inspired by the most popular Batman rival!
Mystique Heat Changing Mug
This coffee mug morphs just like the beautiful villainess herself and would be a welcome gift to any super villain (or X-Men) fan!
Thanos Stone Bae T-Shirt
This t-shirt is a hilarious mashup of a once popular meme and Marvel's most popular villain at the moment! A must-have for any fan!
Retro VHS Negan Lamp
This lamp may be retro but your villain fan doesn't need to be to appreciate it!
Catwoman Figure
Not all black cats are bad luck, and your super villain fan will feel like the luckiest person on the planet with their very own Catwoman statue!
Harley Quinn LED Sign
This illuminated sign is as unique as the clown queen is! Perfect for a night light or just to make your super villain's nerd cave look badass!
Green Goblin – Goblin Bombs
A set of these awesome as heck goblin bombs will blow your fan's mind!
Negan's Lucille Prop
This is Lucille and she is awesome! She deserves a grand retirement on your villain fan's wall of fame!
Thanos Buddha Statue
Oh, snap! This hilarious Buddha statue is a must-have for everyone!
And there you have it! We traveled to the darkest corners of the comic book (and movie) universes! We hope you found the perfect gift for your super villain fan (and yourself)! If you grabbed something off this guide, hit us up on Twitter (@ugifter) or Instagram (@uniquegifter) and let us know what you got!