Disclosure of Material Connection: Some of the links in this post may be "affiliate links." This means if you click on the link and purchase an item, I will receive an affiliate commission. Disclosure in accordance with the Federal Trade Commission's 16 CFR, Part 255. This site is a participant in the Amazon Services LLC Associates Program, an affiliate advertising program designed to provide a means for sites to earn advertising fees by advertising and linking to Amazon.
I'm not going to lie here, I think Hello Kitty is absolutely adorable. Yes, I have two little girls who are into this cute character, but why should kids get all the fun? That's why we tracked down all of the best Hello Kitty gifts for adults from around the web. I just hope my kids don't steal them.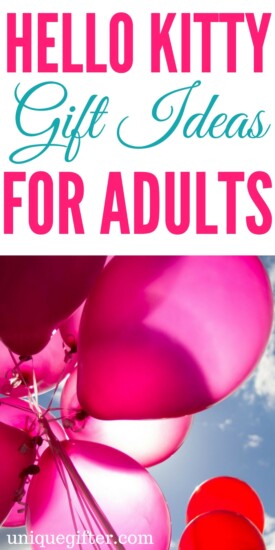 Hello Kitty
Nice to meet you!
Hello Kitty Coffee Mug
Nothing says "adult" like a daily cup of 'jo. Make it a little more cheerful by giving them this Hello Kitty coffee mug.
Hello Kitty Fruit Slicer
Now I know you're as surprised as I am that you can get literally everything in Hello Kitty which makes it all the more reason to give this slicer set as a gift.
Hello Kitty Duffle Bag
Overnights and small trips have never been cuter than with this Hello Kitty and friends duffle bag. It's well designed with some grown-up class, too.
Hello Kitty Coloring Book
Adult coloring books are a great way to relax and unwind after a long day. Hello Kitty coloring book is even better.
Hello Kitty Crystal Bracelet
Give some Hello Kitty bling with this gift. It's a crystal bangle, so cute!
Hello Kitty Bath Mat
Why not make the whole house Hello Kitty themed? This cushy mat is pink and has the famous face pressed into the memory foam.
Hello Kitty Planner
Make their days a little bit more cheerful by gifting this Hello Kitty pocket planner. They'll never miss an appointment again!
Hello Kitty Tote
A more stylish way for them to carry everything around or the perfect reusable bag for the grocery store.
Hello Kitty Pen Holder
How on earth are they going to organize all those stray pens and cords on their desk? Hello Kitty desk organizer to the rescue!
Hello Kitty Socks
Cute socks make a great gift because you can never go wrong. Everyone needs socks and everyone needs cute socks.
Hello Kitty Apron
Your gift recipient can get their baking on with this Hello Kitty apron. If they're a real foodie in the kitchen, we have more gift ideas for foodies!
Hello Kitty Baking Book
And if you're giving them an apron, why not add in this delicious and adorable cookbook?
Hello Kitty Wine Stopper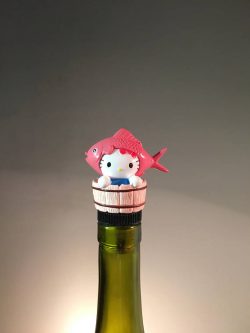 The cutest way to keep leftover wine fresh, this Hello Kitty wine stopper would be a perfect gift to add-in with a bottle of wine. If they really love wine, we have gift ideas for wine lovers too!
Hello Kitty Cosmetic Brushes
These pretty makeup brushes have everything they need in order to get ready for a night out. They also come in an adorable tin.
Hello Kitty Stained Glass Mirror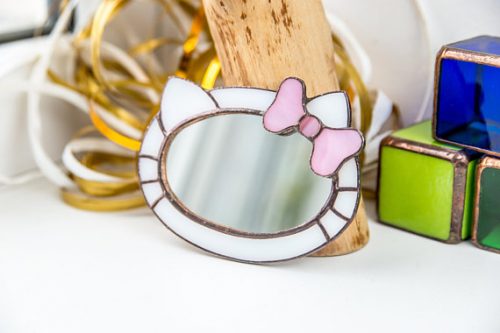 Something a little bit more sophisticated, this stained glass mirror will look perfect in their house while still having some Hello Kitty cuteness along with it.
Hello Kitty Sunglasses
Fun, fashionable Hello Kitty sunglasses in adult size. What more could you ask for?
Hello Kitty Adult Pjs
More things available in adult sizes, these pajamas a perfect gift for someone who loves Hello Kitty.
Hello Kitty Cutting Board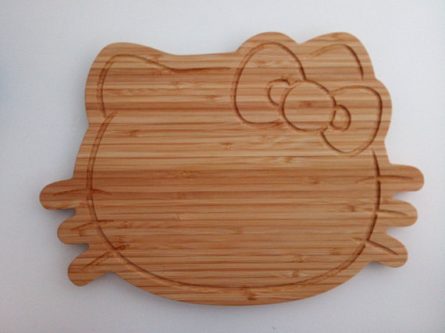 I'm a big fan of the cute yet subtle design of this cutting board. It's practical without being over the top pink.
Hello Kitty Toaster
This toaster imprints a Hello Kitty face onto each slice of toast.
Hello Kitty Cooler Bag
This lunch bag is perfect for taking to work or keeping your groceries cold. It has a more mature design to it for adults.
While you're shopping for Hello Kitty gifts for adults keep in mind these 3 important Hello Kitty facts: 1. Hello Kitty is 5 apples tall. 2. Her full name is Kitty White. 3. You didn't need to know either of those things and now you do.