Disclosure of Material Connection: Some of the links in this post may be "affiliate links." This means if you click on the link and purchase an item, I will receive an affiliate commission. Disclosure in accordance with the Federal Trade Commission's 16 CFR, Part 255. This site is a participant in the Amazon Services LLC Associates Program, an affiliate advertising program designed to provide a means for sites to earn advertising fees by advertising and linking to Amazon.
Nintendo. Everyone knows their name and there is a very big chance that you know someone that is bonkers over their games. This gaming giant has a plethora of assorted characters that they've introduced over the years that have won over the hearts of many people. These are our best gifts for the Nintendo fanatic to celebrate their passion with something original they'll love.
Best Gifts for the Nintendo Fanatic
With fans ranging from their first games back in the 80's to children that are just learning to love the colorful heroes that Nintendo creates, this list of gifts is sure to have something for everyone!
NES Controller Wall Art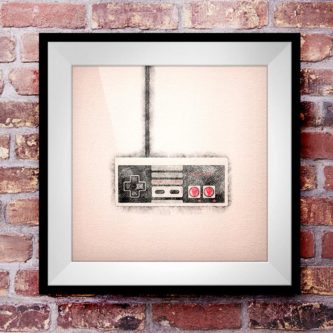 For that perfect mixture of art and nostalgia, this piece has a home on any veteran Nintendo fan's wall. Depicting a vintage NES controller, it's certain to be a winner!
Master Sword Replica
What Nintendo fan doesn't love the Zelda series? This officially licensed replica of the Master Sword is sure to excite any fan receiving it!

Just because you're a gamer, doesn't mean you don't have to worry about rings on your tables! These wooden coasters feature controllers from every Nintendo console!
Super Mario Uno
How do you make the sometimes infuriating game of Uno even more fun? A Mario themed version! Any fan would be overjoyed to have this in their arsenal!
Legend Of Zelda Chess Set
The classic game of Chess gets a Nintendo revamp with Hyrule's take on the board game! With this unique spin on the game pieces, there's no way your fan couldn't be happy with this!
NES Controller Coffee Table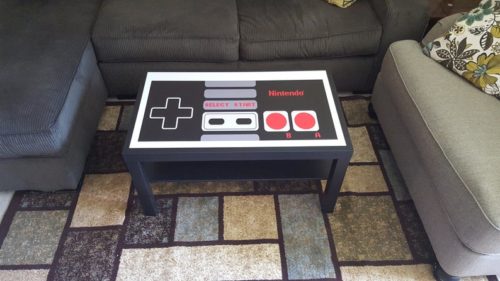 This handmade coffee table is quite a sight and would be welcome in any Nintendo lover's home. Fashioned to look like a giant NES controller, it's equal parts table and work of art!
Nintendo Cartridge Flask
Crafted to look like the classic NES Super Mario Bros cartridge, this flask would be cherished by most adult Nintendo fans. Don't expect us to provide the alcohol for it though!
Pikmin Decal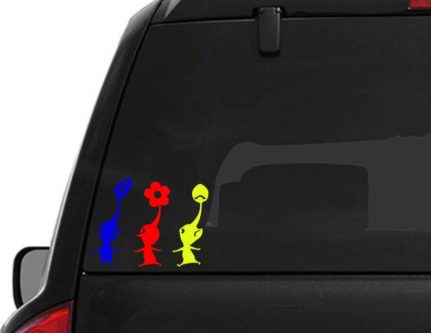 Though they don't have the clout that Mario has, Pikmin still has a massive fanbase and we're sure that you know someone that adores them. Help them show off their love for Pikmin with these car decals! Available in multiple colors and sizes!
Donkey Kong Coffee Mug
This mug is certain to drive Donkey Kong fans bananas! Designed to look like a barrel from the epic series, we don't think they will be using any other mug once you give them this one!
Bullet Bill Statue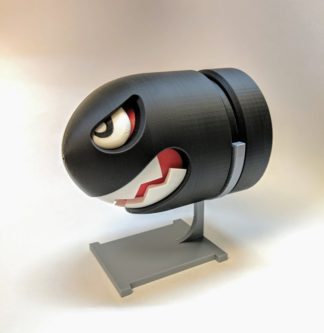 Bullet Bill. We all know him. Most of us probably hate him. Known for running into you at inopportune times as you rush through levels in Mario, you can now give him to your friends and loved ones for them to display proudly on their shelf!
Super Mario Bros Ice Cube Tray
What do you get the Nintendo fan that has everything? The ability to drink their favorite characters and designs? You can do that with this ice cube tray!
Chain Chomp Earrings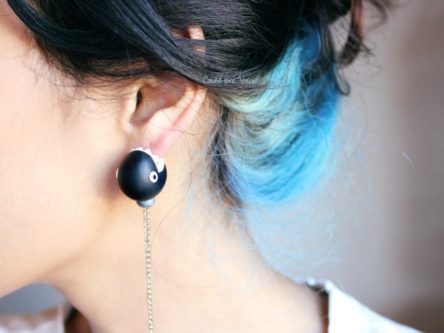 One of the most iconic characters from the Mario Bros games, chain chomp returns to chomp on players' ears! Sure to get a smile out of the recipient, these earrings are fantastic!
Mr. Resetti Plush
Known for annoying Animal Crossing players, you can give the gift of the constant reminder that Mr. Resetti is a thing! This plush may stand at 7 inches but we're sure it can make your Nintendo fan feel 2 inches tall!
Samus Aran Poster Print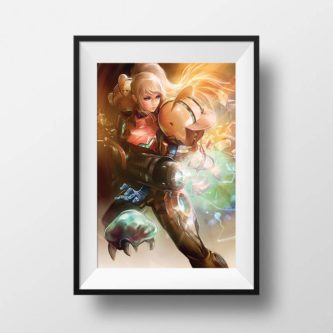 Samus is known far and wide because of the hugely popular Metroid series. Give your Nintendo fan this wonderful piece of art to add to their wall, showing her in a battle pose while wearing her Varia Suit!
Samus Helmet
Know anyone who wants to dress up like Samus? You can make that dream come true. This red resin helmet is bound to make any cosplaying Nintendo fan swoon!
Onett Little League T-Shirt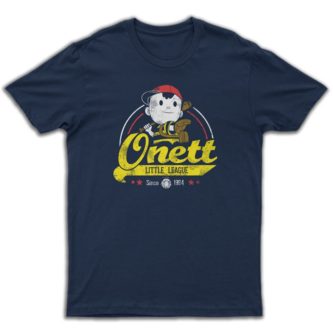 Whether he's smashing people off of a ledge in Smash Brothers or saving the world from alien invaders, Ness is a fan favorite. Any Nintendo fan would cherish this addition to their wardrobe showing off the boy hero!
Mario Kart RC Kart
Competition, thy name is Mario Kart. This is a video game series that can ruin a friendship. Why not strengthen one instead by giving someone the gift of a remote controlled Mario Kart? Red shell not included!
Super Smash Bros Sweatpants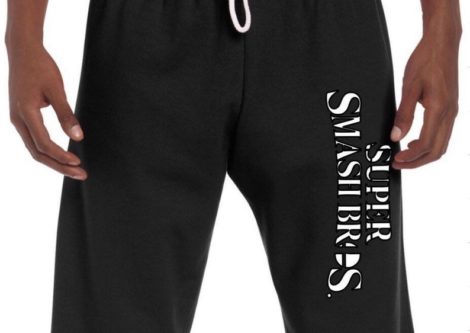 "Wanna Smash?" has a completely different meaning among Nintendo fans. Make sure your loved one is always ready for a brawl with these comfy sweatpants!
Bowser Plush
Love him or hate him, Bowser is an integral part of the Nintendo universe. Give the gift of over 20 years of rivalry with this adorable plush of the Koopa King!
Fox McCloud Action Figure
The Nintendo fan is certain to do a barrel roll with joy after receiving this action figure! Kids can enjoy playing with it while adults can put it on a shelf for their friends to be jealous of! They can play with it too. We won't tell!
Mewtwo Action Figure
One of the most popular pokemon besides Pikachu, Mewtwo is definitely one of the fans' favorites! Give the gift of this popular Pokemon with this Mewtwo action figure!
Duck Hunt 3D Shadow Box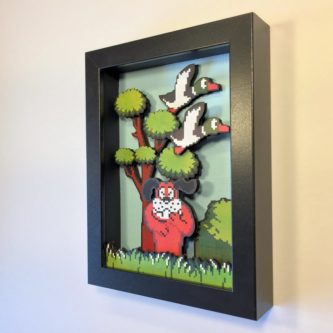 Remember that infuriating dog from Duck Hunt? So does the Nintendo fan in your life. Give them a constant reminder of their hunting failure in the form of this work of art. They'll be equal parts proud and annoyed every time they see it on their wall!
Legend Of Zelda Gold Cartridge Blanket
If they're a veteran gamer, there's a chance that they actually owned this game back in their childhood days! Give them the gift of nostalgia and warmth with this gold cartridge blanket!
Donkey Kong Tie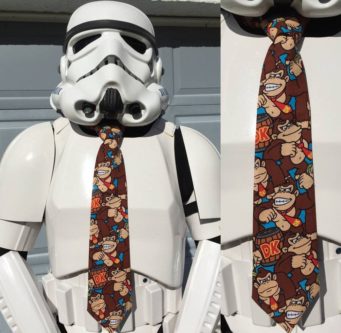 Know anyone who wants to dress up yet have that nerdy flair at the same time? We've got you. This Donkey Kong tie is the perfect wardrobe piece for the stylish Nintendo fan!
Question Block Money Box
Even though they're going to fill it with coins, let's hope that your loved one doesn't headbutt this block to get the change back out! It's a fun way to save money that even includes the iconic coin noise from the Mario series whenever you insert a coin!
Nintendo NES Key Holder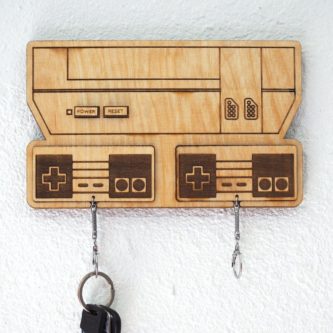 A unique take on key holders, this is a fine addition to any fan's wall! Handmade in the design of the original NES console, it's definitely an original piece!
Legend Of Zelda Ocarina
This ocarina is nearly an exact replica of the one from the Legend Of Zelda game "Ocarina Of Time". While we can't say that playing it has any effect on time, we can say that it would make a pretty awesome gift! It includes a songbook but we suggest you give it to someone that you don't live with so you're spared listening to them learn!
Nintendo Gamecube Lamp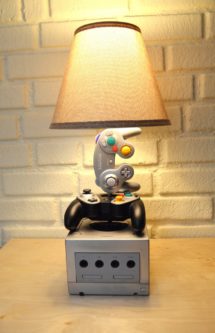 This lamp is quite a fantastic design! Sculpted to look like a Nintendo Gamecube, this is one lamp that's certain to light up any collection!
Super Mario Bros Doormat
Featuring the classic, albeit slightly infuriating, words "Sorry, but your princess is in another castle!", this doormat is a great gift for the Nintendo fan. They'll be able to let anyone that visits their home know exactly where their loyalties lie!
Detective Pikachu Plush
We couldn't possibly make it through this list without mentioning the one and only Pikachu! This is hands down the most popular Pokemon and here he is in all of his glory in plush form and wearing his detective hat!
SNES Cufflinks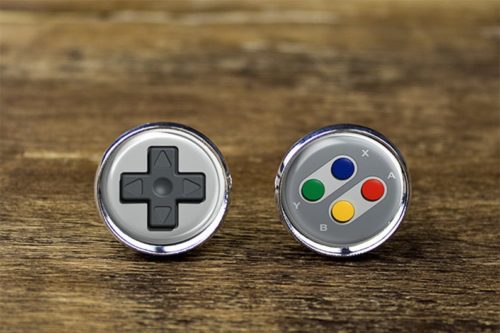 If they're looking for that nerdy yet formal look, look no further! These SNES cufflinks will complete any formal outfit but give it a subtle geeky flair that they're sure to love!
Kirby Hovering Helicopter Figure
Everyone loves Kirby! Let this little guy hover around your friend's household and they'll be sure to spread happiness wherever they roam!
Gameboy Pint Glass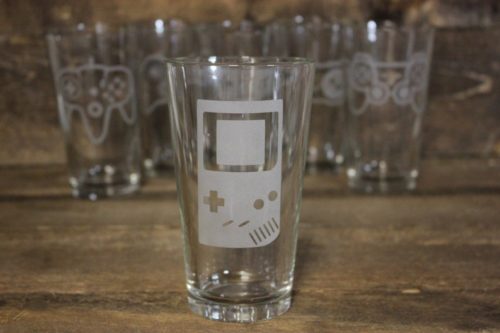 You get thirsty after a gaming session. What better way for your friend or family member to quench their thirst than with this retro Gameboy glass? Other retro console options included!
No matter how picky, how young or how hardcore the fan, we've got your perfect gift included in this list! We know how hard it is to find the perfect gift for that certain someone so feel free to share this list with other people who are also on the hunt! With 40 different gift ideas for Nintendo fans, there's no way they won't find one!