Disclosure of Material Connection: Some of the links in this post may be "affiliate links." This means if you click on the link and purchase an item, I will receive an affiliate commission. Disclosure in accordance with the Federal Trade Commission's 16 CFR, Part 255. This site is a participant in the Amazon Services LLC Associates Program, an affiliate advertising program designed to provide a means for sites to earn advertising fees by advertising and linking to Amazon.
Dallas fans know good football! Give them something to celebrate with, and draw some inspiration from some of the best Dallas Cowboys fan gift ideas we could find! These are unique, exciting and collectible pieces they can keep with them for a lifetime. Reconnect with your inner Cowboy fan by discovering something new, or find the perfect gif for the fan who has it all. These are some of the most eye catching gifts out there!
The Best Dallas Cowboys Fan Gift Ideas
Check out these awesome Dallas Cowboys fan gift ideas, you might just find something that catches your eye!
Dallas Cowboys Golf Towel
This thing is embroidered for maximum style! Hit the golf course with this eye catching and practical golf bag towel.
Dallas Cowboys Cooler
This soft sided cooler features the iconic Dallas cowboys colors and logo design. Keep your food and snacks cold for tailgate time!
Dallas Cowboys Playing Cards
This deck of cards is perfect for halftime, or holidays with the family! Break em' out to show your true fan loyalty, how well can you shuffle?
Cowboys Handmade Sign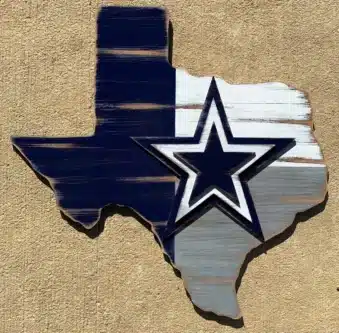 This handmade sign has a lot of personalized charm to it, definitely not something you can find in stores! It's shaped just like the state of Texas. It combines state pride and a love for the NFL franchise all in one package.
Dallas Cowboys Organizer
This handmade, Dallas Cowboys branded organizer is everything a man needs to stay in check. Never forget your watch, wallet or keys again with this ideal accessory storage solution!
Dallas Cowboys Vintage Sweatshirt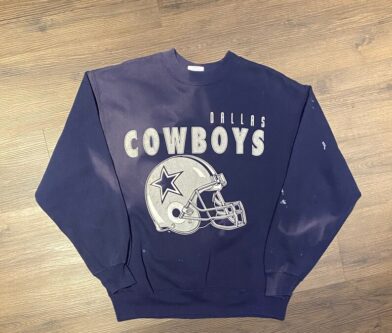 This sweatshirt is straight out of the 90's, and has all of the charm and vintage appeal to prove it! Kick it retro next time you hit the stadium to really turn some heads.
NFL Steering Wheel Cover
Keep things loyal in your ride, with this one of a kind Dallas Cowboys fan gift idea that's also quite practical! Get a grip on your wheel and don't forget who your favorite NFL franchise is this season!
Cowboys Ave Sign
This street-sign style piece of art décor is ideal for a fan cave! It makes a classy piece of décor you can be proud to display, even in the office or the garage!
NFL Cowboys Drink Coasters
These coasters help you celebrate the long lasting legacy of the Dallas Cowboys while keeping those pesky drink rings off of your tables! They're cork on steel, and feature and awesome cutout of the iconic Dallas logo design.
Replica Cowboys Superbowl Rings
These superbowl rings bring back quite a few memories! Cherish them as a collectible you can pass down to younger fans to get them excited for the upcoming season.
Cowboys Drinking Glass Set
Now this one really tugs on my heartstrings. It's a custom made Cowboys wooden box in vintage style, featuring two glass whiskey tumblers, and whiskey stones! Perfect for your home office, or football basement bar!
Dallas Cowboys Cremation Urn
Not to bring down the mood, but we really don't pull any punches when it comes to unique gifts, here. This gift idea basically speaks for itself. One way you could put an interesting spin on this gift is to give it to your cowboy loving friend next time the team falls short of the superbowl. Have fun with the customization options here!
Cowboys Cupcake Toppers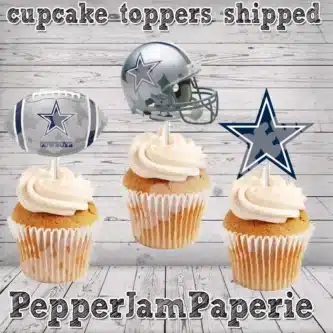 Perfect for the creative gifter, these cupcake toppers allow you to make a whole tray of goodness for your favorite fan! Use it for their party cakes, or as a gift basket item.
Rustic Dallas Cowboys Flag
This hand-made Dallas Cowboys style US flag emulates one of the most iconic national flags in history! Hang it in your game space for the perfect dose of patriotism and fan loyalty!
Dallas Cowboys Knife Set
These knives feature the Dallas Cowboys brand across the blade, making for the perfect game-night tailgate cooking accessory gift you can find!
Cowboys Baby Bib

Start them off young! This Dallas Cowboys baby bib is the perfect gift for any new parents that are fans!
Dallas Cowboys Flag Shorts
These swim trunks might just be the pinnacle of fashion… For a Dallas Cowboys fan gift idea!
NFL Hoodie Purse
Get her something practical she can wear to the stadium! This purse will hold all of her belongings safely, with all the style of a retro Cowboys athletic department hoodie!
NFL Adult Apron and Chef Hat
This is a Dallas Cowboys apron and… chef hat? Let dad sling burgers in style during halftime with this one of a kind piece of fan gear. Just think of all the Instagram likes…
Thanks for checking out our favorite Dallas Cowboys gift ideas! Let us know which ones scored a field goal for you! Otherwise, check out any number of our other gift guides dedicated to serving NFL fans with the freshest and most unique gifts out there. See ya' next time!