Disclosure of Material Connection: Some of the links in this post may be "affiliate links." This means if you click on the link and purchase an item, I will receive an affiliate commission. Disclosure in accordance with the Federal Trade Commission's 16 CFR, Part 255. This site is a participant in the Amazon Services LLC Associates Program, an affiliate advertising program designed to provide a means for sites to earn advertising fees by advertising and linking to Amazon.
Monsters Inc and Monsters University are films that are true works of art when it comes to animated films. Perfect for all ages (I actually just watched Monsters University last night!) with plenty of memorable characters, it has no shortage of fans when it comes to Disney movies. It's sure going to take a lot of thought when it comes to finding a wonderful gift for that certain someone, huh?
The Business Of Finding The Perfect Monsters Inc Gifts
Much like what the wonderful workers at Monsters Inc do, finding that perfect present is hard work. Luckily, I'm here to make that job much easier on you when you're coming up on that birthday or holiday. I've scoured the internet to find some of the greatest gifts that you're going to find for a fan of the franchise, so relax and check out these 20 monumental Monsters Inc gifts!
Monsters Inc/Monsters University (Blu-Ray)
I'm pretty sure the fan in your life has seen the movie (likely several times if they're anything like me) but do they own it on Blu-Ray? Get to it!
Monsters Inc Collectible Figurines
How can you not dig these wonderful collectibles? They double as cake toppers and this set even includes Roz!
Sulley Plush
Sulley is undoubtedly one of the most beloved characters when it comes to these films and with how big and furry he is, how could you not want one of these plushes laying around?
Mike Wazowski Voice Changer
Does your fan want to change their voice? Maybe make it a bit more high-pitched and like a certain cyclopean short stack? You've got them covered with this guy here.
Sulley Headband
Fans of all ages should be able to appreciate this nifty headband. Whether you're sending a child out in style or have a goofball adult, they're sure to love this one!
Sulley T-Shirt
Everyone's favorite monster flashing those pearly whites? Sign me and every other fan in the world up for this one.
Sulley Mask
A younger and wilder Sulley! This mask from Monsters University would look great in a collection or for those times when you've just gotta sit around watching TV and looking like a furry blue monster.
Sulley Pajamas
But what about the times when that special someone wants to be dressed like a big flurry blue monster? I've thought of that too! Check out these pajamas.
Mike Wazowski Christmas Ornament
Even Christmas trees aren't safe from Wazowski. Your friend or family member can't help but smile when they see the little goof grinning back at them from their tree.
Mike Wazowski Keychain
What a cute little keychain! It's only fitting that someone with such a massive eye would have a flashlight on their keychain to see better, right?
Mike Wazowski Airpods Case
Your gift recipient can even carry their Airpods around while showing off their favorite cartoon films! These carrying cases are quality-made and extremely rad.
Randall Wall Decal
Say what you will about Randall but he is a very unique villain. Who wouldn't be scared of a monster that can camouflage himself like that? Keep an eye on the decal, lest he disappears though.
Waternoose Plush
At first glance, you'd think a creature that looks like Waternoose is absolutely nightmare fuel. Well….I can't say that I disagree with that but with this plush, at least Waternoose is cute nightmare fuel, right?
Mike Wazowski Cookie Cutter
When you're making cookies for a party or maybe just in the mood to eat a bunch of tiny Mikes, these cookie cutters are it! With how much he jokes though, let's just hope that the cookies don't taste funny..
Monsters Inc Sulley Ear Hat
A pretty cool take on the normal Monsters Inc baseball hats, these custom made caps sport a set of pretty familiar furry ears.
Monsters University Patch
Has the fan in your life ever wanted their very own MU letterman's jacket? Well, even if you don't deliver the jacket, you can always deliver the patch for it with this awesome addition here!
Monsters Inc Minimalist Poster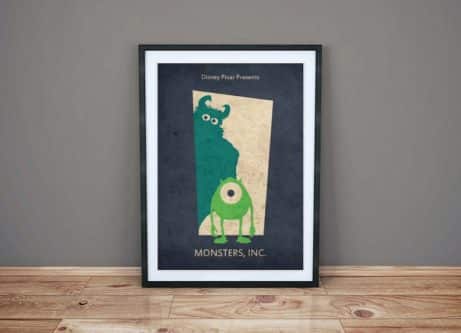 I've gotta admit, I think that I like this art style more than the official art from the movie posters themselves. I'm sure any fan is going to really dig this hanging on their wall.
Well, I can't say there have been as many laughs or screams as there are in the Monsters movies but I can say that your loved one is going to be as delighted with these gifts as they are with the films themselves. Did you find anything that they absolutely adored? Maybe you came across something you really liked? Give us a shout on Twitter (@ugifter) or Instagram (@uniquegifter) and let us know about it and thank you for checking out 20 Monumental Monsters Inc Gifts!