Disclosure of Material Connection: Some of the links in this post may be "affiliate links." This means if you click on the link and purchase an item, I will receive an affiliate commission. Disclosure in accordance with the Federal Trade Commission's 16 CFR, Part 255. This site is a participant in the Amazon Services LLC Associates Program, an affiliate advertising program designed to provide a means for sites to earn advertising fees by advertising and linking to Amazon.
While you should honor our veterans every day, Veteran's Day is even more special. It's a day that is intended to thank them for their service. I have created the perfect list of Gifts for Veteran's Day to help you get started. Some of the gifts are very meaningful and some are more on the playful side. Whichever route you go, I'm sure the veteran in your life will appreciate your gift.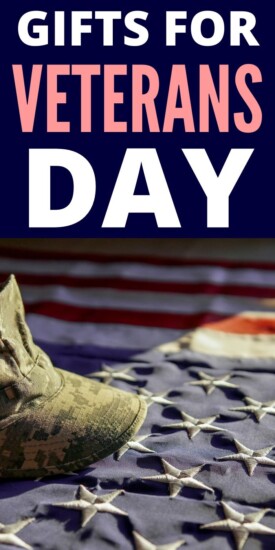 20 Gifts For Veteran's Day
Giving a gift is a thoughtful way to show how much a loved military person means to you. Have a look at these ideas for inspiration.
American Flag Socks
These socks are playful, fun, and a wonderful way to thank a soldier. Especially, for those cold winter months that are fast approaching.
Leather Journal
This vintage journal is a perfect way to write down everything in one spot. Journaling is a relaxing and uplifting experience and this journal is beautiful too.
Tactical Pen
You can't go wrong with a tactical pen like this one. It can break a glass and be used as a self-defense tool.
Military Coin Display
You can't find a more fitting display case to display military coins. This is a heartwarming gift idea that will be loved.
Military Remote Control Truck
This truck is super cool and is a fun gift idea. It will make you feel like a kid again as soon as you start playing with it.
Bottle Opener
A bottle opener is always a must-have after a long day! This one has a rustic look and is easy to use.
Wooden Wall Plaque
If the veteran you are shopping for was in the Army this is a very amazing gift idea. It's three-dimensional and looks great!
Thank You For Your Service Coins
These coins are a heartwarming way to say thank you. Anyone in the military would love this thoughtful gift idea.
Grenade Mug
If you know a veteran with a great sense of humor, they will get a kick out of this mug.
Throw Blanket
After a hard day, it's nice to come home and cover up with a soft blanket. This one is soft and beautiful.
Whiskey Stones
He or she can chill their whiskey without it getting watered down from ice. Plus, these stones look awesome too.
Green Army Man Bottle Opener
It's impossible not to look at this Army man bottle opener and not laugh. It's so funny and useful too.
Day Pack
This is perfect for hunting, hiking, camping, or just hanging outdoors. You can easily fit all your supplies in it.
Disgruntled Decks Card Game
If you are a veteran, you need this game. It's tons of fun and will only make sense if you have been in the military.
Military Veteran Tumbler
This tumbler is great for cold or hot drinks. And it happens to have an American flag on the front.
Bullet Shell Casings Gift
These bullet shell casings have been shaped to look like an Air Force jet. So awesome and sure to please the veteran in your life.
Veteran Pin
You won't find a more meaningful gift than this Veteran pin. They can wear it proudly.
Watch
You can never have too many watches. Especially, if you are active and always out doing something or working on something.
Tactical Flashlight Set
Keeping flashlights handy is a great idea because you never know when you may need one. Any veteran would appreciate this useful gift idea.
Flag Canvas
You can have this flag canvas personalized with the name of the veteran you are giving it to. It also has the Pledge Of Allegiance too.
These gifts for veterans day are sure to make your favorite veteran feel special and loved.