Disclosure of Material Connection: Some of the links in this post may be "affiliate links." This means if you click on the link and purchase an item, I will receive an affiliate commission. Disclosure in accordance with the Federal Trade Commission's 16 CFR, Part 255. This site is a participant in the Amazon Services LLC Associates Program, an affiliate advertising program designed to provide a means for sites to earn advertising fees by advertising and linking to Amazon.
Summer is just around the corner, which means you're probably ready to start planning your next backyard barbeque. Hosting a backyard barbeque is more than simply firing up the grill and throwing a few drinks in the cooler. To throw an awesome BBQ this summer, you'll need to do a little planning first. Consider these easy tips to host an amazing backyard BBQ this year.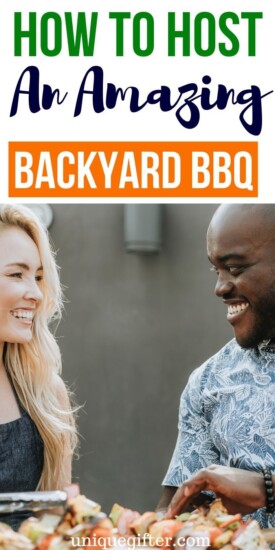 Get Your Yard Ready
Since your backyard will be the scene for your barbeque, you'll want to make sure it's in good shape. Before the party, take the time to mow the lawn, trim the hedges, and maybe plant a few new flowers to add some color to the space. It's also a good idea to clean your deck or patio and give your grill a once-over to make sure everything is in working order before the event.
Plan the Menu
There typically two types of menus for a backyard BBQ: a host-provided buffet or a potluck-style meal. If you plan to purchase, prepare, and provide each of the menu items for your event, you'll need to plan the entire menu on your own. That means thinking about the meats you will grill, in addition to the sides that will complement the main course. Dessert is another component of the backyard BBQ menu you will need to consider.
Another simple way to host your party is to hold a potluck-style meal. During this type of gathering, the host typically provides the main dish – the meat to be grilled – along with a couple of sides or desserts. Then, the party's guests bring the remaining items. If you want to have a little more control over the menu of a potluck style get-together, consider setting up an online sign-up sheet for your guests to prevent duplicate dishes or too many desserts.
In addition to the food you plan to serve, you will also need to plan the drinks you will provide. Beer, wine, and margaritas are great options for a backyard BBQ. You could also offer nonalcoholic options like soda, tea, lemonade, or punch.
Invite Your Friends
Since most backyard barbeques are casual events, there's no need to create formal invitations for your party. Simply invite your friends and family by giving them a call to let them know about the event. When you invite them, be sure to give them all the information about the party so they'll know exactly what to expect. In addition to giving them the date and time of your BBQ, also let them know if they're expected to bring a side or dessert to your party or if you will be providing all of the food.
Decorate
If you're hosting your BBQ on a holiday weekend, like Memorial Day or Labor Day, patriotic décor is a great way to add some festivity to your party. But decorations aren't always necessary at a backyard BBQ. Typically, you won't need much in the way of décor to host an awesome BBQ. When planning your decorations, think more about utility than design.
Be sure to have an area for your food to sit that is easily accessible to your guests. Additionally, consider providing seating options for your guests or ask them to bring their own chairs to the party. Top your backyard décor off with a set of tiki torches or citronella candles to add some ambiance and keep the bugs away when the sun goes down. And don't forget to include lighting for the evening hours. Porch lights, candles, lanterns, and strings of lights are all great options to keep your backyard illuminated at night.
Man the Grill
The most important part of a backyard BBQ is the grill, so you'll need an experienced cook manning the grill at the event. No matter what type of food you plan to grill at your barbeque, there are a few essential keys to cooking on a grill. First, you need to make sure your cook keeps an eye on the grill's temperature to ensure its stays consistent as your food cooks. And keeping a meat thermometer handy can help as you prepare the meat. Not only will this help avoid under- or over-cooking the meat, but it can also prevent you from getting your guests sick!
Provide Entertainment
If you want to keep your backyard party going long after the grill has died out, you'll need to provide entertainment for your guests. There are several fun games you can play at a backyard barbeque that guests of any age can enjoy, including horseshoes, bocce ball, and tag football. Music is another great way to keep your guests entertained at your party. Create a fun playlist before the event that includes your friend's favorite songs. Keep the music low during the meal to allow for conversation, then turn up the tunes as the party progresses into the evening.