Disclosure of Material Connection: Some of the links in this post may be "affiliate links." This means if you click on the link and purchase an item, I will receive an affiliate commission. Disclosure in accordance with the Federal Trade Commission's 16 CFR, Part 255. This site is a participant in the Amazon Services LLC Associates Program, an affiliate advertising program designed to provide a means for sites to earn advertising fees by advertising and linking to Amazon.
Pirates Of The Caribbean Gifts
Long before the beloved movie series, a historical ride was built at the world's most popular theme park! Decades later the geniuses that work for Disney turned this wildly popular attraction into a multi-billion dollar fantasy swashbuckler series that people everywhere would become obsessed with! I'm here to help you find the perfect gift for your Pirates of the Caribbean fan so you aren't forced to walk the plank of shame!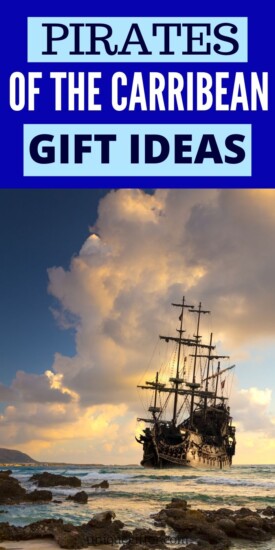 Don't Be A Landlubber! Check Out These Awesome Pirates Of The Caribbean Gifts!
Avast, ye! These gifts are sure to make your Pirates fan yell "Shiver me timbers!" at what we've got in store for them!
Davy Jones T-Shirt
These t-shirts are eco-friendly and use water-based inks! No squids were harmed in the making.
Aztec Coin Necklace
Inspired by the first movie in the series, your Pirates of the Caribbean fan may think you've got it in for them by giving them a piece of cursed gold. Rest assured, that's not the case here!
Jack Sparrow's Compass
Help your swashbuckling Disney fan find what their heart truly desires with this compass that belongs to the world's most famous pirate!
Vintage Disney Poster
This vintage poster is printed to last because it's on burlap instead of paper! How cool is that?!
Captain Jack Sparrow Trench Coat
This coat is a bit tidier than the Captain's, but with how this will make your fan feel, it will be covered in salt water in no time!
Typography Print
Truer words have never been spoken by someone as dishonest as Captain Jack Sparrow!
Dead Men Decal
Give your Pirates of the Caribbean fan the gift of hoisting their colors on their belongings with this awesome decal!
Trophy Toe Necklace
It may be a bit barbaric, but what word describes a pirate better?
Captain Jack Sparrow Ring
Pirates love shiny things, and this ring is no exception!
Pirates Inspired Christmas Wreath
It doesn't get much more Disney than mixing something as cheerful as Christmas with something as dark as murderous, thieving men!
Dead Men Tell No Tales Bracelet
This jewelry is perfect for any Pirates of the Caribbean fan! Allow them to wear this warning on their wrist for all their enemies to heed!
Thomas Kinkade Wrapped Canvas Print
This canvas print is an absolutely beautiful artistic rendering inspired by Curse Of The Black Pearl. You'll probably want to be a pirate and keep it for yourself once you see it in person!
Captain Jack Sparrow Funko POP
Your Pirates of the Caribbean fan is going to fall head-over-heels for this adorable Jack Sparrow figurine!
Davy Jones Statue
There's nothing creepier than a squid-man staring at you while you eat dinner with your family, and this dude looks so realistic! Your fan will absolutely love this statue!
Life Size Jack Sparrow Cutout
Become your Pirates fan's favorite landlubber by giving them their very own Captain Jack Sparrow for their living room!
Pirates Ultimate Edition Monopoly
Make your fan feel like a real pirate every time they steal everyone's gold in this popular board game!
Jack Sparrow Flag
Now your favorite Pirates of the Caribbean fan can literally hoist their colors and show their guests their love knows no bounds with this flag!
And there ye have it! The best gifts for any Pirates of the Caribbean fan! Did you find something you absolutely had to grab? Hit us up on Twitter (@ugifter) or Instagram (@uniquegifter) and show us what you got!