Disclosure of Material Connection: Some of the links in this post may be "affiliate links." This means if you click on the link and purchase an item, I will receive an affiliate commission. Disclosure in accordance with the Federal Trade Commission's 16 CFR, Part 255. This site is a participant in the Amazon Services LLC Associates Program, an affiliate advertising program designed to provide a means for sites to earn advertising fees by advertising and linking to Amazon.
Not yet a teenager, but their preteen years are soon coming to an end, your little girl is turning twelve! If you are confused about what to get her for her upcoming birthday, then you have come to the right place to get guidance and gift ideas. Think about the kinds of things she likes to do or have, and that will give you a mental place to think about as you read this list.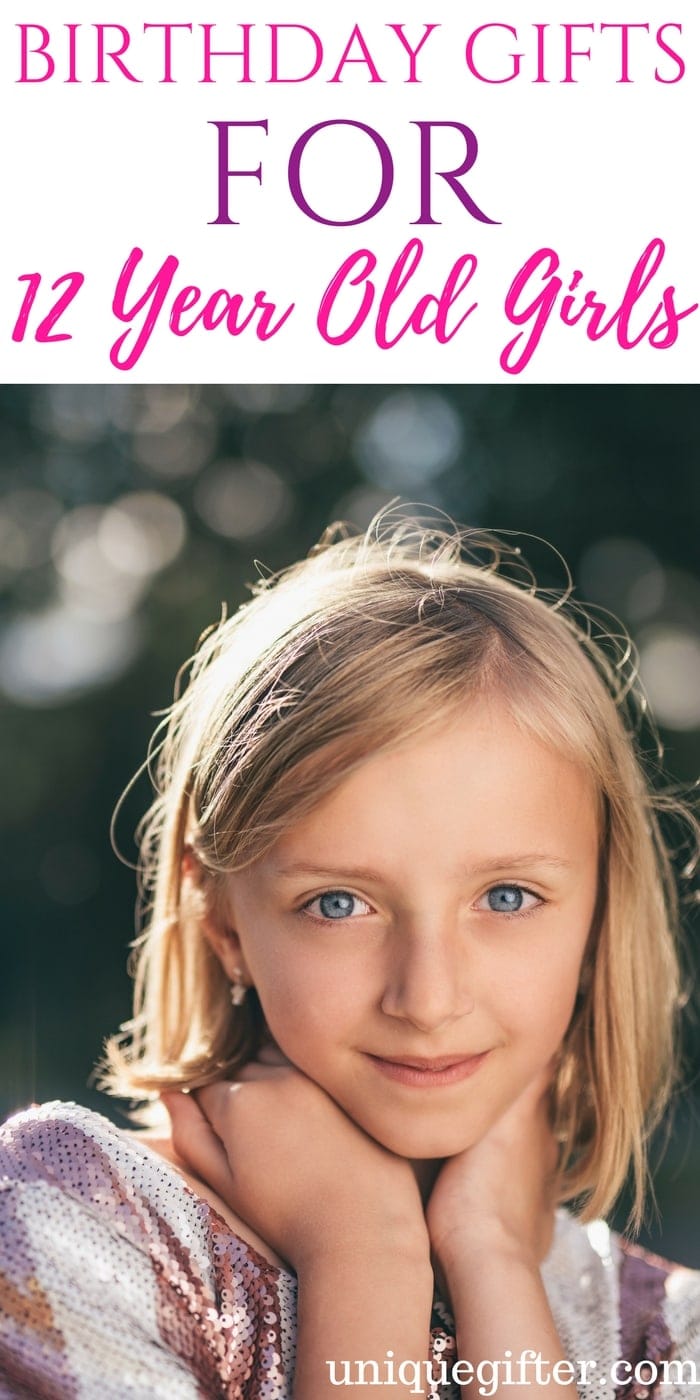 Birthday Gifts for 12 Year Old Girls
Unicorn Earphones
Unicorn earphones are both fun and functional. She will start using these all the time!
UNO Emoji Card Game
While UNO might not be in style that much anymore, this UNO Emoji card game might have better luck of catching her attention.
Flower Monogram Journal
Both girly and personalized, this flower monogrammed journal will be a great place for her to spill her innermost thoughts as she gets closer to becoming a teen.
"I'm so sorry for what I said when you tried to wake me up" Shirt
Kids are hard to wake up in the morning, whether it's for school or something else, so this shirt is completely accurate!
Sterling Silver Cat Ring
If she likes cats and jewelry, then she will love her new sterling silver cat ring.
Women in Science: 50 Fearless Pioneers Who Changed the World by Rachel Ignotofsky
Help her grow up with wonderful, strong, and smart women to look up to, both inside and outside of the family. This Women in Science book is inspirational!
Glow Mermaid Necklace
Adorable and unique, just like her!
Cotton Candy Bubble Bath Bomb
Baths will become fun again with this cotton candy bubble bath bomb!
Plush Emoji Keychain
Now that she is getting older, she needs a good way of keeping track of her keys, and what better way than one of these cute emoji keychains?
"Sassy since birth" Sweatshirt
Your daughter has been "sassy since birth," so help her show that off by giving her this sweatshirt for her birthday.
Silicone Cat Lamp with Remote
Even twelve-year-olds are afraid of the dark sometimes, but there's no reason they can't have a stylish night light to keep the dark at bay.
DIY Balloon Animal Making Starting Kit
Who knows, they may have a new hobby after you give them their very own DIY balloon animal making kit to start practicing with.
Sterling Silver Heart Earrings
Your soon-to-be twelve-year-old will adore these sterling silver heart earrings to add to her jewelry collection.
Personalized Gymnast Glitter Water Bottle in Teal
Sparkly and personalized with her name, she can take this water bottle anywhere with her and stay hydrated no matter what.
Fabulous Teen Hairstyles by Eric Mayost
She may feel like a teenager already, or want to get prepared for those years, and she can dream of what hairstyle she wants with a book full of teen hairstyles.
Unicorn Snot Lip Gloss
The name of this lip gloss might sound gross, but it's still cute!
"Happy girls are the prettiest" Wood Sign
Help her realize that when she is happy and confident, she is her prettiest, with a nice wooden sign she can hang on her wall.
Seahorse iPhone Case
While not every twelve-year-old has an iPhone, yours might, and this seahorse iPhone case is absolutely beautiful.
"Happy" Knit Cap
The sign above that happy girls are the prettiest will go very nicely with this "Happy" knit cap to further drive the idea home.
"Note to self: continue to be freakin' hilarious. Check." Shirt
Your nearly twelve-year-old thinks she is hilarious, keep letting her think so with this shirt!
There you have it. Even if you didn't find something that is the perfect fit for your daughter's birthday present, you are definitely on your way to doing so!