Disclosure of Material Connection: Some of the links in this post may be "affiliate links." This means if you click on the link and purchase an item, I will receive an affiliate commission. Disclosure in accordance with the Federal Trade Commission's 16 CFR, Part 255. This site is a participant in the Amazon Services LLC Associates Program, an affiliate advertising program designed to provide a means for sites to earn advertising fees by advertising and linking to Amazon.
Why are essential oil diffusers a great gift? Well, besides the fact they turn your house into a 5 star hotel's spa (which is a pretty good reason in itself), essential oil diffusers can provide you with a ton of health benefits. They spread scents that can help you sleep, repel biting insects and decongest a blocked nose. Plus, they come in some stunning designs and look like a piece of home decor! Here are our 20 favourites: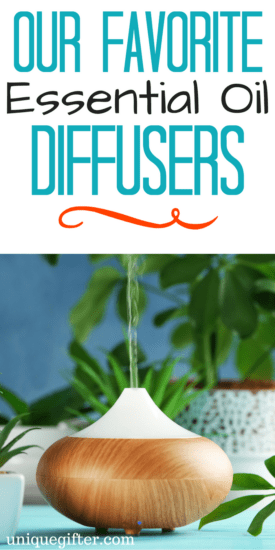 VicTsing Humidifier Ultrasonic Aroma Essential Oil Diffuser
Just looking at the beautiful natural design of this essential oil diffuser will have you feeling calmer (never mind the lovely aromas)!
PLUNDA X300W Essential Oil Diffuser
This futuristic object is not just an oil diffuser! Oh no, it's 5 different gadgets in
You'll get an essential oil diffuser + humidifier + night light + air purifier + ioniser!
Turn Raise Electric Aroma Diffuser
Who knew that a donut made from wood looks so pretty? This Turn Raise diffuser works without heating the essential oils so that all of the important ingredients are preserved.
SEH 250 ml Essential Oil Diffuser and Humidifier
This is an essential oil diffuser disguised as a lamp! With 7 colors of light choose from it's like a fragrant rainbow.
BEW Ultrasonic Aroma Essential Oil Diffuser
I love this essential oil diffuser's stunning design. The soft metallic coloring will bring a touch of spa-like class to any room in your home.
Fortech Yoga Mist Diffuser 1500ml
This large diffuser is especially designed for releasing scents into your yoga room to make your asanas an extra relaxing experience!
Lary Intel LED USB Essential Oil Diffuser
I know this one really looks like a pillar candle but please don't try to light it! Even the mist it emits looks like a candle's smoke.
VTin 100ml Aromatherapy Essential Oil Diffuser
This cute little diffuser is great for a kid's bedroom. With it's compact size, colorful design and subtle light, it'll keep your little one calm in the middle of the dark, scary night.
Homasy Essential Oil Diffuser
Another beautifully designed diffuser that wouldn't look out of place in a spa! This one changes color depending on the mode it's in. Orange means it'll be on for 3 hours whereas green means it's in continous mist mode and will keep on spraying those lovely scents!
Homasy Mini USB Aroma Diffuser
This mini diffuser is powered by a USB cable. It's perfect for your desk. Just choose an essential oil that helps keep you focused to transform your day at work.
Innogear Aromatherapy Essential Oil Diffuser
This oil diffuser won't disturb you from your relaxation while it does its thing (it's whisper -quiet you see). It also humidifies your space so you can kiss goodbye to those chapped winter lips forever!
Aickar Aromatherapy Diffuser
If you're going for a bright and colorful look in your home, you'll love this Aickar diffuser. Its 500ml size means that it's big enough to keep diffusing for hours but also small enough not to dominate your room's decor.
InstaNatural Essential Oil Diffuser
This compact essential oil diffuser won't take up a lot of space but what it lacks in size it makes up for in relaxation power! (Just check out that calming blue light.)
SAN Nutrition Diffuser
Your commute to work will never be the same again! This in-car essential oil diffuser will keep you chilled and happy even in the worst rush hour traffic.
Olivetech Essential OIl DIffuser
This Olivetech essential oil diffuser's unique design will fit into any contemporary interior. Doesn't it look just like an elegant vase?
Sterline Aromatherapy Diffuser
Take any stress out of your relaxation time with this Sterline diffuser. You'll be able meditate for hours without worrying about your diffuser becoming a fire hazard. It'll switch off automatically when the water gets too low.
Innogear Bamboo Diffuser
Bring the feel of the far east into your house with this stunning Innogear bamboo diffuser! Who needs those plane tickets to Thailand?
Essential Oil Diffuser Locket
Here's something a little different! Wear this gorgeous locket around your neck to benefit from the healing effect of those essential oils from 9 to
Sztrokia Aromatherapy Essential OIl Diffuser
Nope, you're not looking at a beautiful galaxy stretching across the night sky. It's actually the Sztrokia essential oil diffuser with its unusual intergalactic design!
Right Rock Essential Aromatherapy Diffuser
This unassuming diffuser looks like a carefully placed pebble! Perfect if you love a home that feels close to nature.
Are you ready to buy a gift that will increase your health and make your house look lovely? Which of these beautiful essential oil diffusers are you going to choose? If you do buy any of these gifts, we'd love to hear about it! Let us know in the comments or find us at @ugifter on twitter and @uniquegifter on instagram.