Disclosure of Material Connection: Some of the links in this post may be "affiliate links." This means if you click on the link and purchase an item, I will receive an affiliate commission. Disclosure in accordance with the Federal Trade Commission's 16 CFR, Part 255. This site is a participant in the Amazon Services LLC Associates Program, an affiliate advertising program designed to provide a means for sites to earn advertising fees by advertising and linking to Amazon.
We love gifting books at all ages but soon realized that kids start loving puzzles as early as at 12 months, so we've added puzzles to our gifting armory to encourage problem-solving kids.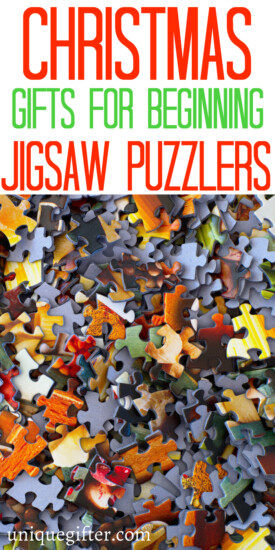 At 2-3 years old, they kind of know what's going on around them and start developing an interest in somewhat more skilled games. Most importantly, usually (your mileage may vary), they stop eating small unfamiliar things like puzzle pieces!
Really Fun Christmas Gifts for Beginning Jigsaw Puzzlers
Pets Wooden Knob Puzzle
For the youngest of toddlers, these peg puzzles are amazing for kids to start learning shape recognition and hand eye coordination.
Numbers and Alphabet Peg Puzzles
Once kids get the hang of these puzzles, physically, they also pick up their alphabet song and basic counting. Win win!
Set of 4 Wooden Animal Jigsaw Puzzles
Construct each of the four animals separately – this is nice and simple for kids just starting to learn how to fit jigsaw pieces together.
Jigsaw Blocks
This set of blocks encourages kids to do more than just exercise spatial reasoning and hone motor skills, they have free rein to create their own shapes and animals.
Human Brain Jigsaw
This birch brain puzzle has 6 pieces, including the temporal, parietal, occipital and frontal lobes, brain stem, and the cerebellum.
Forest Friends Puzzle
This 12-piece puzzle has big fat pieces that are easier for toddler fingers to piece together the forest animals.
Lift & Learn Clock Puzzle
This 12-piece clock puzzle includes pictures underneath each piece to guide and encourage the younger puzzler and also helps them learn the very basics of telling time.
Personalized Safari Animal Puzzle
Personalize a 20-piece safari puzzle with their name and your choice of font for the perfectly them gift.
Wooden Jigsaw Puzzle: Ocean Pals and Dinosaurs
These two 24-piece sets featuring a prehistoric dinosaur scene and ocean animals are made of wood and set in a wood tray that helps facilitate building. Suitable for kids who have moved past the 2-5 piece puzzles.
3D Jigsaw Puzzle
Punch out the pieces to build a three-dimensional rolling locomotive. Decorate it, or take it apart and build again later.
Lift & Learn USA Map Puzzle
This 40-piece puzzle depicts all 50 states showing symbolic state pictures on one side and hides the state capitals on the other.
Tetris Puzzle
Challenge the kids to go back in time before Tetris was an electronic game and fill the frame without leaving any of the 40 pieces out.
Fairy Frame Puzzle
This 40-piece sparkly fairy puzzle is a bit more challenging, probably best for the precocious puzzler, or 4 and older crowd.
Zoo Frame Puzzle
This 45-piece visit to the zoo is chock full of brightly animals and greenery. Suitable for the 4-year-old and up puzzler.
Rainforest Jigsaw Puzzle
Discover the rainforest with this 48-piece puzzle depicting some brightly colored animals camouflaging some hidden animals in the background.
Puppy Party Puzzle
The least labor intensive way to welcome a pack of puppies into your lives.
Moana One Ocean One Heart Puzzle
Moana has captured the heart of so many children – they'll be extra motivated to put this fantastic 100-piece scene together. No doubt they'll also be belting out the movie's songs while they work.
Glow In The Dark Space Puzzle
This giant 3′ by 2′ 100-piece puzzle has an extra reward at the end – it glows in the dark!
Glow In The Dark Sea Life Puzzle
This huge 3′ by 2′ 100-piece glow in the dark puzzle includes a coloring activity on the back.
Puzzle Sorting Trays
If your puzzler likes to presort their pieces before construction, these trays are fantastic for an organization.
We come from a puzzling people and love leaving out puzzles for guests to enjoy. What's your favorite puzzle?