Disclosure of Material Connection: Some of the links in this post may be "affiliate links." This means if you click on the link and purchase an item, I will receive an affiliate commission. Disclosure in accordance with the Federal Trade Commission's 16 CFR, Part 255. This site is a participant in the Amazon Services LLC Associates Program, an affiliate advertising program designed to provide a means for sites to earn advertising fees by advertising and linking to Amazon.
Chocolate as a gift can be trite, especially when it didn't involve any thought or consideration for whether the gift recipient actually likes chocolate or the particular kind of chocolate selected. As a specific kind of chocoholic myself, I hide a shudder when I'm gifted white chocolate or chocolate with mystery nougat. To be gracious, I don't say anything but thank you of course, but it's a very different reaction to my jump for joy at a box of chocolates that contains a variety of delicious toffees, nuts, or caramel.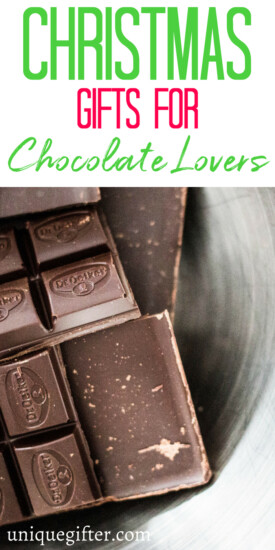 One lesson I've learned about gifting chocolates: when in doubt, ask them what their favorites are! Mysteries serve no one. From there, this list can help you find the perfect personal gift of chocolate.
Satisfying Christmas Gifts for Chocolate Lovers
If You Can Read This … Socks
$10 says this works better than me yelling "Accio chocolate!!!" from my office.
Chocolate Tooth Powder
Did you know this existed? I sure didn't. When did brushing our teeth become so delicious?
Dry Shampoo Powder
This dry shampoo absorbs the excess oils and leaves you feeling refreshed without needing to wash your hair. Bonus: chocolate.
Porcelain Pot
How luxurious to have an elegant pot especially for chocolate. Perfect for an afternoon tea of hot chocolate and biscuits.
Chocolate rocks
On the one hand, this seems like a fun gift for an aspiring geologist. On the other, not a good idea to give them to anyone whose eyesight might be a little iffy.
Golf Ball
Our golfing buddies prefer golf balls that are way out of our price range, but we can definitely afford a few pairs of these lovelies.
Chocolate Bacon
Obviously not for those who eschew meat, but otherwise this would be a delightful stocking stuffer.
Sesame Street Characters
These are awesome for a candy tray or an overloaded decorated cake. Dealer's choice!
7-day Prescription
These are even better than a bottle of Chill Pills. Stock someone's drawer of palliative chocolates and treats.
Grand Piano
This adorable chocolate piano has got to make the pianist in your life smile. It's almost too cute to eat. ALMOST.
Melting Chocolate
If your chocoholic loves to create their own pastries and sweet delights, stock them up with these melting chocolates to add some color to those creations.
Sweet Tooth Set
Clearly meant for the dentist in your life but I'd also like to take a poll on how many of them actually secretly approve of this gift. I'd bet that it's more than we think.
Dark Chocolate Hazelnut Truffles
Contains: hazelnuts, dates, cocoa, coconut, almonds, maple, vanilla, cinnamon. For the classic truffle-lover in your life.
Chocolate Pizza
Warning: Do Not Bake. This is fully chocolate, pizza-shaped though it is, and will absolutely melt. Otherwise, ready to enjoy!
Skulls
We have more than a few skull-loving friends who would cackle with delight if they opened up a box of these Christmas chocolates.
Granola
Contains: coconut, almonds, macadamia nuts, pecans, coconut oil, cocoa powder, vanilla extract, chocolate extract, fine sea salt. Granola comes in all forms. This is a little more decadent than the run of the mill Chex mix type, perfect for a gift.
Hand-painted Chocolates
Dark chocolates with fruit ganache or nutty praline filling. Each little chocolate is a miniature work of art.
Organic Cocoa Powder
This powder is versatile – great for baking or mixing up a luscious drink. This cocoa should be a staple in any chocolate lover's pantry.
Chocolate-covered Pretzels
These pretzels can be dipped in any chocolate you like, and rolled in any topping you choose. Customize the perfect batch of chocolate covered pretzels for your gift!
Chocolate-covered Strawberries
A perishable gift so makes sure your gift recipient will be able to take a receipt, but it is so worth the effort. I can personally attest to that!
Do you have an absolute favorite go-to chocolate gift that always thrills? Do share!