Disclosure of Material Connection: Some of the links in this post may be "affiliate links." This means if you click on the link and purchase an item, I will receive an affiliate commission. Disclosure in accordance with the Federal Trade Commission's 16 CFR, Part 255. This site is a participant in the Amazon Services LLC Associates Program, an affiliate advertising program designed to provide a means for sites to earn advertising fees by advertising and linking to Amazon.
Toddlers in the house around Christmastime is just the best. They still believe in all the Christmas magic and everything just seems to "wow" at this age. These stocking stuffer ideas for toddlers will help keep that Christmas magic going.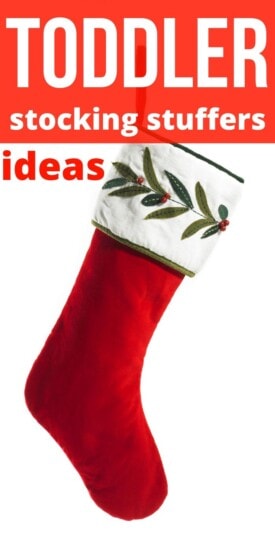 Stocking Stuffer Ideas for Toddlers
Toddlers are at an awkward age where they're too big for baby stuff but too little for big kids toys, so what do you put in a toddler's stocking? Hopefully, these stocking stuffer ideas for toddlers help inspire the Santa in your house this Christmas.
Wooden Lacing Apple
Keep your kiddo learning with this adorable wooden lacing toy.
Colors and Shapes Flash Cards
These flashcards are great for in the car, sitting in a waiting room, or hanging out at home.
Fishing Toy
This fishing bath toy is a blast! Your toddler is going to love every second of playing with it.
Remote Control Cars
Remote control cars are so much fun, even when you are a little kid. They will be thrilled with them.
Basketball Hoop & Balls
Even toddlers can start working on their game!
Lacing Beads
These lacing beads will provide your kiddo with hours of entertainment.
Liquid Motion Bubbler for Sensory Play
Your child will sit in awe looking at these!
Holiday Rubber Ducky
These holiday-themed rubber ducks are perfect stocking stuffer size and are definitely going to make bath time more fun for toddlers everywhere. So cute!
Winter Hat
Toddlers don't always like wearing hats but they might enjoy wearing one if it's super cute, like this moose eared one. The best part is toddlers can wear it all winter long, not just at Christmas time.
Custom Christmas Ornament
It's nice to have a keepsake around the holidays and Christmas tree ornaments are perfect stocking stuffers.
Play Doh
A toddler favorite, Play-Doh makes for a fantastic stocking stuffer for little ones. Put a few cans in their favorite colors and add in some accessories!
Small Baby Dolls
They make all sorts of tiny babies that will fit perfectly in a toddler's stocking. This one is a cute option, especially since she's wearing a Santa suit!
Bath Tub Crayons
These are a great way for toddlers to explore coloring without you having to worry about the mess. It's all in the tub!
Engraved Mini Rolling Pin
These are so cute for a play kitchen accessory, Play-Doh, or for a toddler to use when helping in the kitchen!
Knit Mittens
Christmas means the start of cold weather, which also means a huge need to keep tiny fingers toasty warm. These cute toddler mittens are hand-knit and come on a string so they won't get lost.
Hair Accessories
Some toddlers love to have their hair done so to make their Christmas special by filling that stocking with cute hair accessories. Look for ones made specifically for toddlers so they stay in better.
Bead Stringing Set
If you're looking for a unique toddler stocking stuffer idea this is definitely a great choice. This handmade set has chunky wooden beads that are easy for tiny hands to grip. They'll love lacing them again and again!
Toddler Toothbrush
You have to brush your teeth even if you're a toddler. Practical items, like a new toothbrush, are a great way to "pad out" a toddler's stocking.
Snack Keeper
Toddlers are insatiable beings who feel the need to snack constantly. A new snack up is a perfect stocking stuffer idea, especially one as cute as this one.
Mitten Clips
If your toddler is always losing their mittens these are going to save you so much sanity. Now you'll always be able to find them clipped to their coat!
Sippy Cup
Whether they need a new one or you're just trying to wean, toddlers can always use another sippy cup. These trainer cups are a great choice as a precursor to using an actual cup.
Small Books
Little books, especially board books, are perfect stocking stuffer ideas for toddlers. They love turning the pages on their own or being read to!
Montessori Toys
These toy sets are nothing like you can buy in stores. Toddlers aren't too little to play with real tools if you give it to them in the right ways.
Bath Colour Tablets
These tablets are so much fun for little ones! They make the bathwater change color but without harsh chemicals or dyes.
Child Safe Cutting Set
Cutting with scissors is an important fine motor skill toddlers and preschoolers need to master. A cutting set like this, with toddler safe scissors, can really help them learn that important skill.
Toddler Santa Hat
As if a toddler couldn't get more adorable! This Santa hat is a perfect stocking stuffer for little ones and they'll look so cute wearing it all day long on Christmas.
Finger Puppets
Finger puppets make a great toy for a toddler, either to play with themselves or for you to play with them. Pick up a cute set or some themed after their favorite characters.
LEGO Duplo
One of the best first toys for toddlers, they have some smaller Duplo sets that will fit perfectly in a toddler's Christmas stocking.
Toddler Christmas Shirt
They need something to wear on Christmas Day, so instead of just buying your toddler, a Christmas outfit put it inside their stocking instead.
Toddler Crayons
If they're still too young to grasp regular crayons these chunky ones are a great first step to amazing toddler art. They're designed to foster good grip technique, too.
Cute Slippers
Your toddler's feet will always be warm and cozy if you pick up a pair of these adorable slippers. They can be ordered in a variety of options to keep tiny toes warm.
Toddler Friendly Utensils
Toddlers are not always the best at using cutlery but now is the time to learn. Make it a little more fun by getting their own set made for tiny hands.
Peg Dolls
If you don't already have a peg doll collection for your toddler you should know they're all the rage right now. These simple wooden toys encourage imaginative, low tech play.
Finger Monsters
How are these for fun stocking stuffer ideas for toddlers? Finger tattoos are a fun little extra for stockings, and once they're done with no clutter in your house!
Fun Christmas Ornament
It's time to start your toddler out with their own ornament collection. If you add to it each year by the time they move out they'll have a whole set! Get them something that represents them at the time, like this t-rex.
Toy Cars
You can never go wrong putting a toddler and a toy car together. From Hot Wheels to character cars like these Disney racers, your toddler is going to get hours and hours of fun with this one.
Mini Felt ChristmasTree
Is your toddler obsessed with decorating (and redecorating) the Christmas tree? Now they can keep the magic alive after Christmas with this cute little felt tree that's perfect for little ones to play with.
Bath Supplies
Things that you go through all the time, like bath soap, are perfect stocking stuffer ideas for toddlers. Consider a gentle 3 in one soap, like this one, which can be used for hair, body, and bubble bath.
Wooden Lacing Toy
Toddlers are still learning hand-eye coordination and pincer grip, so when looking for toys at this age you want stuff that fosters these but is also fun. This cute wooden lacing toy is perfect for that.
Mini Colouring Books
Older toddlers might be interested in coloring but you can't fit a whole coloring book in a stocking! Look for mini ones instead and make sure to add crayons to the stocking too!
Chalkboard Painted Cars
These wooden cars are painted with chalkboard paint so your toddler can decorate them however they like before taking them out for a spin.
Toddler Socks
Some toddlers have a way of losing socks, and others will never take them off. Either way, they're going to love finding some cute socks in their stocking from Santa Claus.
Art Sets
These little art sets are perfect for toddlers because all they need to color is water. No mess!
Play Food
You can either get those little plastic packs or something like these cute handmade felt foods, whatever you (and your toddler) like best.
Little People
Like lots of toy series, Fisher-Price Little People come in some small sets that make perfect stocking stuffers. They're also great toddler-friendly toys that can be played with for a long time.
Toddler Infinity Scarf
Traditional scarfs and toddlers are kinds of a pain. Good thing infinity scarves in style! They're super cute on a toddler and also will keep them warm through the winter.
Toddler Snacks
If you don't want to put candy in your toddler's stocking snacks like this are a great alternative. They don't know the difference at this age anyway!
Memory Game
Memory is one of the best first games for toddlers to enjoy. This set is handmade from hardwood and helps to teach sight words.
Wooden Stamps
Even if they're not coordinated enough to draw or color, toddlers absolutely love stamping. Get them a kid-safe set and let them create their masterpiece!
Cute T-shirt
It doesn't have to be Christmas themed, even. Instead of the traditional stocking stuffers, stuff your toddler's stocking with a funny t-shirt or one with their favorite character on it.
I hope your Christmas morning is temper tantrum free thanks to these stocking stuffer ideas for toddlers. At the very least the shopping will be easy!