Everyone loves Mexican Fiestas, why not host your own Cinco de Mayo party this year? It's always great to have an excuse to hang out with friends, eat tacos, and drink tequila. These Cinco de Mayo inspired party favors are just the thing to take your party from great to ah-may-zing. Some of these favors would also work great for kids' parties!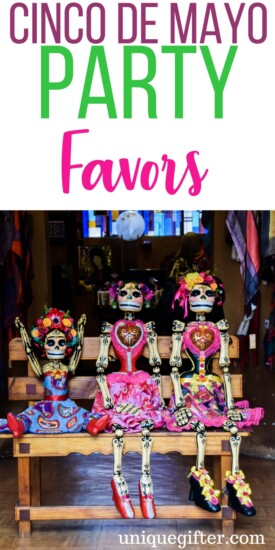 Fun Cinco de Mayo Themed Party Favors for Adults and Kids
Whether you're entertaining some kids, throwing a Cinco de Mayo themed birthday party, or are having a super fun excuse to drink margaritas with your friends there are party favors here to please every guest in attendance.
You might also like: How to Throw an Amazing Cinco de Mayo Party
Now, stop taco-ing about your Cinco de Mayo party and get shopping for these super cute party favors! Need to shop for the host? Try these 20 Cinco De Mayo Hostess and Host Gifts next!