Disclosure of Material Connection: Some of the links in this post may be "affiliate links." This means if you click on the link and purchase an item, I will receive an affiliate commission. Disclosure in accordance with the Federal Trade Commission's 16 CFR, Part 255. This site is a participant in the Amazon Services LLC Associates Program, an affiliate advertising program designed to provide a means for sites to earn advertising fees by advertising and linking to Amazon.
If you have a construction worker on your Christmas list this year, you have come to the right place. All that hard work they put into building homes and buildings and finding a gift they will actually enjoy becomes challenging. That's where this list comes in, there are so many fun ideas here that will almost assuredly put a smile on your favorite construction worker's face this holiday season.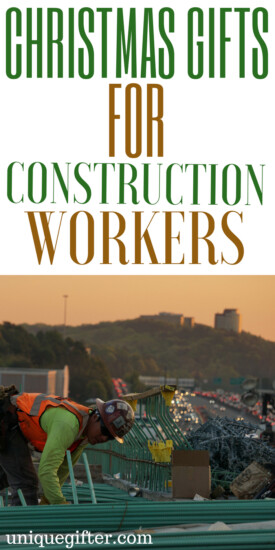 Fun Christmas Gifts for Construction Workers
"Sawdust is man glitter" Coffee Mug
Sawdust is man glitter, that's why it gets everywhere!
Large Chocolate Construction Hat
A large chocolate construction hat is not only fun to look at, but should be fun to eat as well.
"I make sparks fly" Shirt
They make sparks fly at their job, and no one bats an eyelash.
Builder Keyring with Initial, Saw, Hard Hat, and Hammer Charms
They are proud to be a builder and this keyring with personalized charms will quickly become their favorite keyring ever.
Engraved Personalized Hammer with Wood Box
Every person who works with a hammer needs one that is personalized with their name or a saying on it, right? Not only that, but this one comes in a nice box too.
"Loads of fun" Machinery Coffee Mug
Their job is loads of fun, that's part of the reason they keep doing it.
Dump Truck Wine Topper
As someone who sees or uses dump trucks often, a dump truck wine topper only seems natural.
Hard Hat Cufflinks
Hard hat cufflinks will put the cherry on top of any suit they wear.
Bulldozer Personalized Christmas Ornament
Since it's Christmas, they definitely need a personalized bulldozer Christmas ornament to put on the tree!
Hammer "Weapon of Choice" Keychain
The hammer is their weapon of choice because they know how to use it the best.
"I turn coffee into buildings" Coffee Mug
They drink coffee every morning they go to work, and that is how they turn coffee into buildings.
Personalized Leather Toolbelt
Every person who works in a career that involves a toolbelt needs one that is personalized just for them.
"I love a good dump" Dump Truck Shirt
Yes! They always love a good dump! It makes their life go so much smoother.
Heavy Equipment Operator Wooden Christmas Ornament
This is another lovely Christmas gift, and will look great on the tree this year and for all the years to come.
"It takes studs to build houses" Travel Mug
They are a stud, and it takes studs to build a house, duh!
"The Wood-father" Shirt
With all the wood they deal with every day, they are the "Wood-father!"
Construction Tools Lollipops
Construction tools lollipops will be extra delicious to devour.
Construction Worker Sticker Decal
This construction worker sticker decal will let everyone know how proud they are of their work.
"I'm a construction worker, not a magician… but I can see why you might be confused" Shirt
They may be a construction worker, but one thing is for sure, they are not a magician. They can't fix everything!
Chocolate Construction Vehicles
These chocolate construction vehicles will be tasty to eat on Christmas!
Buying a gift for your favorite construction worker this year is easy peasy with this list!