Disclosure of Material Connection: Some of the links in this post may be "affiliate links." This means if you click on the link and purchase an item, I will receive an affiliate commission. Disclosure in accordance with the Federal Trade Commission's 16 CFR, Part 255. This site is a participant in the Amazon Services LLC Associates Program, an affiliate advertising program designed to provide a means for sites to earn advertising fees by advertising and linking to Amazon.
I've been hitting the road for work over ten years for any number of reasons: training, presentations, strategic meetings, setting up conferences, working remotely to squeeze in an extra vacation with the family. From all that traveling, I've developed an idea of what makes working from the road a little easier.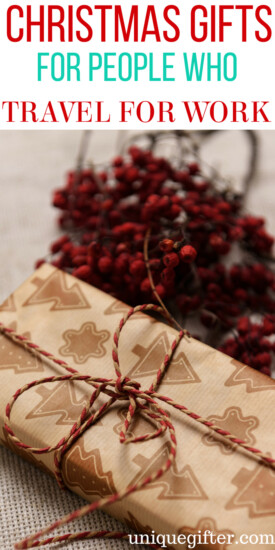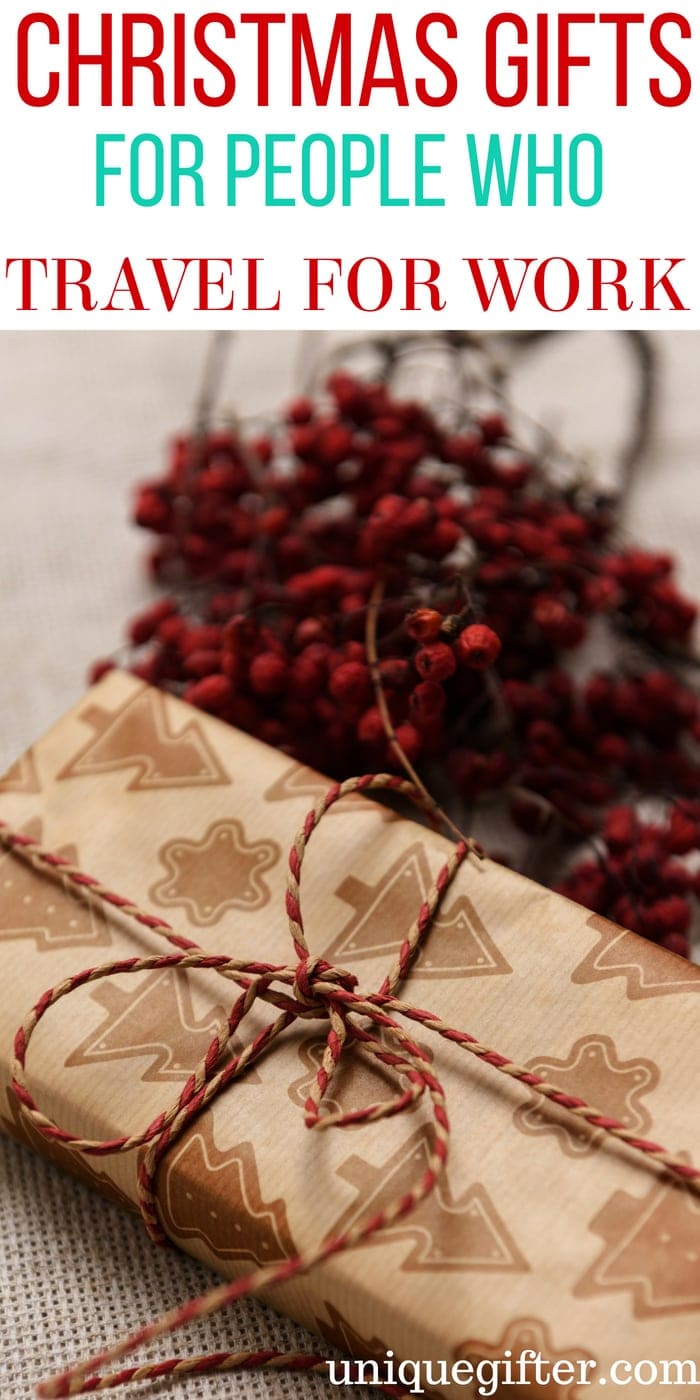 The equipment available to us has evolved rapidly which has resulted in fantastic space savings and also saves your back from hauling too much gear. Which of these will be the perfect gift is going to depend on what sort of work your gift recipient does. The nomadic location independent type is going to appreciate the gifts that help them maximize their exploration time. Those currently chained to the corporate grind may need to be more prepared to do formal jobs like creating and presenting business plans. Whatever they need, we've got you covered!
The Best Christmas Gifts for People Who Travel for Work
Power Bank
My power bank goes with me everywhere – on errands, on the plane, on the train. I don't want to have to count on the generosity, or the technological advancements, of either an airport or an airplane that might be equipped to give my gadgets juice when I need it the most.
Best Christmas Gift for People Who Travel for Work
ampr iPhone Battery Case
The ampr battery case is a phone case with a built-in battery that keeps your iPhone charged throughout the day. It connects to your iPhone's lightning port and will stay on your phone 24/7, giving you full power and protection. It is perfect for those who travel and don't have time to stop and charge their phone.
Portable Wi-Fi Router
This isn't a hotspot, mind, it's a router to take a wired network wireless and to extend WiFi for yourself and others. It's also a handy SD card reader which many computers don't do anymore, and it comes with a 6000mAH power bank.
Wi-Fi Range Extender
This has been a godsend for our home, even, where we need a strong WiFi signal everywhere inside, outside, high up, and low down. This would make all the difference if you're working on hotel Wi-Fi which is notoriously weak if you're not perfectly located near the base signal. I don't love the size of the AC1900 model but the power has been undeniable.
Surge Protector
Our ten year old surge protector literally just melted after a quick zap of a power fluctuation. Thankfully, it protected the electronics before it collapsed in a hot puddle of stenchy plastic – don't take the risk that your laptop or phone will get fried when you're on the road, especially if you're traveling internationally. The best part about this one is you get both standard AC outlets plus 2 USB ports so you don't have to compromise on which items to plug in first.
Bluetooth Speaker
Be a good citizen and don't blast your music in common work spaces! But if you're in your own room working away, I'm personally a fan of a bit of music in the background to get the juices flowing.
Noise-canceling Headphones
If you are in a public or common work space, shut out unwanted distractions with a great set of noise-cancelling headphones. Bose is really pricy but they're high quality and they stand by their brand. When we wore out the headphone pads of our ten year old set, they sent us new pads, free! That's customer service that'll keep us customers for a lifetime.
Universal Power Adapter
I started traveling for work, internationally, several years ago and I'm regretting buying region specific power adapters. It saves so much space, and clutter!, to buy one universal adapter instead.
External Hard Drive
Whether traveling or cozily ensconced in my home office, I rely heavily on my external hard drive to store critical documents and records.
The big one stays safe at home, the smaller 2TB one goes on the road with me as a safeguard against the sudden death of a hard drive.
Backpack
This is largely a matter of preference – some like messenger bags better, but with my smaller frame, I like the hands free option that a backpack gives. The messenger bag slides around too easily but they work well for tall people. Look for key elements: waterproof, padded in the right places to keep your electronics secure, TSA friendly, and a laptop compartment.
Portable Projector
Have a two screen set up at your desk used to be the end-all be-all of fancy set ups. Not so much for the telecommuter who likes to be on the move! Try a projecter instead to get that large screen view, without the massive desk space requirement, which would not fly in say, a coffeeshop. This can work inside when it's light but it's better in low light.
Cord organizer
My least favorite part of the job on the road is untangling the rat's nest made up of my phone charger, power bank charger, hard drive cord, and adapters all clumped together. Tucking them neatly into a single organized folio like this one has been a huge relief.
Sarcastic Travel Mug
Sometimes the combination of headphones and being busy still isn't enough to deter chatty and nosey coffee shop patrons. Sometimes, you need the assistance of a surly travel much to keep people from trying to engage you in conversation right in the middle of a complicated troubleshooting session.
Sunblock
The importance of protecting your skin from the sun cannot be emphasized enough and this goes double if you lead a life that lets you work in the sun or on the beach. Also, the whole point of being location independent is to enjoy the world rather than being tied to your work, so this
Expanding face towels
When space is at a premium, these face towels are the ultimate space saver. To be honest, I'm not sure how you shrink them back down, if you can, but they're intended to be reusable and fluff up into a full face towel with just a bit of water.
Travel Wallet and Passport Holder
While I normally like everything in its usual place, when I travel internationally, I want it to be incredibly obvious (to me) where our passports and other required documents are stored so I can grab and
Travel Straw Pouch
Did you know that in America alone, 500 million straws are used daily? And as single use items that contain BPA, they can't be recycled. In those volumes, we've decided that it's much better for us to carry our own reuseable straws. It might seem like a little thing but when there's any chance we can have a positive impact on the Earth, we're taking it.
Sleep Mask
After discovering blackout curtains, a standard in many hotels, we've learned the wonders of being able to get a full night (or afternoon) of rest in peaceful darkness. This mask is the far more compact option when you're staying in an apartment, AirBNB, or on an extra long bus ride.
Travel Tray
When living on the road, it's incredibly easy to lose those things that normally has a place at home. Pop your keys, wallet, change and jewelry into a travel tray at the end of each day to recreate that set place for your loose items.
Shoe Bags
If you're traveling to give a really important presentation, one of the worst things to find is that your shoes have gunked up your pressed suit, or your shoes were horribly scratched up by your other gear in transit. The next worst thing is to have your liquids explode on all your clothes. Protect shoes and the rest of your suitcase contents with shoe bags.
Travel Slippers
Speaking of shoes, at the end of a long work day on the road, the absolute best feeling in the world is releasing your feet from those fancy shoes. If you typically pack only the barest necessities, these slim slippers pack easily, taking up little room, and save you from having to put on real shoes again when you absolutely must step back out for a moment
What gadgets make your travels and on the go work days run more smoothly?