Disclosure of Material Connection: Some of the links in this post may be "affiliate links." This means if you click on the link and purchase an item, I will receive an affiliate commission. Disclosure in accordance with the Federal Trade Commission's 16 CFR, Part 255. This site is a participant in the Amazon Services LLC Associates Program, an affiliate advertising program designed to provide a means for sites to earn advertising fees by advertising and linking to Amazon.
Your boss can be one of the hardest people to buy for, but a little token of appreciation can go a long way in the workplace.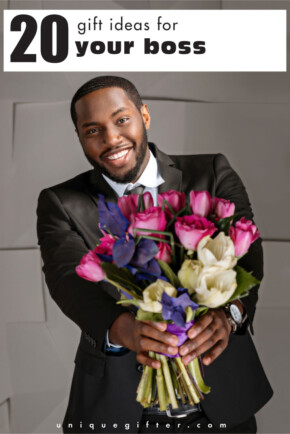 Check out these boss-friendly gift ideas for something a bit more personal than another gift card.
20 Gift Ideas for Your Boss
Scrabble Game Refrigerator Magnets

This magnet set has a full set of scrabble letter tiles. Your boss will be able to write messages on the staff fridge and score points.
Daily Brain Games Calendar

Help keep the bosses brain sharp and alert with these daily brain games for 2016.
Scented Candle Set

If you're unsure what to get your boss, candles are a safe and inoffensive gift.
Melting Clock

Inspired by Salvador Dali's surrealist artwork, this melting clock will be a lovely desk feature.
Creative Cursing Book

Not everyone has a childish sense of humour, but if your boss does then they will find this book hilarious.
Desktop Zen Garden

Provide a bit of stress relief with this peaceful desktop zen garden.
Coffee Gift Set

Is your boss a coffee fiend? They will love this coffee gift set with delicious french vanilla cappuccino and gourmet hot cocoa mixes.
Planetarium Paperweight

This solar system paperweight is sure to stand out and gain compliments on your bosses desk.
Kitchen Sink Paperclip Holder

Everyone needs a neat little desk accessory such as this kitchen sink paperclip holder.
Boss-Some

Tell your boss how "boss-some" they really are with this elegant gift pen.
Handheld Scanner

The tech savvy nerd boss will love this handheld scanner for all their important documents.
Motion Activated Candy Dispenser

For the boss with the sweet tooth fill this cool motion activated dispenser with their favourite candy.
Stress Buster Punching Ball

This desk top punching ball is durable and perfect for venting office frustrations.
Christmas Sweater Wine Bottle Cover

A nice wine is always an appreciated gift. Make it memorable with a cute Christmas sweater wine cover.
Offensive Business Cards

Share some good humour with your boss laughing at these outrageously offensive business cards.
Succulent in Planter Pot

A live plant is sure to brighten the mood in any dreary office.
Blooming Tea Gift Set

For the tea drinker, this blooming tea gift set features a unique flower which blooms right inside the tea pot to create a flavourful drink.
Desktop Drum Kit

The musically inclined boss will love jamming to this desktop drum kit.
Daily Mood Desk Flipchart

This desk top flipchart will help display exactly what kind of day your boss is having. You have been warned.
World's Okayest Boss Coffee Mug

This one works best for bosses who know how to take a joke.