Disclosure of Material Connection: Some of the links in this post may be "affiliate links." This means if you click on the link and purchase an item, I will receive an affiliate commission. Disclosure in accordance with the Federal Trade Commission's 16 CFR, Part 255. This site is a participant in the Amazon Services LLC Associates Program, an affiliate advertising program designed to provide a means for sites to earn advertising fees by advertising and linking to Amazon.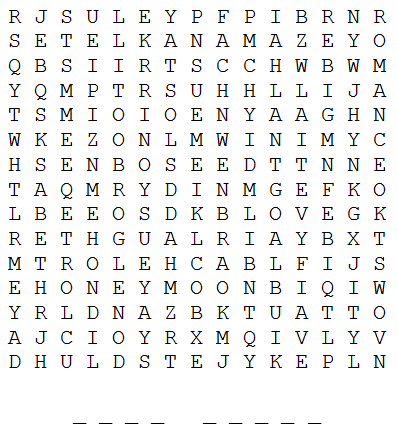 Dear Leslie and Jessie,

We have sent an email money transfer to Leslie, for $XXX. Find the bolded words in the puzzle, to uncover the hidden words. They will be in order, right at the top. Enter the password in all lowercase, with no spaces. While you were both recently full of zeal at your bachelor and bachelorette parties, you have now sealed your vows. As you unite and accept responsibility, smile at your ball and chain. May your honeymoon be full of laughter, passion, romance and memories. Thank you for sharing the big day with us and we look forward to seeing you back home as newlyweds.

Lots of love,

Pat and Chris
As I have mentioned before, an interact email money transfer is one of the safest, easiest and best ways to give cash at a wedding (plus, cash is the best wedding gift!). Out come the naysayers, "cash is so impersonal," "cash is so boring," "cash doesn't have any thought put into it." Wrong, wrong, wrong. Here is a way to make that cash gift fun and fabulous: Use a custom word search to provide the password.
First off, set up an email money transfer. You may even have a few per month that are free; otherwise it will probably be $1 or $2. You may wish to send it the day after the event, when the couple has had a chance to go through their presents. Pick a fun word or phrase to use as the code word. Note how you enter the password, all lower case with no spaces, one capital, two words with a space, etc. Write these specifics in your card.
Go online to the Discovery Education Puzzlemaker and set up your puzzle, using the tips below: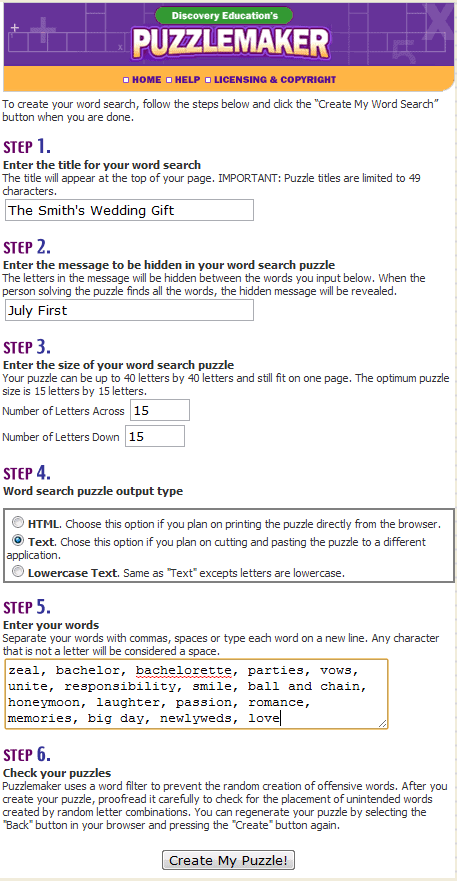 Step 1 – Other title ideas: The Key to the Cash, Your Ticket to $XXX
Step 2 – Pick something fun, or relevant, but also words which will be really obvious to the recipients. While you may bond over the dino comics at qwantz.com, identifying qwantz as the password might be rather difficult! (Note: it's important your password meets the bank's criteria, so make sure you set it up first.) For the example, I picked July First, our fake couple's wedding date.
Step 3 – Don't make your word search too big, you don't want to aggravate the newlyweds, who probably have other things on their minds!
Step 4 – Also check the output type that you would like to use. Text will be the most versatile for printing and adding to a card.
Step 5 – There is lots of room for creativity here! You can either just use words, or use your words in a message to the newlyweds. This is a good place to get in a lot of references to your friendship, memories you have together, jokes, things that will make the couple smile or laugh and more. The example here is obviously for good friends who are okay with jokes about being married! See the bottom of this post for a huge list of word inspiration, stolen liberally from around the internet and my noggin. To be nice, make your words longer, so the puzzle is faster to solve.
Step 6 – Copy and paste that sucker into your word processor of choice. Pretty it up as you see fit!
Step 7 – This is an important one: check your word list against the word list at the bottom of the puzzle, to make sure you don't have them hunting for words which aren't included! You could also consider including the "hangman" spaces, like on the website generator.
Below is what this example looks like, after I solve it in Paint (yes, advanced graphics, I know).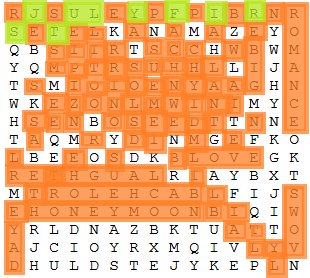 J U L Y F I R S T
The example used 19 words and a 15 x 15 area. I think I would recommend about 20 words and a 10 x 10 area. The generator splits apart every word, so "ball and chain" was three separate words. Using mostly longer words makes it less frustrating and faster to solve.
To see our full list of unique and creative ways to give money as a gift, please visit the Cash Gift Ideas page.
This list of wedding inspired terms was stolen from various places on the internet and from my noggin. They include some from various traditions and religions that you may not know.
affection
dear
husband
proposal
wali
aisle
declaration
idiosyncrasy
qazi
walima
altar
décor
imam zamin
rabbi
wedding band
attendant
devoted
in law
reading
wife
bachelor
dine
invitation
reception
willingness
bachelorette
dinner
join
relationship
wisdom
ball and chain
dowry
joy
respect
wonderful
beloved
dress
ketubah
responsibility
yichud
best man
drinks
kilt
rice
zeal
big day
emotion
kiss
ring
zestful
blessing
endear
lace
rite
bouquet
engagement
laughter
romantic
boutonnierre
eternity
license
rukhsat
bow
family
limo
sacrament
bowtie
fascinator
love
shoes
bride
favours
maid of honour
shower
bridesmaid
fiance
makeup
silk
budget
fiancee
marriage
smile
buffet
flower girl
marzipan
soiree
bunting
flowers
mate
spinster
buttercream
fondant
memory
stag
cake
forever
mister
sweet
calligraphy
fountain
mrs
sweetheart
candles
gala
music
symbolize
ceremony
garter
nails
tails
champagne
gifts
nerves
temple
chapel
grin
newlywed
tender
chocolate
groom
official
tie
church
groomsman
officiant
toast
clergy
hair
partner
together
commitment
happiness
party
traditional
companion
hattabin
passionate
train
congratulations
heart
pastor
travel
corsage
hitched
photos
tuxedo
couple
honeymoon
piping
union
courtship
honour
pomander
unite
cry
hope
present
usher
cummerbund
hora
priest
veil
damask
hug
procession
venue
dance
huppah
programs
vow
[Photo – CC Attribution – contemplicity]