Disclosure of Material Connection: Some of the links in this post may be "affiliate links." This means if you click on the link and purchase an item, I will receive an affiliate commission. Disclosure in accordance with the Federal Trade Commission's 16 CFR, Part 255. This site is a participant in the Amazon Services LLC Associates Program, an affiliate advertising program designed to provide a means for sites to earn advertising fees by advertising and linking to Amazon.
Lounge around the pool in style this summer with these rad pool floaties for adults (that will make you feel like a kid again.)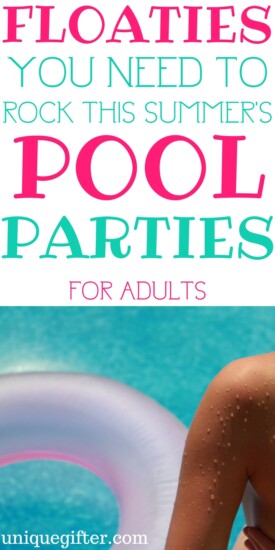 Deck out your pool with some stellar floaties, alongside The Best Accessories you can buy!
The Floaties You Need to Rock This Summer
Donut Float
Hungry for summer fun? Chill out with this pink frosted donut inflatable.
Diamond Ring Floatie
If you like it then you should have put a pool floatie on it
9 INflatable Drink Holders
For ultimate relaxation, put your beer in a floatie next to you #floatiegoals
Cactus Pool Inflatable
Look sharp this summer chilling on this cactus float
Pineapple Float
Be the pineapple of someone's eye at the pool this summer
Unicorn Floatie
If you're chilling in this floatie, you might find a magical rainbow…or just get a nice tan.
Bacon Float
Don't go bacon my heart by missing out on this bacon pool float
Avocado Float and Beach Ball
Relax on your uber hip avocado float and use the inflatable pit as a beach ball
Giant Pretzel Floatie
Bring some cheese and a beer and you're good to go with this giant pretzel pool float.
Taco Float
Let's taco 'bout it
you need this floatie!
Inflate-a-bull Pool Float
You never knew you needed an inflatable bull for your pool, did you? Well, you 100% do.
Star Wars Millennium Falcon Float
May the force be with you this summer
Margarita Floatie
You can't have a margarita by the pool wihtout this floatie…well, you can, but it won't be nearly as fun
Golden Dragon Pool Float
If you want to float like Khaleesi this summer, this float is your you, mother of dragons
Rose Floatie
Another boozy float, this summer have rose all the way
Giant Shell Pool Float
Embrace your inner mermaid and lounge in this giant shell float
Floating Beer Pong
A party ain't a party without floating beer!
Ice Cream Sandwich Float
Escape the heat with this ice cream sandwich floatie!
Rubber Duck Pool Floatie
Not only is this duck quackin' fun, he comes with cup holders for your La Croix (or the adult beverage of your choice!)
Inflatable Volleyball Set
This easily transportable inflatable volleyball set will keep you busy all summer.
Ready to rock the pool this summer?
See you there!