Disclosure of Material Connection: Some of the links in this post may be "affiliate links." This means if you click on the link and purchase an item, I will receive an affiliate commission. Disclosure in accordance with the Federal Trade Commission's 16 CFR, Part 255. This site is a participant in the Amazon Services LLC Associates Program, an affiliate advertising program designed to provide a means for sites to earn advertising fees by advertising and linking to Amazon.
[Photo]
"The store was fresh out of gravy trains, so we got you this gravy boat instead. Stay saucy on the HMS Gravy"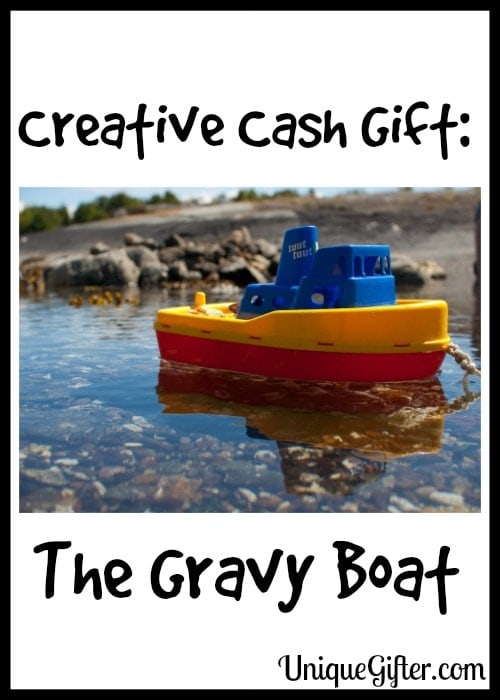 The Gravy Boat, or sauce boat as they are frequently called, is a wedding registry staple gift. While I have it on good authority that you can put more than gravy in such a boat… hello there chocolate sauce… they are still very much known as gravy boats. Thus, I present HMS Gravy… the Gravy Boat. This cute little gift should be possible for $3-5. Unless the couple has small children, this is best treated as a "gift bag" or "wrapping paper" so please do not spend too much money on something that is likely destined for the thrift store!
Step 1: Go to the dollar store, thrift store, local grocery store or big box store and pick up a small plastic boat. If you think someone would appreciate the added cost of a remote control boat, consider springing for one.
Step 2: Use a sharpie, or a label maker to be fancy, and rename your little boat the "HMS Gravy" or if you are American, the "USS Gravy."
Step 3: In your gift, you can include the actual gravy boat from the wedding registry, a gift card or cash, or a book of sauces and gravies. You could also include some gravy mix packets, but some people get offended when you do that, thinking you're calling them a bad cook! Another choice would be a selection of spices usually used to make gravy, such as allspice, ultra fine flour, pepper corns, cumin…
I have this sauce book:

What it has taught me: It turns out that when you drizzle things in mostly fat, they are delicious.
So – be the unique gift giver and give a toy boat at a wedding, instead of a kid's birthday! And, don't forget to give a card, with a nice message, written by you.
Gravy Boat Gloat

There once was a chef who did gloat

About the size of his gravy boat

"It's so big" he would squee

"you could take it to sea

or swim in gravy right up to your throat!"
To see our full list of unique and creative ways to give money as a gift, please visit the Cash Gift Ideas page.