Disclosure of Material Connection: Some of the links in this post may be "affiliate links." This means if you click on the link and purchase an item, I will receive an affiliate commission. Disclosure in accordance with the Federal Trade Commission's 16 CFR, Part 255. This site is a participant in the Amazon Services LLC Associates Program, an affiliate advertising program designed to provide a means for sites to earn advertising fees by advertising and linking to Amazon.
When it comes to creepy, cute, scary, and fun these creative Halloween cookies have it all! Oh, and I need to tell you that all of these cookies tastes amazing too. I am seriously getting hungry thinking about all of them. Whether you are making Halloween cookies for a party, school event, or just because you are hungry for a sweet treat, you are going to find something that will work for you. The options in this list are terrific!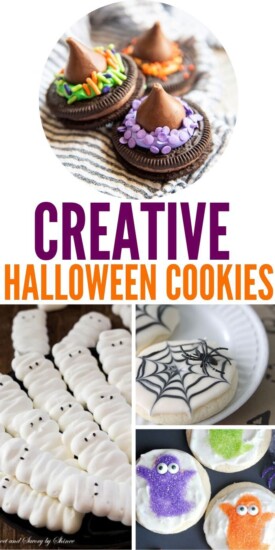 20 Creative Halloween Cookies
Don't you just love making treats that everyone goes crazy for? That's exactly what's going to happen when you make these cookies. You don't have to be a master baker to be able to accomplish them either. Easy-to-follow directions will save you time and confusion. Once you make these cookies you will feel so proud of yourself and all your work! The only bad thing is they disappear rather quickly.
Supplies For Baking Halloween Cookies
Here is a list of a few of the supplies you might like to have on hand when you start baking. Keep in mind each recipe has its own requirements, I just wanted to share the basic items that are nice to have.
Cookie Baking Tips
If you haven't baked a lot of cookies in the past, you be wondering how to get them to turn out correctly. I wanted to give you a few tips and tricks that will help you along the way.
If the cookie recipe calls for butter, it's probably supposed to be soft. That means you don't want to take it straight out of the fridge or have it be melted. When you lightly touch the butter with your finger it should still seem cool to the touch. If it's melted then let it sit a little bit so it cools down first.
Parchment paper is your friend. Using parchment paper will save you time when you have to clean the pan. Plus, it will help the cookies bake properly. Parchment paper is also non-stick too!
Always measure ingredients properly. Use measuring cups for liquid that are intended for liquid and cups for dry ingredients that are intended for dry ingredients. Otherwise, you may find that you put too much of a particular ingredient in and the cookies are too wet or dry.
Fold in candy, nuts, and chocolate chips last. You want the batter to be completely ready then add the extra ingredients with a spatula. Fold it in gently and you will be all set.
Use a cookie scoop for dough. This will allow more uniform shaped and sized cookies. Plus, they will look better too.
Don't move the cookies until they have cooled down. If you try to move the cookies off the baking sheet too quickly they may tear or wrinkle up.
I hope you have found some delicious and creative Halloween Cookies that are to-die-for! We would love it if you tag us in your finished cookies!
Looking For More Frightening Halloween Themed Ideas?
Take a look at some of our other amazing Halloween ideas that I am sure you will love.
20 Creative Halloween Cookies
Sink your fangs or teeth into these 20 creative Halloween cookies! There are so many sweet and yummy treats that are calling your name!