Disclosure of Material Connection: Some of the links in this post may be "affiliate links." This means if you click on the link and purchase an item, I will receive an affiliate commission. Disclosure in accordance with the Federal Trade Commission's 16 CFR, Part 255. This site is a participant in the Amazon Services LLC Associates Program, an affiliate advertising program designed to provide a means for sites to earn advertising fees by advertising and linking to Amazon.
Halloween is going to be extra fun when you make these spooky coffin homemade pop tarts! They will frighten you while tasting amazing. Who knew you could make these cute…I mean scary coffins so easily. All you need is 4 ingredients and a few minimal supplies to make these pop tarts. Make them for breakfast on Halloween, for a party, or just because you want to make a special treat.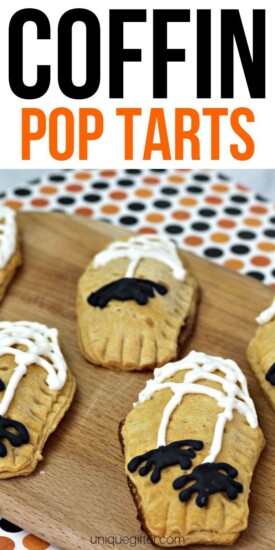 How To Make Homemade Pop Tarts
I forgot to mention that these homemade pop tarts don't just look awesome! They are actually really delicious too. I can't help but love making unique recipes that put a smile on my kid's face. These will do just that. Okay, let's get started so you can make your first batch of this pop tart recipe.
Ingredients:
Package refrigerated pie crust
Jar strawberry jelly
Spoon
Baking spray
Fork
Directions:
First Step: Preheat oven to 350 degrees.Prep the cookie sheet with baking spray.
Second Step: Prep the cookie sheet with baking spray.
Third Step: Sprinkle some flour on a cutting board
Fourth Step: Unroll one pie crust on the flour-covered cutting board.
Fifth Step: Using the coffin cookie cutter cut out 12 coffins from the pie crust.
Sixth Step: Transfer the unbaked coffin cookies to the cookie sheet.
Seventh Step: Add a small spoonful of strawberry jelly in the center of each of the unbaked cookie coffins.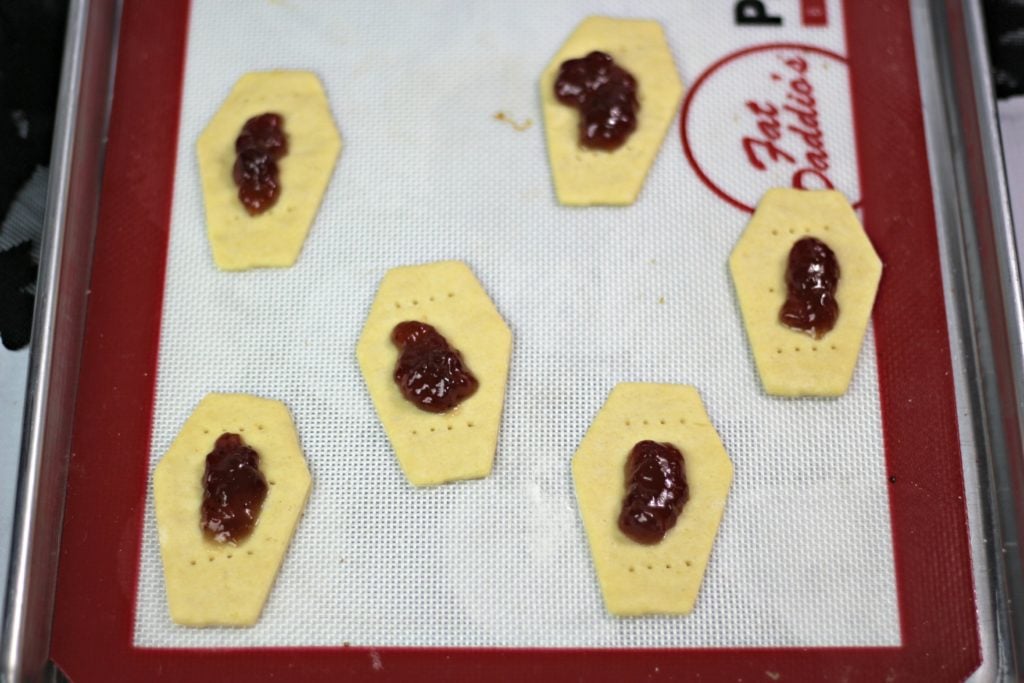 Eighth Step: Make sure the jelly is placed in the center of the cookies. (Keep it away from the edges.)
Ninth Step: Place the remaining unbaked coffin cookies on top of the other 6 unbaked jelly coffin cookies.
Tenth Step: Using the fork seal the edges of each of the coffin pop tarts.
Eleventh Step: Poke a few small holes on the top of the coffin pop tarts.
NOTE: This will allow steam to escape the pop tart.
Twelfth Step: Bake at 350 degrees for 20-25 min. It will be golden brown. Remove from the oven and set aside to cool completely.
Thirteenth Step: Using the white cookie icing, pipe on a spider web and using the black cookie icing pipe on a spider coming down from the web.
Fourteenth Step: Allow icing to dry for 30 minutes. Enjoy!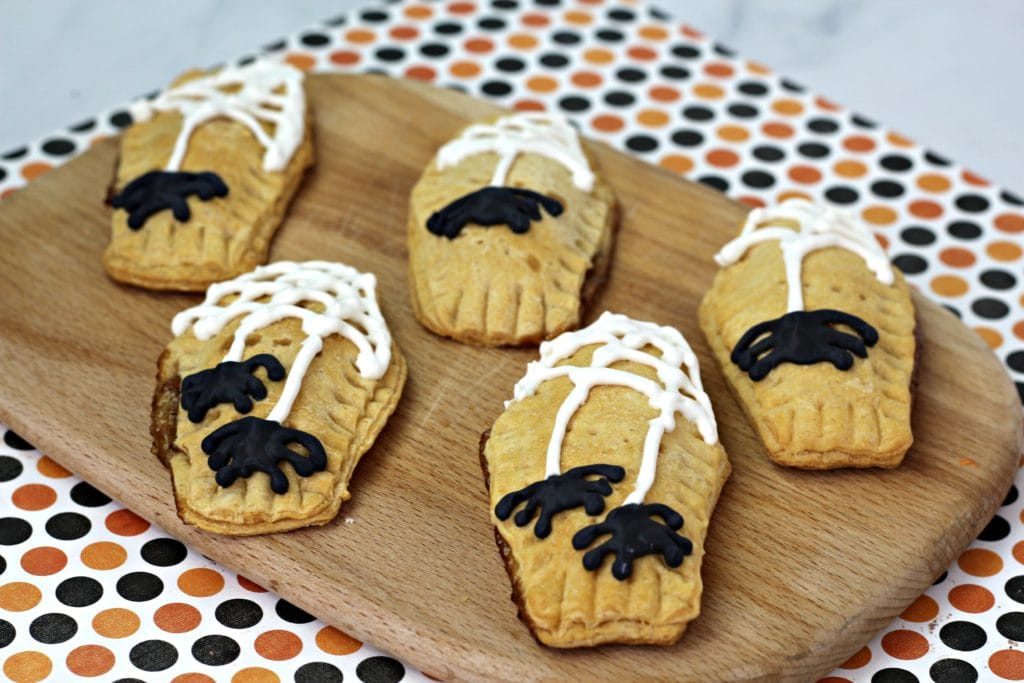 Optional Pop Tart Filling Ideas
I chose to go with strawberry jelly when I made these homemade pop-tarts, but you could actually use all sorts of other filling ideas. Here are a few ideas to get you started:
Peach jelly – If you love peaches, then this would be an excellent way to go. So flavorful!
Grape jelly – I can't help it; grape jelly has always been one of my favorites, so it just makes sense to add some in once in a while.
Apple pie filling – Use a little bit of apple pie filling to give yourself a real treat! Yum!
Nutella – This scrumptious hazelnut spread tastes impressive in all sorts of recipes, this one included! Try it; you won't be disappointed.
Cherry pie filling – It's no surprise that cherry pie filling looks like blood in the coffin! Just an idea. :)
You can really use anything you think sounds good. Let your imagination run wild and try all sorts of ideas.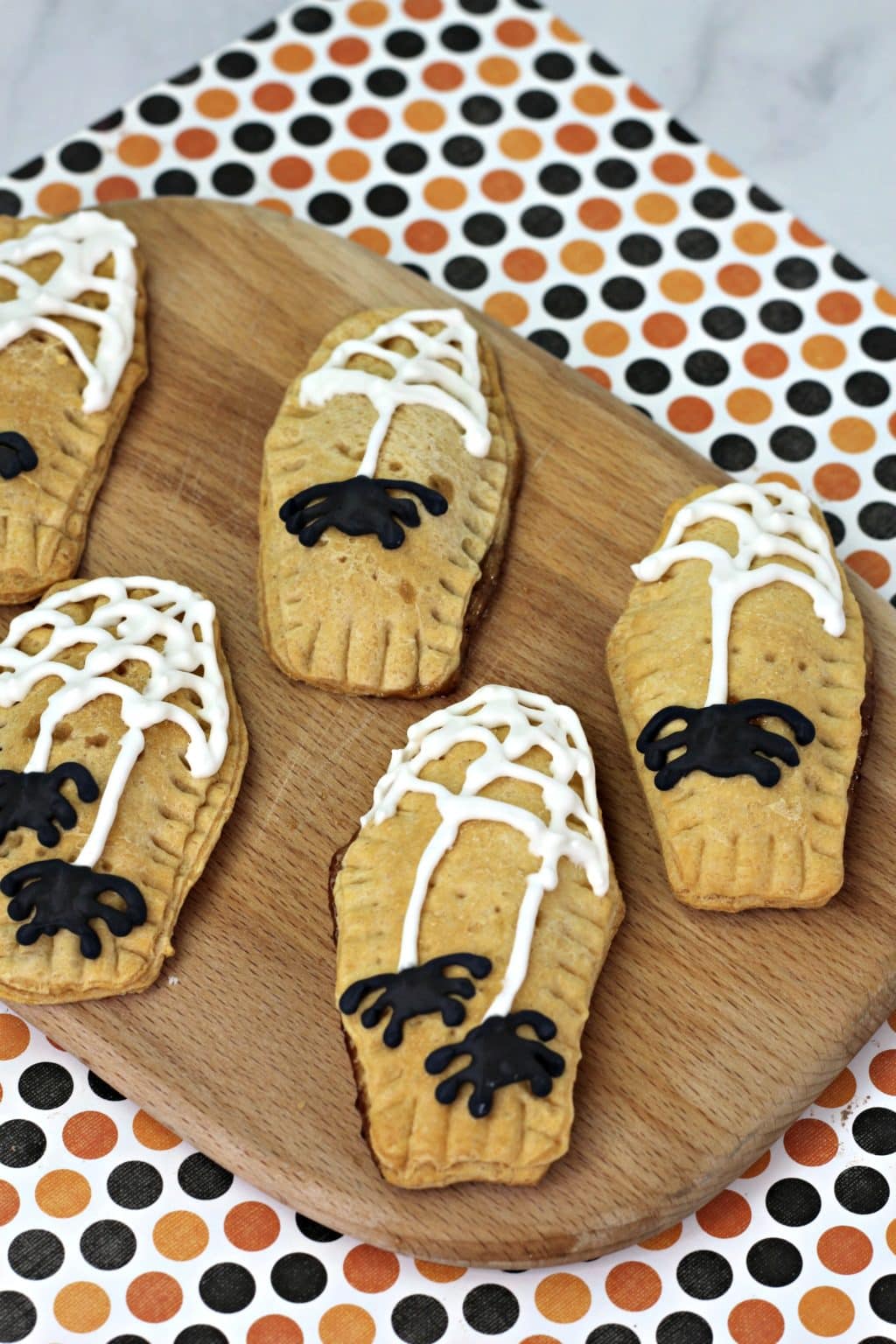 How Do You Store Homemade Pop Tarts?
You should store homemade pop tarts in an airtight container or a zip lock bag. They will last anywhere from 3-5 days if they are kept sealed. They are best refrigerated, but it's not required.
Heat them up in the oven for 10-12 minutes at 350 degrees F. Or you can easily toss them in the microwave for a few seconds until they are the temperature you want.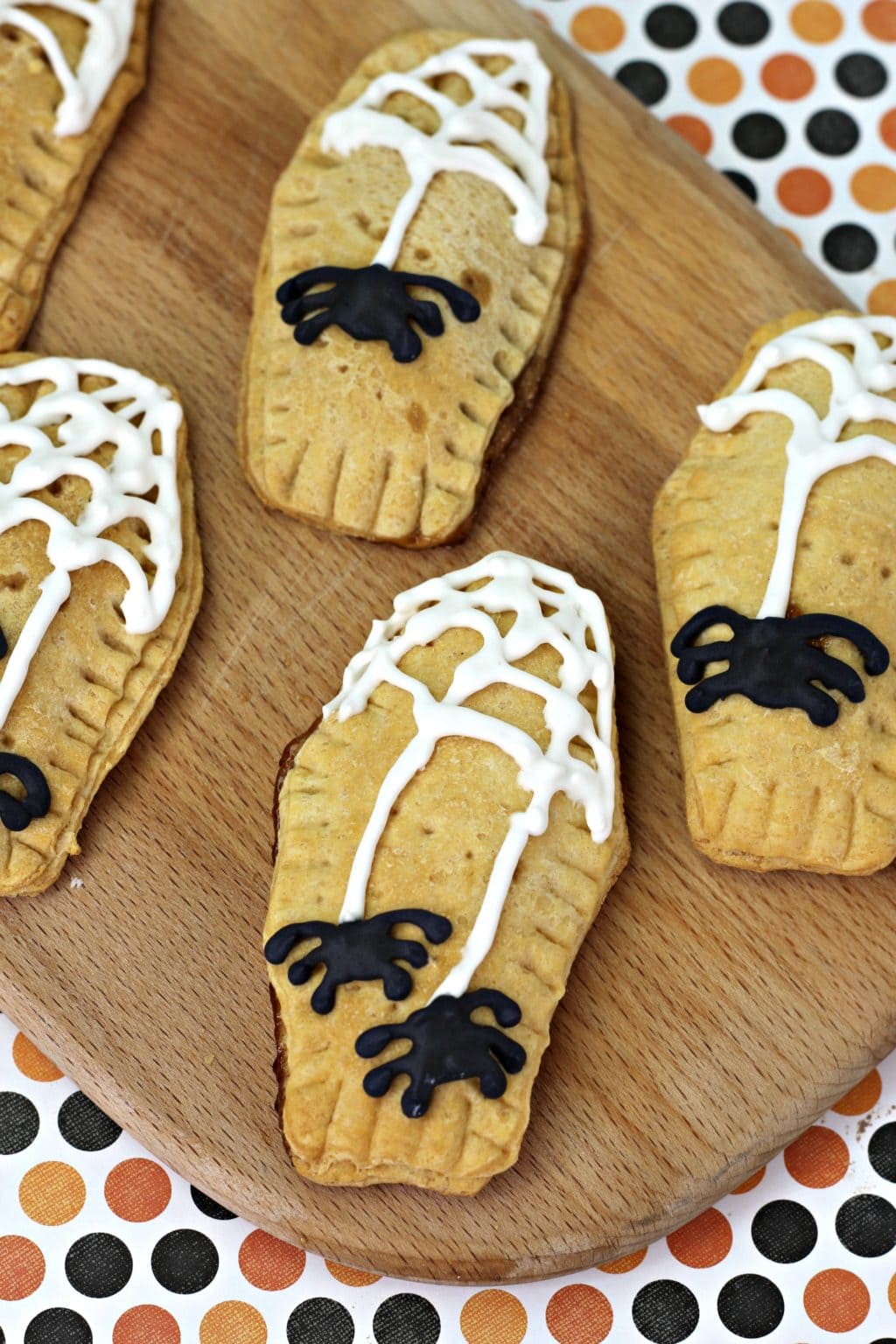 Can You Freeze Homemade Pop Tarts?
Yes, you can freeze these homemade pop tarts! Simply, place the pop tarts on a cookie sheet and freeze them for a couple of hours. Then take them off the cookie sheet and put them in a freezer bag. They will last 1-2 months in the freezer.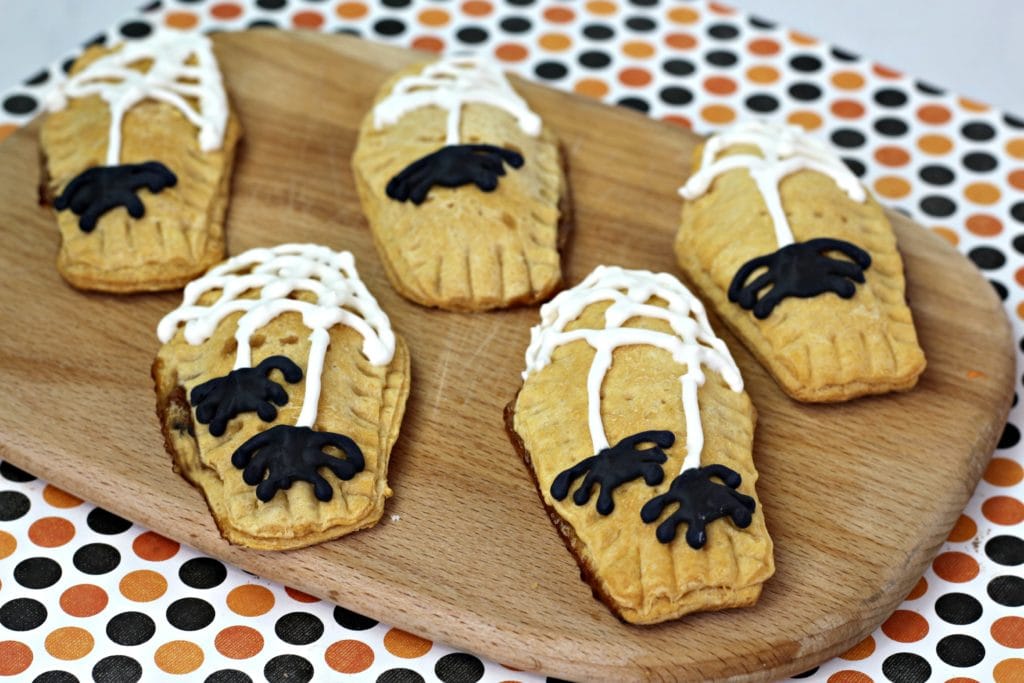 How Long Does It Take To Make Homemade Pop Tarts?
These delicious pop tarts are quick and easy to make! Plus, you get 6 servings, so they are perfect for a family breakfast idea. Take a look at the breakdown of time:
Prep: 15 min
Bake: 25 min
Total: 40 min
I hope you have enjoyed these delicious & spooky homemade pop tarts! Take a look at some of my other
Halloween
inspired posts.