Disclosure of Material Connection: Some of the links in this post may be "affiliate links." This means if you click on the link and purchase an item, I will receive an affiliate commission. Disclosure in accordance with the Federal Trade Commission's 16 CFR, Part 255. This site is a participant in the Amazon Services LLC Associates Program, an affiliate advertising program designed to provide a means for sites to earn advertising fees by advertising and linking to Amazon.
If you have a colleague you are wanting to buy an Easter gift for but are unsure what to buy, you might find some inspiration below. I have gathered 20 of the best Easter gift ideas perfect for any colleague. I always like to find fun gifts to give to fit the personality of my colleague and something I think would be fun to get as a gift as well. Hope you all find something perfect for your colleagues below.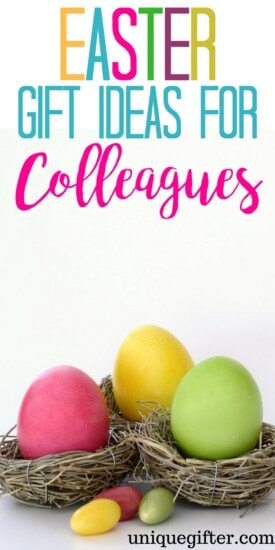 Holiday Inspired Easter Gift Ideas For Colleagues
Candy Jar
If you are buying for a colleague or two, consider a fun jar full of candy, a fun Happy Easter tag and pretty ribbon. No one can say no to chocolate!
Salt Lamp for Desk
Not only is this gorgeous to sit at an office desk but it helps cleanse the air around them and more. A perfect gift for Easter.
Moss Easter Bunny
You can never go wrong with a fun moss covered Easter bunny. They can use at their office desk or take home to decorate their home with for the holiday.
Cross Bracelet
If your colleague wears jewelry, you might find a fun cross bracelet to be a perfect idea. I love the fun colors of the beads paired with the cross.
Easter Mug
Love this mug, the glitter bunny just is adorable. Perfect for sipping your morning coffee or tea trying to wake up for work.
Wreath
Give your colleague a wreath to decorate their door with for the Easter season. I love this one, very pretty.
Monogrammed Tumbler
Tumblers are amazing for so many reasons and make your drinks fun. Here is a really cute Easter monogrammed tumbler that would be a fun and unique gift. Fill with candy or put a gift card inside for with a Starbucks card or something fun.
Succulents
Succulents scream spring weather is here, so this is a fun gift to give to decorate their office space, and welcome spring and celebrate Easter.
Bird House
A birdhouse is a fun Easter gift as they can sit by the office window and watch birds, or take home and enjoy birds coming to peck at seeds.
Tea Sampler
If your colleague loves tea, maybe consider a sampler style, so they have the option to try an assortment of new flavors.
Honey Stick Sampler
Honey always reminds me of spring and summer, and having a sampler of flavors is always fun. You can give this to one colleague or create little bundle packs and tie a ribbon around and give to a variety of colleagues.
Essential Oil Diffuser
Here is a really modern and fun looking essential oil diffuser. Maybe do this with some essential oils to help boost energy or even like Lavender to help relax after a hard day at work.
Golf Ball Bottle Opener
We all have long days at work, and if your colleague loves golf, they might enjoy this bottle opener. Pair with a 6-pack of their favorite beer.
Flower Terranium
This is so neat and is minimal attention needed for a beautiful flower terrarium for work or home.
Spring Bunny Table Topper
This is super cute and a fun way to wish your colleague a Happy Easter! I love the little display that they can keep for years to come.
Welcome Peeps Sign
A fun sign to give a colleague of yours to share a little "hoppy" Easter spirit with them.
Easter Towels
Give the gift of fun towels that have an Easter theme. They can display hanging on their oven, or use in the kitchen every Easter.
Golf Mug
If your colleague loves to golf, here is a really cute and affordable mug. Stuff with some K-cups or their favorite hot chocolate mix for a fun gift.
Hot Sauce Sampler
If your colleague can take the heat, give them a hot sauce sampler and see if they can manage not to sweat trying them out.
Happy Easter Sign
I think a fun Easter sign is a great gift for a colleague, they probably decorate at home, so give them something they can use each year.