Disclosure of Material Connection: Some of the links in this post may be "affiliate links." This means if you click on the link and purchase an item, I will receive an affiliate commission. Disclosure in accordance with the Federal Trade Commission's 16 CFR, Part 255. This site is a participant in the Amazon Services LLC Associates Program, an affiliate advertising program designed to provide a means for sites to earn advertising fees by advertising and linking to Amazon.
Being 14 years old can be tough! You are not a little kid anymore and you are becoming a young man, but yet you still like to goof around and have fun! Most 14-year-old boys start getting their first taste of a squeaky voice and some random acne. So what in the world do you buy for a 14-year-old boy you ask?? Well, we have it all figured out for you! Here is a unique list of gifts that are cool, fun and some are even useful to make Christmas even more memorable!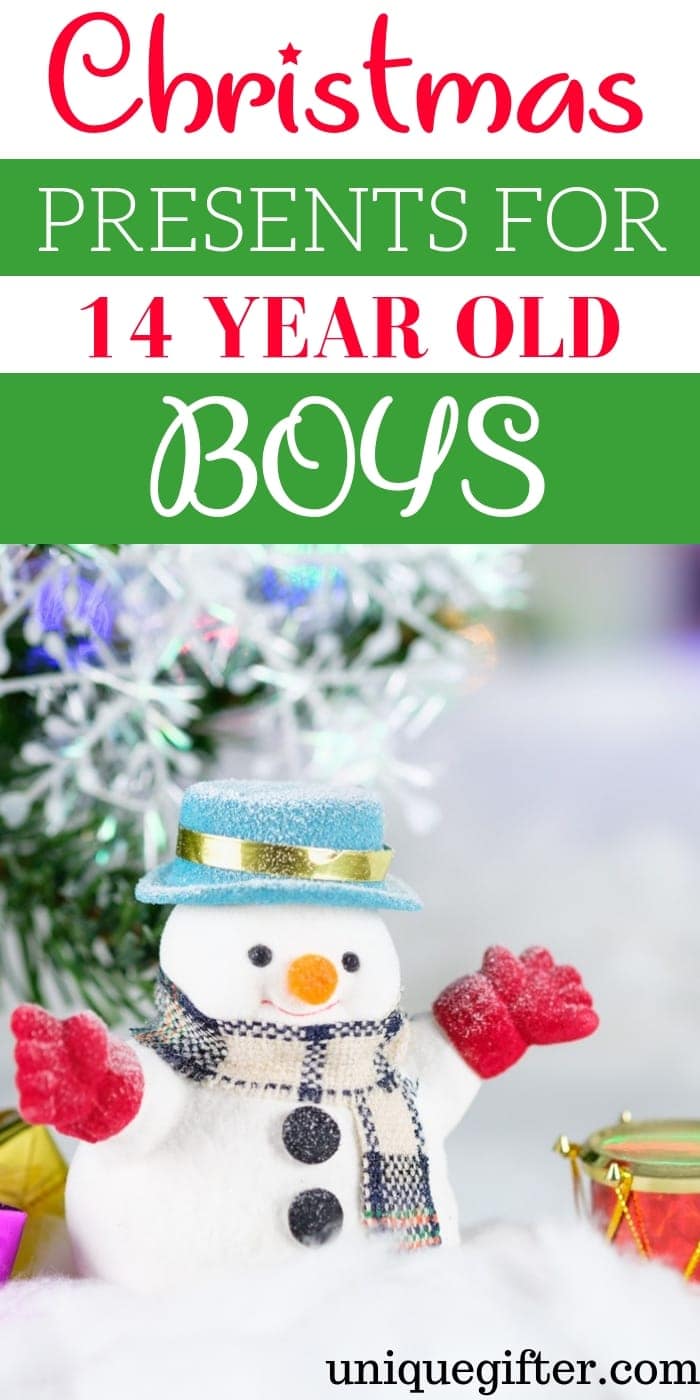 Fun and Creative Christmas Presents For 14 Year Old Boys
National Geographic Binoculars
These are perfect for going on hikes, hunting or even just exploring. Checking the world out through the eyes of binoculars never gets old no matter how old you get.
Light-Up Air Power Soccer Disk
Check out this gliding soccer disk that can be used indoors or outdoors for play and exercise. Say what??? You can have fun and exercise all at the same time! Winning gift idea right here!
Mini RC Helicopter Drone
Want to be the coolest gift giver in all the land? Then buy this super awesome drone! It's easy to use and will provide hours of entertainment for kids young and old.
DIMY Bike Wheel Light
Spruce up the old bike with some bike lights. They look awesome and there are several colors to choose from. Plus, these are going to help keep them visible when riding at night.
Infrared Laser Tag
You can never get to old for a game of laser tag! You can have 4 players with this set and they can be used indoors or outdoors. Get your game on!
Catapult Wars
Building a catapult is so much fun! You can make a game out of it with the tiny colored bean bags that are included in the kit. Perfect fun for those long and cold winters.
Manual To Manhood
14 years old is a weird age because they are still kids and like to do kid stuff…(when their friends aren't looking), but yet they are changing into men. This book has tons of valuable information that will be super helpful!
Shocking Game
I can just see it now…a room full of teenage boys playing this insanely fun game where they get shocked! There will be so many laughs!
Capture The Flag
This game is wonderful because it promotes exercise and it's simply really fun! Even adults will enjoy playing this game.
Solar Rover Kit
You can never be too old making a rover. This kit comes with everything you need to make your own rover. You might even want to get two of them so they can race.
Bean Boozled Gift Set
This game is fun for the whole family! You never know if you are getting ready to eat a peach or vomit flavored jelly bean! Gross…Right?? Perfect for a 14 year old boy!
Bluetooth Headphones
Buy Now
These quality headphones are comfortable, wireless and even have a built in microphone. If you teen has a problem with selective hearing it may get worse with these, but they he is going to LOVE them!
Camouflage Wallet
He is going to feel like an actual adult once he has his own wallet. Who knows, maybe he will even take YOU out for ice cream! Okay…Okay…I know that is pushing it, but it is worth a shot!
Glacier Wooden Boomerang
Buy Now
This boomerang is so fantastic! It is handcrafted from birch wood that was imported from Finland! How cool is that?
Fire 7 Tablet With Alexa
There isn't a teen on the planet that wouldn't go crazy to have this tablet! It has everything you could ever want in a tablet. Buy this and you won't regret it.
Acoustic Guitar Bundle
Buy Now
Is your teen into music? If so, this guitar is an amazing gift idea. This kit has a tuner, picks, bag, instructional dvd, straps and strings.
Echo Dot
It doesn't matter if you are a little kid, teen or full grown adult there is just something fun about talking to Alexa! Any teenage boy would feel pretty cool with his own echo dot.
Wonnv Retro Skateboard
There are several colors to choose from and the skateboard helps promote healthy living! Your teen will be learning new skating skills in no time.
Nintendo Switch
Buy Now
This gaming device is so awesome! You can play it with others, on the go or hook it up to a tv. Your kiddo will be the coolest kid on the block when he gets this.
Revell Ford Bronco Model Kit
This model Ford Bronco has 137 pieces that your teen can put together. You might even get to hang out with him while he works on it. Perfect for anyone with a passion for vehicles.
Hope you found some fantastic gift ideas for that hard to buy for teen in your life. One thing for sure, is there are hours of fun to be had with any of these gifts!