Disclosure of Material Connection: Some of the links in this post may be "affiliate links." This means if you click on the link and purchase an item, I will receive an affiliate commission. Disclosure in accordance with the Federal Trade Commission's 16 CFR, Part 255. This site is a participant in the Amazon Services LLC Associates Program, an affiliate advertising program designed to provide a means for sites to earn advertising fees by advertising and linking to Amazon.
A thank you gift, or just a gift for a person in your life who means a lot and happens to be a dentist, either way, you want to choose the perfect one that says how much you appreciate them. The good news is that there are a lot of fun choices for gift ideas for dentists and others who are in the dental profession. Which one of these will the dentist in your life love the most? Make the dentist in your life feel special, with one of these unique and creative gift ideas below.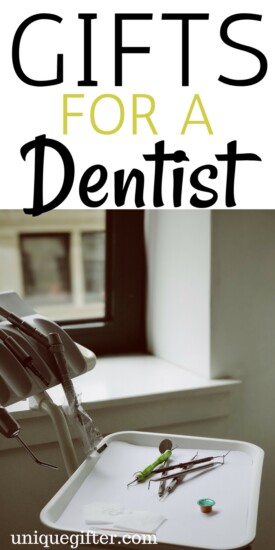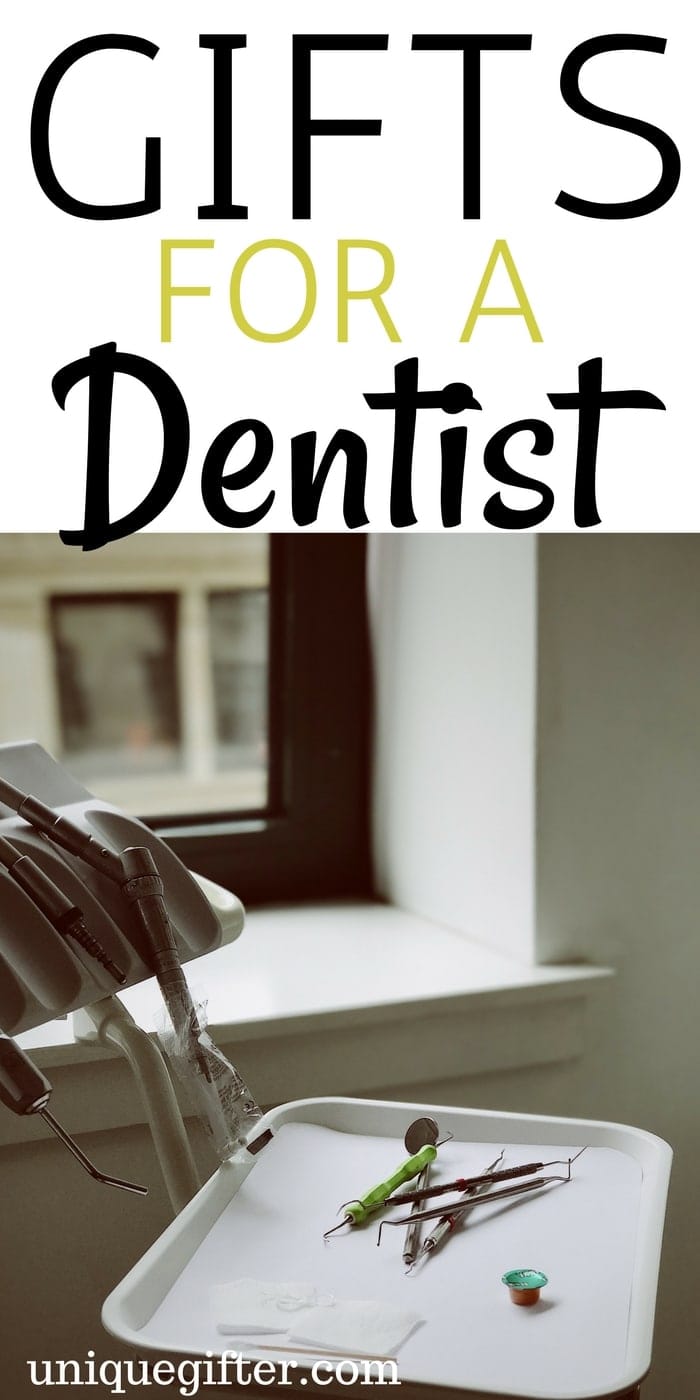 Say "Aaaaaa"
But Don't Spit!
Gift Ideas for Dentists
"Tooth fairy" Shirt
Dentists are a different kind of "tooth fairy," yet complete a very important task for us each time we go.
Sweetest Dentist Cupcake in a Jar
If the dentist in your life is the sweetest dentist, they definitely need a cupcake in a jar, after all, occasional treats won't do too much damage, right?
"Keep calm and make beautiful smiles" Gold Foil Print
Everyday that they work, they work to make beautiful smiles even more beautiful!
"The original selfie stick" Coffee Mug
Their mirror instrument was the original selfie stick, back in the day!
Tooth Fairy Key Fob
Every tooth fairy or dentist needs a key fob to keep their keys easy and fun to use.
Dental Tools and Teeth Sneakers
Fancy dental tools and teeth sneakers will soon become their favorite piece of their wardrobe, plus they look super comfortable too!
Personalized Tie Bar with Tooth
A personalized tie bar for your favorite dentist on those occasions when they have to wear a tie.
Toothbrush Necklace
For a dentist, toothbrushes are important, important enough to wear on a necklace!
"I hope you understand the cavity of the situation" Coffee Mug
Instead of understanding the gravity of a situation, a dentist wants you to understand the cavity of the situation, and that's the tooth!
Dental Tools Wall Art
Dental tools wall art will look great on the wall of their home, office, or even the exam rooms.
"Dentists need shots too" Personalized Shot Glass
Dentists need shots too, but they are definitely a different kind of shot.
"Brush floss smile" Keychain
Brushing their teeth, flossing, and smiling, is all a part of their job as a dentist.
"Drill, fill, bill" Coffee Mug
The usual process of their job: drilling teeth, filling teeth, and billing patients. This mug is more to be funny than to be serious, and your favorite dentist will love drinking their coffee from it each morning.
Tooth Necklace
I don't know about you, but I think every dentist needs a tooth necklace to wear for special occasions!
Personalized Tooth Wine Glass
Long days at work filling and pulling teeth usually end with a personalized tooth wine glass full of wine. Speaking of wine, we have more gifts for wine lovers here.
Toothpaste Tube Earrings
These toothpaste tube earrings will look great on their own, or matched up with the toothbrush necklace above.
"The best dentists have beards" Shirt
If your favorite dentist has a beard, this shirt is for them.
Personalized Floral Tooth Design Cutting Board
While teeth may not be the most beautiful thing, especially if they are seeing them everyday at work, this personalized floral tooth design cutting board is beautiful and will make a nice addition to their kitchen tools. While you're at it, check out these cute DIY towels for the kitchen too!
Smile Scarf
Whether they wear it to work or to another type of event, this smile scarf will get smiles and giggles, which is always the goal!
"Toothbrush Rex" Dinosaur Wall Art
Fun for the dentist who loves t-rexes or dinosaurs in general, this print will be one of their proudest pieces.
A gift for a dentist should be fun and worth a giggle, and most of these fit the bill!