I love Easter, it is so pretty with all the pastel colors, stuffed animals, to name a few. With Easter right around the corner, why not shower your boyfriend with a little Easter gift that will make him know how much you love him. Check out my picks of Easter gift ideas for my boyfriend below to inspire your gift giving.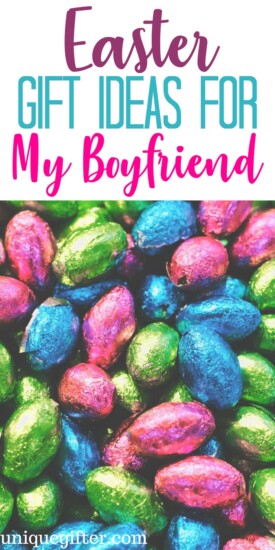 Special Easter Gift Ideas for My Boyfriend
Go through and see if anything stands out as a gift that fits his personality. Shower him with love this Easter! Another fun idea, if your boyfriend is a kid at heart, is to do an Easter egg hunt or decorate eggs together.
Once you're done shopping for your boyfriend, send him these Easter gift ideas for my girlfriend so he can give you something special too!
Hopefully these Easter gift ideas I know my boyfriend will love will inspire your partner's gifts too. Whether you're just giving him a little something, or doing up a full Easter basket, he'll definitely appreciate getting a gift come Easter morning. Who says the Easter bunny only spoils kids?