Disclosure of Material Connection: Some of the links in this post may be "affiliate links." This means if you click on the link and purchase an item, I will receive an affiliate commission. Disclosure in accordance with the Federal Trade Commission's 16 CFR, Part 255. This site is a participant in the Amazon Services LLC Associates Program, an affiliate advertising program designed to provide a means for sites to earn advertising fees by advertising and linking to Amazon.
This Easter, throw the best Easter egg hunt on the block with these awesome tips. Learn how to host an amazing Easter egg hunt for a group of any size.
Easter egg hunts are an annual holiday tradition. But hosting an amazing egg hunt means more than simply hiding a few eggs in your backyard. From picking the perfect location to finding fun prize ideas, I have everything you need to host an Easter egg hunt this holiday season.
Here's what you can do to run the perfect egg hunt in your own backyard or at a venue!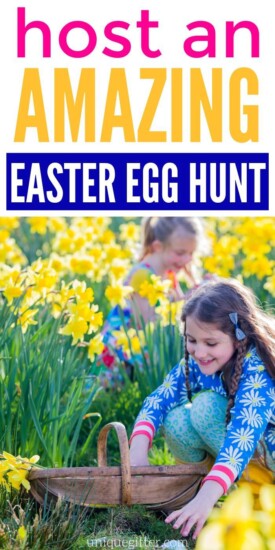 Pick the Perfect Location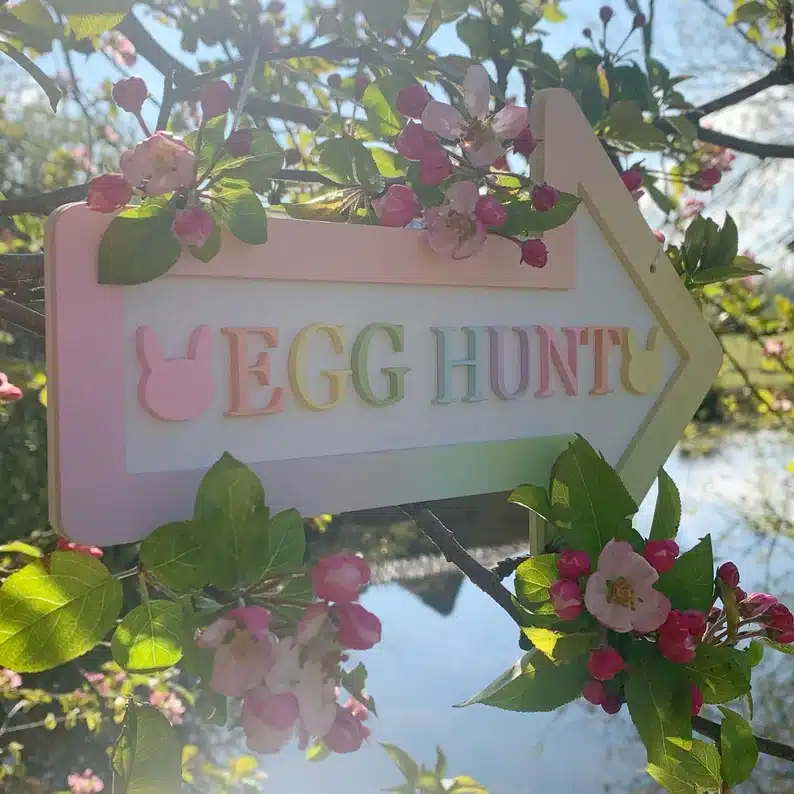 The size of the space you'll need will depend on the number of kids you plan on hosting at your Easter egg hunt. If you plan to stick to family and friends, your back yard may be a great option.
But if you're hosting a bigger get-together, you should consider larger spaces, like your neighborhood park. Just be sure to check if permits or registration is needed before sending out your invitations!
Plan for the Weather
While you may be hoping for perfect weather for your Easter egg hunt, spring can be unpredictable. Make sure you have a back-up plan or a tent in case the weather isn't cooperating on your scheduled date.
Whether you schedule a separate rain date for your party or just have a back-up indoor location set up, make sure your guests know what to do if it's raining on the day of your Easter egg hunt.
Send out Invites
You need to make sure everyone you want to come to your Easter party knows about the event ahead of time. That means sending out invitations is essential.
While mailing paper invitations is a great way to set the tone for the Easter egg hunt, there are a variety of ways you can invite your guests to your party, including:
Sending e-vites to your guests' emails
Creating a Facebook event and inviting guests to join
Calling your friend and family and personally inviting them
Hanging up flyers around your neighborhood inviting nearby neighbors
Knocking doors and inviting guests in person
Designate the Egg Hunting Space
Now that you have your location selected and guests invited, it's time to set up your Easter egg hunt! Start by designating a section of the area for the Easter egg hunt.
Use ribbon or tape to the section of an area of the yard or park. Or place signs around the area letting egg hunters know which spaces are off-limits. In addition to helping your young guests find the eggs more easily, these boundaries will also keep the kids confined to one area, making your Easter egg hunt a little bit safer.
Pick Your Eggs
One of the biggest dilemmas you'll face as you plan your Easter egg hunt is whether to use real or plastic eggs. While real eggs are a time-honored tradition, plastic eggs are probably a better choice – especially if you have a large group of Easter egg hunters.
On top of the chance that the kids may leave some of those real eggs outside to rot, plastic eggs are more fun for the kids. After hunting the eggs, they get to open each one and see what's inside!
That means that if you plan on using plastic eggs, you'll also need to decide what to put inside those Easter treasure holders. There are a few different options to consider, including:
Including a variety of items in the eggs will make opening each egg after it's found that much more fun for the kids who are participating.
Hide the Eggs
Before your guest are set to arrive, head out to your location and begin hiding your Easter eggs. Where and how you hide your eggs will depend on the ages of your participants. If you plan to have mostly young egg hunters, it's best to hide the eggs in obvious places, so the egg hunt isn't too difficult for each of the participants. But if you'll have older kids searching for the eggs, you can have a little fun by hiding the eggs in more concealed spots, like under bushes or on tree limbs.
The challenge comes when you'll have a bigger group of mixed-age children. If this is the case for your party, consider holding separate Easter egg hunts for younger and older groups of kids. Let the little ones go first. They can stay occupied, opening their eggs while the older kids search the yard for their hidden eggs.
Pass Out Prizes
Aster Flower Paper
On top of the prizes, the kids find in their eggs, make your Easter egg hunt a little more competitive by passing out prizes. You could hand out prizes for most eggs found, fastest Easter egg hunter, or first to find an egg.
Or if you prefer not to single kids out at your party, pass out a fun party favor to all the kids, like sidewalk chalk or bubbles, instead.
These are just some how to tips to host an amazing Easter egg hunt this year. Whether it's for your own family, a class, or another organization like your church or community center egg hunts are always a hit with kids!