Disclosure of Material Connection: Some of the links in this post may be "affiliate links." This means if you click on the link and purchase an item, I will receive an affiliate commission. Disclosure in accordance with the Federal Trade Commission's 16 CFR, Part 255. This site is a participant in the Amazon Services LLC Associates Program, an affiliate advertising program designed to provide a means for sites to earn advertising fees by advertising and linking to Amazon.
Does your daycare need some good Easter toys or learning materials? Check out the following list of Easter gifts for daycares. There is a wide variety of gifts, for learning, fun, or both, and are perfect for your daycare group this year!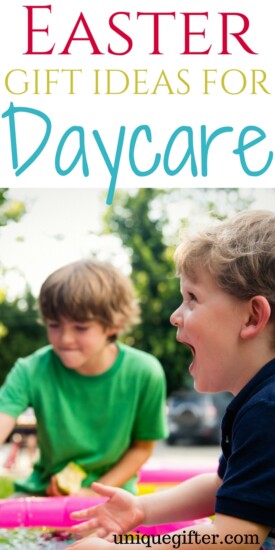 Two Awesome Easter Party Games
Help the kiddos celebrate the holiday and have fun with these Easter party games too. One is a bunny ears ring toss, and the other is a pin the tail on the bunny. Both are so much fun, sure to get the kiddos laughing and having fun, while also practicing motor skills too.
Printable Easter Treat Bag Topper
These printable Easter treat bag toppers are great for treats that you serve the kids for snack time or as a bonus. It would even be great for "bunny snacks" like baby carrots or other veggies.
Easter Cards
While the kids in your daycare might not get math quite yet, these laminated Easter math cards will help them practice numbers and some math skills before they start school.
5 Little Easter Bunnies Flannel Storyboard Set
Flannel storyboard sets are great for telling an educational or fun story to the kids in your care!
Jumbo 500 Piece Crafting Kit with Pom Poms, Pipe Cleaners, and Googly Eyes
Perfect for a craft day, they can make Easter bunnies, chicks, or flowers with this crafting kit! It could last a while too, since there are 500 pieces!
Easter Holiday Weekly Word Theme Wall Set
Pin these Easter holiday weekly word themes up on the wall to help them learn how to recognize words.
Easter Egg Alphabet Match Flannel Felt Board Set
Matching the alphabet on these felt Easter eggs will help them recognize and match their letters as they prepare for preschool or kindergarten.
Gel Window Clings for Easter
Decorate the window with these, or have the kids help you! They will love looking at these!
36-Pack of Play-Doh Various Colors
Play-doh is the perfect Easter gift for a daycare group, especially when they come in pastel colors as well!
Springtime Easter Felt Finger Puppets
Finger puppets can tell a story on your fingers for story time, or on their fingers, telling their own stories.
The Easter Bunny's Assistant by Jan Thomas
The gift of books is perfect any time of the year!
Realistic Artificial Hatching Chicken Eggs, Set of 10
These realistic artificial hatching chicken eggs will teach them about eggs, chickens, and hatching!
Easter Party Music CD
Kids love dancing and singing, and what a better way to do that as Easter approaches, than to have a designated Easter party music CD to put on?
Easter Coloring Cards
Coloring is always fun for all ages, give the kiddos these Easter coloring cards for holiday fun and fine motor skill practice.
Fun Preschool Strip Puzzle
Puzzles are a great fun, but also educational, activity. Strip puzzles are simple too.
The Velveteen Rabbit by Margery Williams and William Nicholson
The Velveteen Rabbit story is an excellent choice for Easter, and is a classic as well.
Easter Activity Set Download
An instant download with a fun and colorful Easter activity set will keep your kiddos busy and learning for a good chunk of time.
Felt Easter Bunny Tic Tac Toe
Have them play this felt Easter bunny tic tac toe game together and learn teamwork and taking turns.
The Night Before Easter by Natasha Wing and Kathy Couri
Another great book to add to your book collection, and to read at storytime leading up to Easter.
Easter Bumper Edition Curriculum Plans Download
https://www.etsy.com/listing/125981042/easter-bumper-edition-curriculum-plans?ga_order=most_relevant&ga_search_type=all&ga_view_type=gallery&ga_search_query=preschool%20easter&ref=sr_gallery-1-9
Curriculum plans for specific holidays can be hard to come by, but this one is budget-friendly and looks like a ton of fun too!
Your daycare kids will love any one of these gifts, or more than one!