Disclosure of Material Connection: Some of the links in this post may be "affiliate links." This means if you click on the link and purchase an item, I will receive an affiliate commission. Disclosure in accordance with the Federal Trade Commission's 16 CFR, Part 255. This site is a participant in the Amazon Services LLC Associates Program, an affiliate advertising program designed to provide a means for sites to earn advertising fees by advertising and linking to Amazon.
Mother's Day is the perfect time to show the mom's in your life how much they mean to you. For first time moms, it can be one of the most cherishing moments in her life. Check out these 20 Mother's Day ideas for first-time moms. Shop these gifts below to make her first Mother's day extra special and memorable.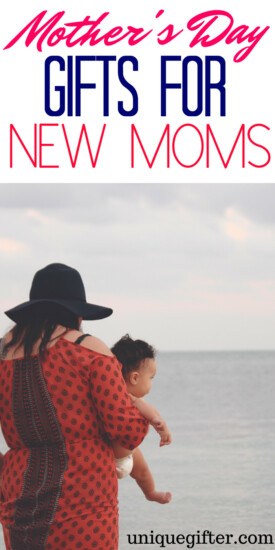 Special Mother's Day Gift Ideas for New Moms
Flower Ornament
For the mom who likes less clutter and more memorable gifts, this simple yet beautiful Flower Ornament says "I love you" and can double as a Christmas decoration for the tree. It's perfect for a new mom to remember her first Mother's Day every year when she hangs it up.
Tired As A Mother Coffee Mug
Okay, let's admit it… most moms are chugging coffee most of the day and if they are lucky, the coffee hasn't gone cold. Show the new mom in your life that you fully support her caffeine addiction with this Tired As A Mother coffee mug.
Personalized Cutting Board
As a mom myself, I appreciate gifts that I can use and enjoy more than something that just sits on a shelf. Why not have both with this beautifully engraved cutting board. It can work as décor when not being used and a reminder to all moms of her first Mother's Day. She will love this for years to come.
Wine Stoppers
Every mom has her drink. Here's a gift for those first-time mamas who like a glass of wine every now and then. Show the new mom in your life that she is appreciated with these wine stoppers … and for good measure, don't forget her favorite bottle of wine to go with them.
Sugar Bowl
Show the new mom in your life just how sweet she is by getting her a sugar bowl in her favorite color. Good news is, even if she doesn't use it as a sugar bowl, it could easily become a catch-all for loose change and makes a pretty decorative statement for any room.
Cat Planter
And while we're on pretty decorative statements, sometimes those offbeat mamas need the perfect gift too. For the first-time mom with a love for animals and plants, this gift is perfect and a great way to remind her that you dig her unique style.
Camera
Just in case her phone memory is full, mom will need a backup to take those special milestone photos of her precious child. These cameras are waterproof and digital which makes her life as a "momographer" just a little easier.
Willow Tree figurine
Show the new mom in your life how much she means to you by giving her this baby and mother figurine. She will love this reminder of her little bundle of joy that made her a mother.
Bath Bombs
Every new mom knows the joy of getting some alone time in the bathroom without a screaming baby on her hip. Show your favorite new mother just how much you appreciate her with these organic handmade bath bombs. Trust me, she will appreciate you in return.
Portable Organizer
For new moms on the go, it's easy to throw everything in a diaper bag and head on out, but why not make her life just a bit easier with this portable organizer. Keep this in the car for easy access to all mama and baby necessities on the go.
Spa Box
Let's take it on back to those bath bombs we mentioned… why not pair them up with this ultimate spa box set for mom? She deserves an extra pick me up & this is the perfect gift set to make her smile. Just don't forget to offer to watch the baby while she gets to (finally) bathe alone.
Digital Photo Frame
Remember that camera you picked up for your favorite first-time mom? Why not pair it with this distressed wood finished digital frame for her to show off all of her beautiful photos. Trust me, she will love it!
Birthstone Necklace
These birthstone necklaces are beautiful for any mom and for those first-time moms, either get her birthstone or make it more memorable by getting her a necklace with her baby's birthstone. You can't go wrong.
Fingerprint Rings
Okay, if you really want to impress a first-time mom, give her a ring with her baby's fingerprint on it. She will cherish this for a life time.
Family Necklace
This necklace is a wonderful way to show any mom you care about what she cares about.. and that is her sweet new family. She will adore this custom necklace.
Hottest Mess Cuff Bracelet
Let's be honest, most new moms consider themselves a hot mess for the first few years of being a mom. Why not play on her sense of humor letting her know that even if she is a hot mess, she's the hottest of the hot mess moms.
Custom Face Magnets
I'm kind of in love with this idea. Any mom would love to see her sweet little baby's face on a magnet. Be extra awesome and purchase and entire set with baby's first smile, yawning, and those super cute faces we all adore.
With these gift ideas, you are set to surprise your favorite first-time mom with a gift she will always remember. Tell us what your most memorable gift was in the comments below, and if you get one of these, let us know! We're @ugifter on twitter and @uniquegifter on Instagram.