Disclosure of Material Connection: Some of the links in this post may be "affiliate links." This means if you click on the link and purchase an item, I will receive an affiliate commission. Disclosure in accordance with the Federal Trade Commission's 16 CFR, Part 255. This site is a participant in the Amazon Services LLC Associates Program, an affiliate advertising program designed to provide a means for sites to earn advertising fees by advertising and linking to Amazon.
The Rabbit is the fourth animal in the Chinese zodiac's 12 year cycle. Celebrate this special year with some awesome gifts for the occasion. Check out these:

20 Gift Ideas for the Year of the Rabbit
Tales from the Chinese Zodiac Hardcover Book
Children will absolutely love this book. This is a fun New Year gift for the little ones.
Chinese Zodiac Painting T-Shirt
This unique t-shirt is the perfect piece for the special occasion.
Forever Postage Stamps
Know someone who sends out a lot of postage throughout the year? These Year of the Rabbit Forever Postage Stamps are the perfect gift.
New Year Enamel Lapel Pin
This pin is a simple, yet really cool, gift for the New Year.
Lucky $2 Bill
These colorized Year of the Rabbit $2 bills are a beautiful keepsake that can also double as an extra bit of luck.
Chinese Horoscope Pendant Necklace
This Pendant Necklace is an accessory that can fit with any outfit of the day.
Gold Rabbit Collectible Figurine
This figurine is a decorative piece that will add an elegant touch to any room.
Rabbit Coin Necklace
This Rabbit Coin Necklace makes it easy to carry your lucky charm at all times.
Chinese Zodiac T-Shirt
This T-shirt will be a stylish addition to the recipient's wardrobe.
Mala Beads
These beautifully made Mala Prayer Beads are great for meditation and bringing a sense of peace into your life.
Jade Phone Charm
This phone charm is a gorgeous lucky charm that will also add a bit of extra glamour to your phone.
Rabbit Artwork Print
Help a friend change up their home decor with this beautiful piece of art.
Kogo Incense Case
This Kyo-ware Rabbit Kogo is a unique and special gift to celebrate the New Year.
Ceramic Lucky Charm
This lucky charm will also serve as a beautiful decorative piece for your home.
Coffee Mug
Celebrate the Year of the Rabbit by sipping some coffee from this elegant mug.
Bookmark
This bookmark is a simple gift to give out in bulk to friends and family members.
Keum Boo Pendant
This handmade pendant is certainly not a common find. This is quite a unique accessory.
Tote Bag
There is no better way to transport your daily materials during the rabbit year than in this adorable Rabbit Tote Bag.
CD Clock
Music lovers are sure to fall in love with this one-of-a-kind Year of the Rabbit CD Clock.
Tigers Eye Stone Carved Rabbit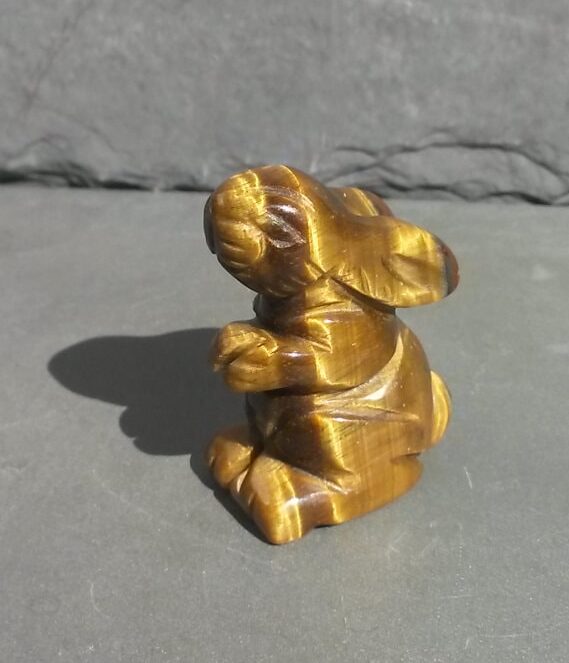 This is definitely an admirable gift, and a very special stone that'll draw much attention.
You can definitely set the tone for a lucky Year of the Rabbit by celebrating with one of these special gifts. Just like the Rabbit, this year can be elegant and filled with kindness.