Chocolate ABOUNDS on store shelves during the Easter season. You can find bunnies and eggs in numerous combinations, so it's an easy gift to throw in a decorated basket! If you're looking for an Easter gifts for chocolate lovers, here are a few ideas to get you started!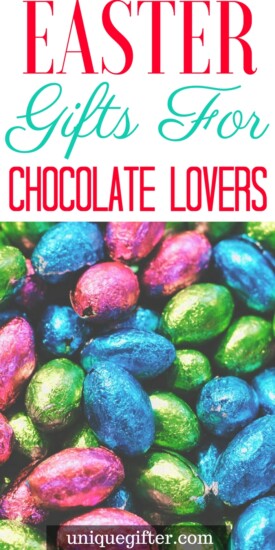 Delicious Chocolate Themed Easter Gift Ideas
These chocolates and chocolate themed gifts are perfect for anyone with a sweet tooth in your life. While there's plenty of options out there for kids, I made sure to include a variety of adult friendly options as well; if you have a passion for chocolate low quality just won't do!
Easter is an easy opportunity to make a chocolate lover's day! Whether it's an egg, a bunny, or a plate of chocolate chip cookies, there's a chocolate treat for every chocolate lover!