Disclosure of Material Connection: Some of the links in this post may be "affiliate links." This means if you click on the link and purchase an item, I will receive an affiliate commission. Disclosure in accordance with the Federal Trade Commission's 16 CFR, Part 255. This site is a participant in the Amazon Services LLC Associates Program, an affiliate advertising program designed to provide a means for sites to earn advertising fees by advertising and linking to Amazon.
There is something amazing about riding down the open highway on a motorcycle that just makes it look cool and refreshing. If your dad is a biker and you don't know what to get him for father's day then hold on to your helmets…..We have an amazing variety of unique and fun gifts that will be perfect for him! Whether you are looking for something practical or something that is just fun then you are in luck. The most difficult part is deciding which of these awesome gifts fits him the most….But it's totally okay if you want to buy him more than one gift. How else are you going to stay the favorite child??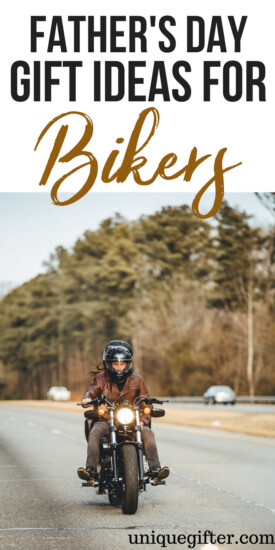 Epic Father's Day Gifts For Bikers
Rechargeable Hand Warmer
If your dad likes to ride his motorcycle no matter what time of year it is, he will greatly appreciate this awesome hand warmer. It is so fantastic that it is rechargeable!
Upcycled Motorcycle
This thing is just plain awesome! I promise he is going to love it! It even has a kickstand and the tires rotate
Vetelli Hanging Toiletry Bag
This is way cooler than a man bag! It has fantastic storage space and it is actually functional. He is going to love how manly it looks too.
Motorcycle Whiskey Glasses
These glasses are awesome and dad can enjoy his whiskey in style. You can even have them personalized to make them even cooler.
Wrench Bracelet
I don't think you find a find a bracelet that is more fun than this one! Dad is going to be thrilled to be able to wear a wrench on his wrist.
Motorcycle Bolt Action Pen
Now, dad can sign all his checks (made out to you if you are lucky) with this incredible ballpoint pen! The biggest hurdle he is going to face is everyone is going to want to steal it!
Phantom Skull Decanter
This thing is creepy cool! Just a warning that you might make your dad's friends jealous because they are going to want one too!
Rambler Gloves
Dad will be riding in style with these gloves. They are comfortable and great for long distance riding.
Harley Motorcycle Canvas
Make his man cave or garage even more awesome with this killer canvas! Many different sizes to choose from too.
Cycling Doo Rag
You can't ride a motorcycle without wearing one of these awesome doo rags. They have several designs to choose from. The hard part is going to be for your dad to decide which one to wear first.
Tactical Ultra Bright Flashlight
Every dad needs a really bright and good quality flashlight. You never know when he might need one when he is out on the road.
Motorcycle Gift Basket
If your dad already has a little bit of everything and you aren't sure what to get, this gift basket has a little bit of everything. Yummy snacks, photo frame, and other biker mementos. You can't go wrong.
Floor Mat
This awesome floor mat is so cool you may not want to clean your feet on it! Just kidding! It puts the Fun in Functional!
Beard Oil
Even men need to pamper themselves every once in a while! His beard is going to be soft, but yet masculine!
Motorcycle Wall Hanging
Vintage motorcycle wall hanging with several color options available. Love the look and style of this wall art.
ABC Products Bottle Opener
Dad and all his friends are going to think this bottle opener is the coolest thing ever! It looks good and is functional so it's a win-win!
Personalized Whiskey Glasses and Decanter Set
Having a nice drink of whiskey never tasted so good! Dad is going to love drinking from these awesome glasses. The whole set is fantastic.
Tactical Pocket Knife
Part of being safe is always being prepared for anything. This knife is way cooler than a plain and simple tie. He is going to be impressed!
Garmin Motorcycle GPS
The last thing you need is for good ole' dad to get lost when he is out traveling the open highways. Give him this amazing gift so he can always find his way around.
Boulder Tools – Tire Repair Kit
Unfortunately, you never know when you might get a flat tire. This awesome kit has everything he might need to repair a flat. He will thank you for it the first time he uses it! (And when he opens the gift!)
Think of all the years you gave your dad a necklace made out of macaroni…I promise he is going to love anything you get him!