Disclosure of Material Connection: Some of the links in this post may be "affiliate links." This means if you click on the link and purchase an item, I will receive an affiliate commission. Disclosure in accordance with the Federal Trade Commission's 16 CFR, Part 255. This site is a participant in the Amazon Services LLC Associates Program, an affiliate advertising program designed to provide a means for sites to earn advertising fees by advertising and linking to Amazon.
Buying gifts for couples is kind of a 2 for 1 so it's best to choose something that both people can use. These Easter gift ideas are perfect for your adult children, parents, or anyone you're thinking of this Easter.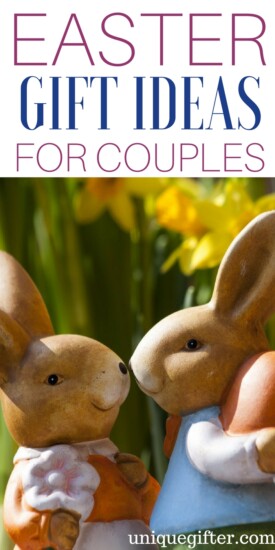 Easter Bunny Chocolates
You can't have Easter without chocolates! This pack is perfect for a couple because it comes with two adorable bunnies.
Egg Cups
Perfect for their Easter eggs and then they can use them all year! Personalized egg cups are a great way to wake up in the morning.
Salt and Pepper Shakers
Since they share a home together why not get them something they can both use? This adorable Easter set of salt and pepper shakers will make their dinner table look perfectly festive.
Easter Cookbook
The couple can make some Easter goodies together. Pair this gift with some cookie cutters or Easter baking supplies for a fun Easter basket idea.
Cutting Board
Personalized items for the home make great couples' keepsakes. This cute bunny themed cutting board would be a perfect addition to their Easter decor.
Overnight Bag
Drop some serious hints about the couple coming to visit you for Easter by gifting them an overnight bag.
Bunny Yard Sign
This cute bunny couple can go out on the human couple's porch!
Love Bunny Pillow Cases
Bedtime will be so much sweeter when they have these love bunnies on their pillows. Who doesn't love matching his and her things?
Personalized Bunny Dolls
Send them a picture of the couple and the artist transforms it into replica bunny dolls. This is such a unique Easter gift idea!
Egg Tea Towels
Something practical to give their home a pop of Easter!
Spring Candles
Make their house smell like spring with scented candles. There's a lot of variety in the candle market so choose something that reminds you of the couple.
Spring Wreath
They will be wowed when unwrapping this Easter gift! If they're married, grab one with their initial on it or opt for a "hello" wreath instead.
Ceramic Bowls
Spruce up the couple's Easter entertaining options with these pretty bowls in spring colors. Want to make them extra special? Pre-fill the bowls with Easter goodies as a fun surprise.
Bunnies Sign
A great choice if the couple isn't all about the pastels or a Beatles fan.
Personalized Easter Eggs
They even come pre-filled so your Easter shopping is all taken care of.
Bunny Statues
These are kind of an Easter decorating staple at this point. Give the couple a pair of bunnies!
Mugs
Easter's a great opportunity to bust out those spring colors. Give the couple matching mugs so they can enjoy their morning coffee together all summer long.
Herb Kits
Easter means spring and spring means gardens! Give the couple a gift that's going to keep going and they can use almost every day.
Ring Holder
This bunny couple is the cutest way to store rings and a perfect gift that they can share.
Cookware
It may not be a traditional Easter gift but this retro cookware in fun spring colors is a definite way to make the couple you're giving it to very, very happy.
Now hop on over to those gifts and get somebunny something special!