Disclosure of Material Connection: Some of the links in this post may be "affiliate links." This means if you click on the link and purchase an item, I will receive an affiliate commission. Disclosure in accordance with the Federal Trade Commission's 16 CFR, Part 255. This site is a participant in the Amazon Services LLC Associates Program, an affiliate advertising program designed to provide a means for sites to earn advertising fees by advertising and linking to Amazon.
If you are a proud dog mom, or dog parent, you are happy to do everything with your dog that other people do with their human children. This includes getting them gifts for every holiday, and maybe even taking them to a pet friendly place to get holiday pictures taken with the Easter bunny. When you are putting together your pup's Easter basket, these ideas will come in handy: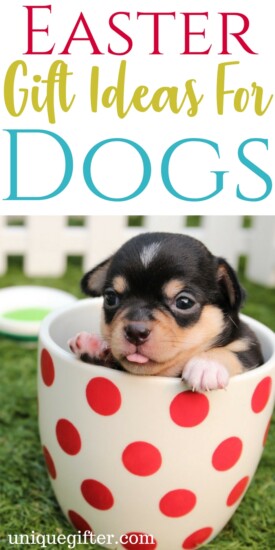 Carob & Coconut Easter Dog Treats
Your pup will love these carob and coconut Easter dog treats. They are also grain free and organic, which are huge bonuses!
Blue Flowered Dog Outfit
Dress up your favorite girl puppy in this blue flowered dog outfit, for Easter and springtime! She will look absolutely adorable.
Dog Bunny Costume
Dress your dog up as the Easter bunny himself with this adorable dog bunny costume!
Carrots Dog Collar
What better way to celebrate Easter for your dog, than to give him a carrots dog collar?
Dog Easter Bonnet
Your girl pup will look so pretty and cute in this dog Easter bonnet! Imagine all the compliments she will get as you take her for a walk!
"Shake your cotton tail" Dog Easter Dress
Another one for the girls that will help your dog both look and feel pretty for Easter!
Dog Easter Bandana Scarf
Here's the perfect piece of apparel for your boy, a dog Easter bandana scarf!
Dog Easter Bow Flower with Egg in Center
Your girly girl needs a dog Easter bow flower with an egg in the center to celebrate the holiday and look great while doing so!
Dog Bandana with Easter Eggs
Their new Easter egg bandana will give your boy pup the confidence he needs to have fun all day!
Carrot Shaped Dog Chewing Rope
What could be a better gift in their Easter basket than a carrot shaped dog chewing rope? And toys are always the best gifts in your pup's opinion!
Bunny Ears Dog Headband
Another way to dress your dog up as an Easter bunny, without forcing them into a whole outfit, is to put a bunny ears dog headband on their head. They will also look super cute.
Plush Easter Egg Squeaky Dog Toy
A plush Easter egg squeaky dog toy will keep them busy for hours, even if it means they are determined to remove the squeaker!
Easter Egg Dog Collar
If the carrots dog collar wasn't your favorite, then you might just like this Easter egg dog collar instead!
White Easter Bunny Dog Toy
Your pup will really enjoy playing with their brand new white Easter bunny dog toy! It might even be their favorite part of their basket!
Floral Dog Easter Hat
Another one for the girlies, a beautiful floral Easter hat for your dog to wear and get oohs and ahs from passersby!
Dog Bowtie Collar
Your little boy will look absolutely spiffy in his new adorable bowtie collar!
Burrow Squeaky Hide-and-Seek Dog Toy with a Carrot and Bunnies
You can hide treats or smaller toys in your dog's new hide-and-seek carrot and bunnies dog toy! It has the potential to keep them busy for many hours straight.
Dog Toy and Treat Easter Basket
If you don't feel like customizing your own basket for your dog, then this dog toy and treat Easter basket is all ready for you and comes with so many goodies that your pup will love receiving.
Sheep Costume for Dogs
Dressing your dog up as a bunny isn't the only way to celebrate the holiday, you can also dress them up as a sheep for Easter!
Dog Toy Gift Set of 10
Buy this dog toy set of ten, add some treats, and you are done with your dog Easter basket shopping in one fell swoop!
Your pup deserves to be spoiled for all the holidays, and these gift ideas will be fun for both you and them too!