Disclosure of Material Connection: Some of the links in this post may be "affiliate links." This means if you click on the link and purchase an item, I will receive an affiliate commission. Disclosure in accordance with the Federal Trade Commission's 16 CFR, Part 255. This site is a participant in the Amazon Services LLC Associates Program, an affiliate advertising program designed to provide a means for sites to earn advertising fees by advertising and linking to Amazon.
Mother's Day is right around the corner, and probably many Unique Gifter readers are on the hunt for gifts for their mom's! If you have a toddler and want to find a gift they can give their mom to let them know how thankful they are, you might find an idea or two below! Mom's give it their all each day, so make sure to pamper them with love and kindness on Mother's Day.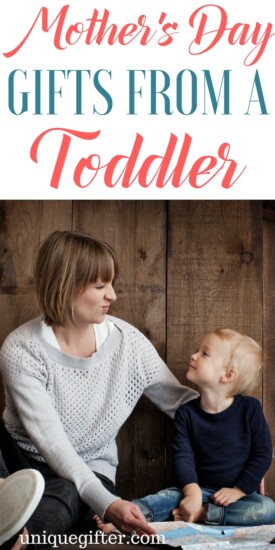 Mother's Day Gifts from Toddlers
Matching Shirt Set
I know matching clothes are so fun for mom's so give them this fun gift to match their son! They offer sizes from newborn to youth large, so you have a wide range on kids and women sizes.
Acrylic Heart
Here is a unique and fun gift, with a variety of words you can put on this acrylic heart. She can hang it in her bathroom, by the mirror, to always look at it and be reminded of her sweet child.
Birthstone Infinity Necklace
Shower her with love and give her a bracelet that shows that special bond between a mother and a child can't be broken. Choose the birthstone you need to match your child's birthday month.
Willow Tree Mother and Son
A special figurine that showcases the love and bond between mom and son. I love Willow Tree figurines, they are stunning and last a lifetime.
Child's Birthday Print
Whether you have one or more children you can get this custom print that shows the birth dates of each child. I thought this would be a perfect gift for Mother's Day, from both toddlers and babies alike! , from both toddlers and babies alike! .
Pamper Box
Pamper her this Mother's Day! Having a toddler is a lot of work, and she needs time to kick back and just relax and feel like she has time for her. This is the perfect gift.
Undercover SuperHero Set
This is a really neat set, it shows how special a mom's role is in your toddler's life. They see her as a superhero and this set will let the momma know how loved and looked up to she really is.
Star Gift
This gift is so touching, they will pull a picture of the day you were born and the child's birth date and where they were at state wise. I think this is such a magical and touching gift.
Mom's Spoon
If she likes to spend time in the kitchen some fun utensils like this would be a fun gift for her. Then she can have pieces that when she goes to make your toddlers favorite cookies, she is reminded of this fun gift.
Pamper Set
This pampering set is bath bombs that smell out of this world and a decadent candle to light as she takes some time for a nice relaxing bath. Maybe you can take your toddler to the park or out for ice cream while she soaks in the bath!
Words for Mom Frame
Take the time to give a gift with sentimental value. If you have a toddler boy find a cute picture to stick in this frame and melt her heart!
Necklace
This necklace is supposed to help bring health, happiness, and good luck. Plus it is a very pretty statement piece for her to wear around the home or out and about.
You Are My World
Mom's have such a special part in their child's life and this word art says just that. Frame it and wrap it up in pretty tissue paper and let her know that her little toddler appreciates her more than they even know.
Hand Painted Bible Cover
If she is a mom who loves God, give her a hand-painted Bible cover to showcase each time she opens it to read her favorite scriptures.
Wish Bracelet
This wish bracelet lets your toddler thank their mom for all they have done and will do over the years. She puts the bracelet on and over time the band will wear and eventually break, and her wish can come true.
Mom String Art
Give her a piece that she can decorate the home with! I love this handmade string art, it is so pretty and offers that farmhouse rustic feel that is so popular.
Mother's Ring
I love these mother's rings, they are simple and stackable so great if you have multiple kids or plan to for the future, you can add on.
Custom Recipe Box
If she likes to spend time in the kitchen, get her this custom recipe box. It will be something she can use for years and always remember her sweet little one got it for her.
MomLife Shirt
Let her rock this fun Mom Life shirt as she is out running errands or chasing her little toddler around the house. These shirts are so popular right now.
Cutting Board
Here is one more idea for any mom who spends a lot of time in the kitchen. A cutting board with a wonderful quote on it. A great way to know all her meals will be cooked with love.