Disclosure of Material Connection: Some of the links in this post may be "affiliate links." This means if you click on the link and purchase an item, I will receive an affiliate commission. Disclosure in accordance with the Federal Trade Commission's 16 CFR, Part 255. This site is a participant in the Amazon Services LLC Associates Program, an affiliate advertising program designed to provide a means for sites to earn advertising fees by advertising and linking to Amazon.
With your wedding coming up soon, gifts for everyone in the wedding party are likely looming over your head. How do you say thank you in a way that is meaningful? What do you give the most important people in your life for being a part of this day, for helping to shape you into the person you are today? When it comes to buying a gift for the father of the bride, this list will come in super handy. The stress will melt away when you realize that you don't have to do too much thinking to pick him the best gift possible.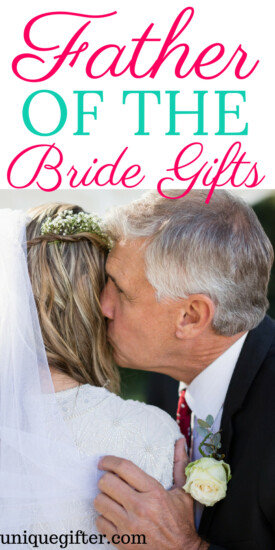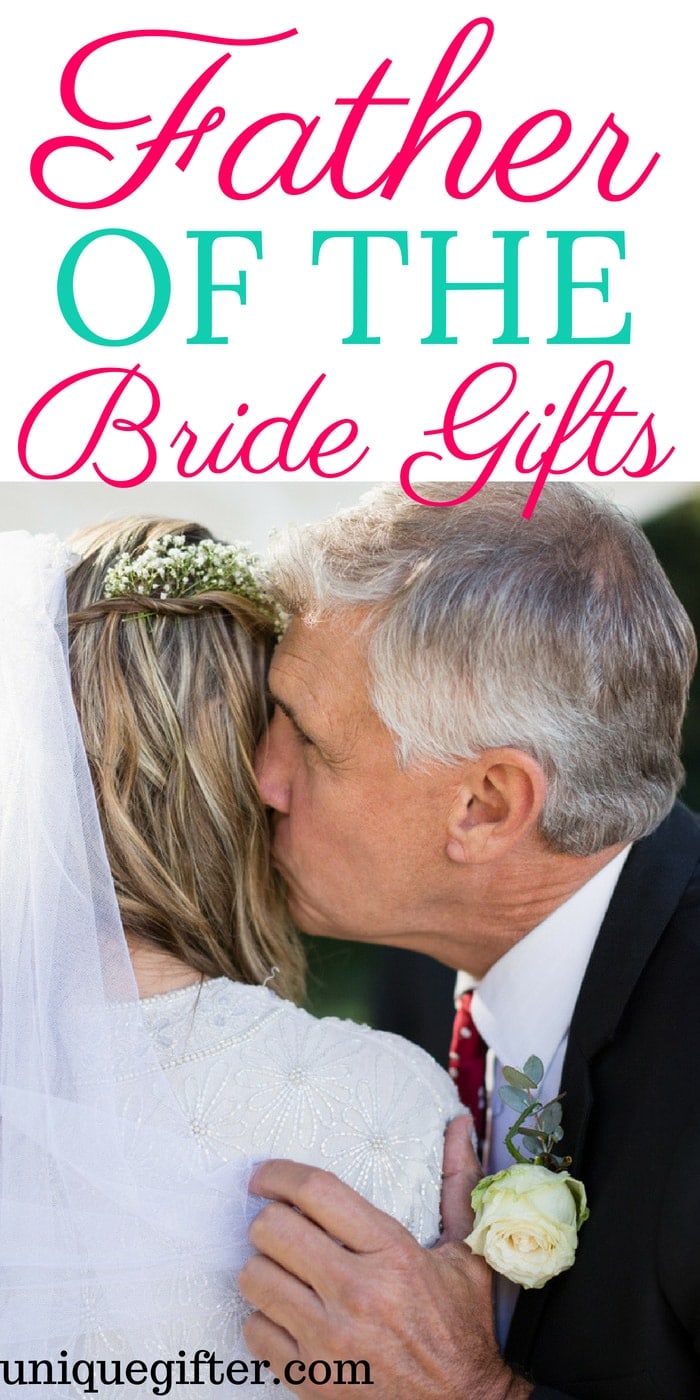 Most Popular Father Of The Bride Gifts
Wood Log Clock
If he is into rustic things, he will absolutely love this wood log clock to put up in his home or office.
Engraved Wood Watch
As with the wood log clock, rustic can be fun for some fathers of the bride, and a wood watch engraved with a special phrase or quote, will be very meaningful to him.
"Special socks for a special walk… Father of the Bride" Personalized Socks
The father of the bride definitely needs special socks for that special walk down the aisle with his daughter, the bride, on his arm.
"I loved you first" Tie Bar
As his daughter, you loved him first. Your soon-to-be husband came later in your life.
"Today a bride, tomorrow a wife, forever your daughter" Keepsake Box
While you are the bride today and will become a wife, you are forever your father's daughter. Put a nice note in here and maybe even some small keepsakes.
Bicycle Chain Cufflinks
These bicycle chain cufflinks will go nicely with his suit for the wedding if he is a biker in any shape or form. It will let him add a little more of "him" to his wardrobe.
Engraved Pocket Knife
A classic gift is a pocket knife. You can engrave this one with his name or something else equally special.
"Thank you for giving me the best childhood and teaching me the most important things in life. I love you daddy." Engraved Wallet
He gave you the best childhood and taught you so much about life, this engraved wallet will make him smile, and maybe even cry as well.
"I survived my daughter's wedding" Beer Glass
For after the wedding, he needs something to celebrate that he survived it without reducing to a puddle of tears or a huge ball of stress.
Personalized Hip Flask
Every dad needs a personalized hip flask to carry a little something, something with him.
"When it comes to being a dad, you nailed it" Quote Hammer
He definitely nailed his role as your dad, and he will never forget that now.
Father of the Bride 1 & 2 DVDs
This hilarious set of movies will keep him laughing his head off in relatability and humor.
Personalized Quote Tape Measurer
A tape measurer, personalized with a quote, will come in handy if he does a lot of work around the house or construction.
"I love you dad" Personalized Keychain
A simple way to say thank you and I love you, is a keychain that says just that.
"Father of the bride" Coffee Mug
This mug is pretty "in your face" about him being the father of the bride, but he will cherish it for a long time. This is a big day for him too.
Custom Photo Cufflinks
Put some pictures of yourself and him in these custom photo cufflinks and he will be more than proud to wear them on the wedding day and for special occasions afterwards.
"Forever your little girl" Personalized Guitar Pick
You are forever his little girl, there is no way that couldn't be true!
"You can't scare me, I have 3 daughters" Shirt
No one can truly scare your dad, except you and your sisters! Everyone knows it by now, but just in case someone else needs a warning!
Personalized Bullet Ice Cubes
These personalized bullet ice cubes are great for his whiskey glass or just when he feels like using them.
"Father of the bride" Handmade Stamped Fishing Lure
If he is a fisher, he definitely needs a "father of the bride" fishing lure to go in his tackle box.
Buying a gift for the father of the bride is not difficult, and there are so many awesome gifts to choose from, as you can see here!