Disclosure of Material Connection: Some of the links in this post may be "affiliate links." This means if you click on the link and purchase an item, I will receive an affiliate commission. Disclosure in accordance with the Federal Trade Commission's 16 CFR, Part 255. This site is a participant in the Amazon Services LLC Associates Program, an affiliate advertising program designed to provide a means for sites to earn advertising fees by advertising and linking to Amazon.
Weddings are an important part of our life. Be it our wedding or the wedding of any known couple or individual. When you receive an invitation for the wedding of your friend, relative, co-worker or any distant relative or friend, then you make sure to be part of their big day. You must be wondering that apart from the perfect dress and accessories you intend to wear, what will be the gift perfect to present the wedding couple. Moreover, the soon – to the wedded couple and their family might also be wondering what you and the other wedding invitees will gift the new couple. So, a wedding registry is made for wedding gifts by the shop retailers or the families of the wedding couple, which comprises the lists of various types of gifts according to various budgets.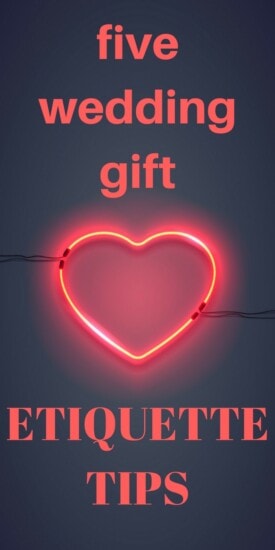 But, this is great apprehension for the wedding guests that what they must buy including deciding upon a budget to buy the gift. Just giving a gift with love and care is not important, It is also important to see if the wedding couple is appreciating your gift or not. So, for both part's happiness, a wedding registry is being created. Moreover, it is seen that the maximum brides prefer gifts mentioned in the wedding registry. It can be anything from kitchen, bed & bath gifts to sometimes cash which is the newest trend of gifting option.
So, before you purchase a gift, you must consider certain etiquette tips which are pretty much mandatory.
Relationship with the Bride and Groom
Before you buy gifts mentioned in the wedding registry, you must consider what is the bond of the relationship is between you and the wedding couple. This will decide the budget which you intend to buy gifts. In general, it is considered to provide a not so pleasing impact of you upon the wedding couple and their families if the price of the gift which you give them is less than $50. You must always give gifts which are higher than $50 or at least in the realm of $50. If it is the wedding of your Co-Worker, Distant Family-Friend, or Distant Relative then set your budget between $50- $100 for gifts. If it is the wedding of your close friend or close relative then consider spending $100- $150+. Naturally, this all goes out the window if you are in NYC, where everything costs more, including gifts!
Try to follow their wedding registry
Most couples like and desire the gifts mentioned in their wedding registry. I mean, they spent an evening wandering around with a clicker for a reason. You can check online if the wedding couple is registered online or not, you can choose gifts according to budget and purchase directly from the retailers through online shopping or in person as per your budget. Moreover, you too won't like it if the couple secretly (or not so secretly) detests your gift.
Buying everyday essential commodities
Try to give the wedding couple with a perfect gift which they can use it frequently for various purposes. Luxurious and chic bed fabrics and accessories, bath essentials, or classy kitchen gadgets and dining cookware will be the best option to gift the new couple. Moreover, if you think that the new couple is planning their honeymoon on an exotic location, then you must try to give them cash so that they can use it in the course of their travel. This will also add to their honeymoon fund.
Group Gifting
Sometimes a big, luxury and extraordinary gift is better than many small gifts. You can team up with the other wedding guests and together collect the huge cash to gift the couple something expensive which is beyond their budget, but they dearly want. This will be the most memorable gift for both the wedding couple and wedding guests.
Timing of the gift
Try to give your gift to the wedding couple neither early nor late. You must try to send the gifts within 1 month of the wedding celebration. Ideally, you have your gift delivered to the house, so they're not busy trying to cram a mini-van full of gifts at midnight.
Now that you've set your budget for the gift and the type of gift which you plan to give it. Gift-giving is a special occasion. So, if you feel confusing in this matter, then you can follow some guidelines and do's and don'ts of gifting etiquette. Also, along with the gift you can add a congratulations message for marriage. This can make your gift perfect and appropriate for the newly married couple.