Disclosure of Material Connection: Some of the links in this post may be "affiliate links." This means if you click on the link and purchase an item, I will receive an affiliate commission. Disclosure in accordance with the Federal Trade Commission's 16 CFR, Part 255. This site is a participant in the Amazon Services LLC Associates Program, an affiliate advertising program designed to provide a means for sites to earn advertising fees by advertising and linking to Amazon.
Your 12th anniversary is coming up and it is the silk anniversary. Finding just the right gift for your wife may not be the easiest thing in the world, but let me tell you that there are some fun and unique gifts that will please her. Not to mention, the fact that you have put so much thought into finding it too.

Creative 12th Silk Anniversary Gifts For Her
Tree of Life Silk Wrap Bracelet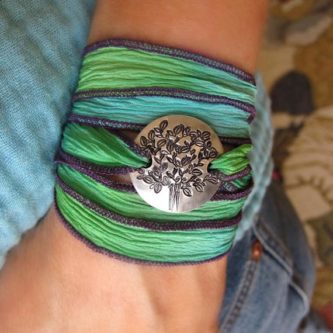 The tree of life can be a great way to represent your life together since you have been building a life together for twelve years now.
Silk Ribbon Closure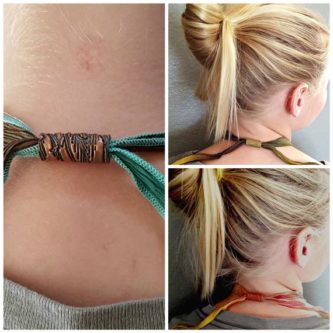 Great for completing a ribbon or leather necklace, or being the accessory to give her outfit the flair she feels it needs.
Ruffled Silk Panties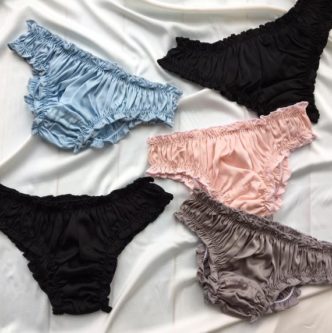 As a couple who has been married for nearly twelve years, another great way to commemorate that time you have spent together is with these beautiful ruffled silk panties.
Green Backless Silk Dress
If she loves to dress up, or she wants that "perfect" dress for your date night, this green backless silk dress is an amazing choice.
Silk Lady's Shoe Freshener
Help her keep her shoes fresh with this silk lady's shoe freshener.
Animal Print Silk Wrap
She can wrap her shoulders, keeping them warm and elegant, with this beautiful animal print silk wrap.
Elegant Silk Lace Slip Dress Gown
Another lovely choice for a fancy and luxurious night out is the elegant silk lace slip dress gown.
Red Flowers Black Satin Pillowcases
Bring some elegance to the bed with some red flowers black satin pillowcases to put on the pillows.
"Be here now" Yoga Silk Wrap Bracelet
Remind her to stay present in daily life with a "be here now" yoga silk wrap bracelet to wear.
Garden Flowers Silk Scarf
This beautiful garden flowers silk scarf will go with anything earth tone or brightly colored.
Tropical Silk Ribbon Wrap Bracelet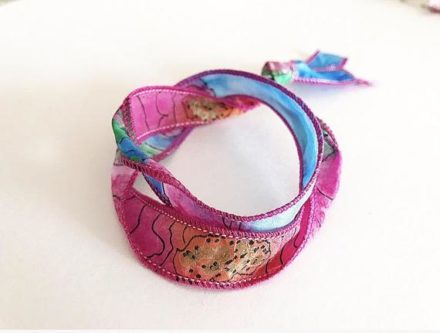 Fun for the beach, a tropical vacation, or just to wear while running errands, she will love her new tropical silk ribbon wrap bracelet.
Floral Chiffon Printed Silk Scarf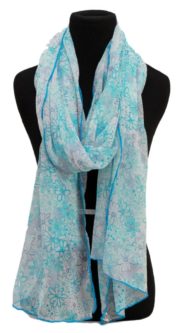 This floral chiffon printed silk scarf is another excellent choice as an accessory for her outfit.
Silk Loungewear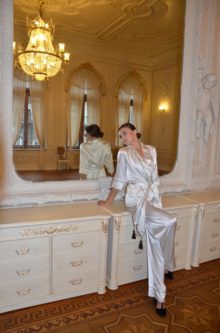 Silk loungewear might just be the most comfortable thing for her to lounge around in.
Sofia Silk Tie Dye Shorts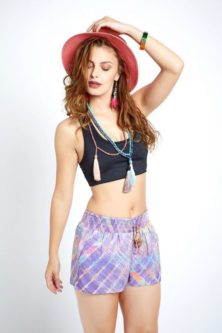 These fun and pretty Sofia silk tie dye shorts will go with any shirt she chooses to wear with them, and be dressy, fun, and casual all at once.
White and Red Floral Silk Scarf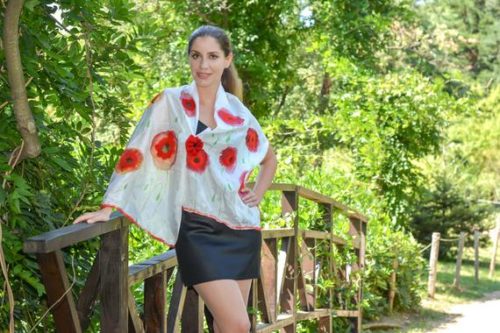 A woman can never have enough scarves to wear with her outfits or to keep her shoulders covered and warm.
Birds in Flight Printed Silk Scarf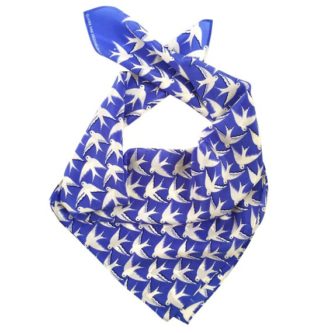 These birds in flight on this silk scarf are so much fun and full of whimsy.
Mud Tussar Silk Top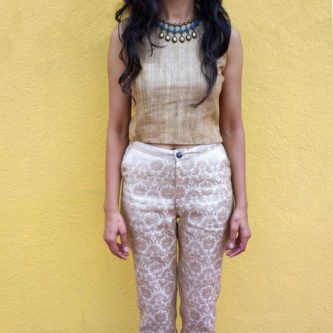 Great for either work, fun, or a night out on the town, this Mud Tussar silk top looks absolutely stunning.
Calm Night Silk Sleep Mask
Help her get a more calming night of sleep with this calm night silk sleep mask at hand.
Silk Embroidered Coin Purse
She will enjoy carrying change around so much more with her new silk embroidered coin purse to hold them in.
Pure Silk Nightdress
This list would not be complete without a pure silk nightdress for her to wear when she is sleeping. You could even pair it with the sleep mask!
As you can see, there are so many amazing silk gift choices for your wife as you two celebrate your twelfth wedding anniversary.