If you like to get gifts for your coworkers, but finding it hard to decide what to buy for Easter, you might find some help here. I have 20 awesome gift ideas for your coworkers this Easter. Shower them with a little present to brighten their day and celebrate the wonderful Easter holiday. I can never get enough of all the fun Spring colors, chocolate shaped rabbits and speckled eggs. It is one fun holiday to decorate for.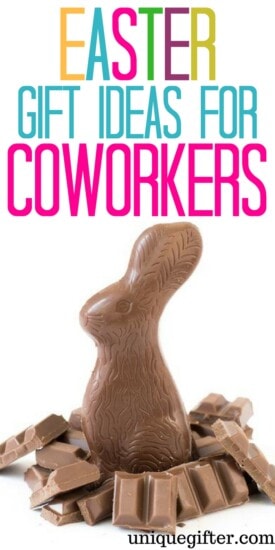 Fun Easter Gift Ideas For Coworkers
Your coworkers will feel extra special if you show up with one of these Easter gifts. It's just the pick-me-up everyone at works needs at the start of spring!
Hopefully you found some great ideas to spoil your coworkers with Easter gifts this spring! If you need more ideas, try these 20 Easter Gifts for Chocolate Lovers – you can't go wrong with treats at work!