Disclosure of Material Connection: Some of the links in this post may be "affiliate links." This means if you click on the link and purchase an item, I will receive an affiliate commission. Disclosure in accordance with the Federal Trade Commission's 16 CFR, Part 255. This site is a participant in the Amazon Services LLC Associates Program, an affiliate advertising program designed to provide a means for sites to earn advertising fees by advertising and linking to Amazon.
Highly sensitive people often get overwhelmed, or overstimulated. If you know someone who is sensitive to the emotions of others, noises, sights, and touch, among other things, they may be a highly sensitive person. There are certain things that they need, like time alone and in quiet. That can be hard to come by these days, when the world is hustling and bustling around us all the time. Here are some ideas of gifts to get your favorite highly sensitive person for their self-care.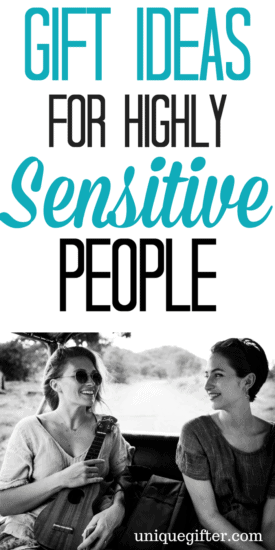 Gift Ideas for Highly Sensitive People
Homedics Relaxation Machine
A relaxation machine has a variety of relaxing sounds for a highly sensitive person to recuperate after a hard day.
"Today I will listen to my inner voice" Coffee Mug
For someone who absorbs a lot of the energy around them, they have to learn how to listen to their inner voice and tune out the rest of the world, and this coffee mug is the perfect way for them to remember this each morning!
Oatmeal Coconut Bath Fizz Bombs
Relaxing is important when feeling overwhelmed or overstimulated. Oatmeal coconut bath fizz bombs added to a nice, rejuvenating bath, could make a world of difference for them!
The Highly Sensitive Person's Survival Guide by Ted Zeff Ph.D.
All highly sensitive people could use this book to help them get through the days and to reach their potential even with all that they absorb on a regular basis.
Sony Noise Cancelling Headphones
Noise cancelling headphones are definitely handy to tune out the rest of the world when it gets a bit too noisy, or a bit too intense.
Restful Sleep New Age Flute Sounds Meditation CD
Meditating can be a good tool for dealing with stress and feelings of overwhelm, and even if they choose not to fully meditate, then these relaxing sounds will help them clear their mind and feel better!
Mindfulness Journal Midori Insert Printable
Journaling is a great release to all of the feelings and frustrations that can build up within the mind of a highly sensitive person. This printable journal focuses on meditation practices and letting go of the past which can be very helpful!
Sensory Goods Small Weighted Blanket
Weighted blankets have been shown to help those with anxiety or stress disorders, among other things, and this type of blanket could certainly help a highly sensitive person dealing with anxiety or an overwhelmed feeling to feel more secure and comfortable.
Yoga for Beginners & Beyond DVD
To release some of the pent up feelings and frustrations, exercise is often recommended for everyone. These yoga workouts for beginners and beyond will give a highly sensitive person the outlet that they need.
Headache Relief Massage Oil Aromatherapy Spa
For those days when they get a headache from all that is going on in their head, this headache relief massage oil can help relieve their headaches and give them some relaxation that they really need.
"Beauty begins the moment you decide to be yourself" Journal
Your loved one needs to accept themselves the way they are, and the quote on this journal does a good job of reminding them that they are beautiful when they are themselves and not pretending to be someone else to escape their sensitivities.
Activated Charcoal Face Mask with Tumeric
An activated charcoal face mask gift will help your loved one to pamper themselves on a regular basis to rest and recharge from any challenging day.
"I hate it when the voices in my head go silent…" Shirt
Humorous shirt to describe how a highly sensitive person feels from time to time, like there are a million voices in their heads at any given point because of all that goes on within them. The shirt is a good way to put a punny spin on that feeling!
The Highly Sensitive Person: How to Thrive When the World Overwhelms You by Elaine N. Aron
This book is highly recommended by many highly sensitive people. I know I, for one, enjoyed the insights and helpful hints within the book. It will give your loved one some much needed guidance to thrive in the world.
Natural Essential Oil Relaxation Personal Care
Essential oils are handy for anyone dealing with a physical or emotional challenge, and ones especially for relaxation will be useful to a highly sensitive person who needs a little help in that area!
"Love Yourself" Notebook
A reminder to love themselves as they are, and love their uniqueness of being sensitive to so much that others don't even give thought to. They can use it to journal, jot down notes, or whatever suits their fancy.
Custom Made Personalized Pink Embroidered Eye Mask
An eye mask for times they need to rest but can't shut their mind off, or there is too much visual stimulation. It's the equivalent of earplugs for the ears, to keep the eyes from seeing light or shadows even through their eyelids, which will help them tune the rest of the world out a bit easier.
Chakra Coloring Book, Adult Meditation
Who doesn't love to color? Now it's for all ages. This meditation chakra coloring book is a good way to zone out when things are overwhelming and overstimulating.
Detox Pink Himalayan Bath Salts
Bath salts are a wonderful addition to a calming bath, and these are beautiful to look at as well! Imagine how amazing your loved one will feel with these relaxing and revitalizing salts in their bath.
"Peace, Love, Compassion, Wisdom, Kindness, a Way of Life" Wall Art
Wall art to remind them to find the peace, love, and kindness in all the emotions they feel on a daily basis!
Highly sensitive people need to be able to relax, recuperate, and revitalize after even a normal day. Any one of these tools in this list would be a great place to start if you are looking to get them a gift for just being them!