Disclosure of Material Connection: Some of the links in this post may be "affiliate links." This means if you click on the link and purchase an item, I will receive an affiliate commission. Disclosure in accordance with the Federal Trade Commission's 16 CFR, Part 255. This site is a participant in the Amazon Services LLC Associates Program, an affiliate advertising program designed to provide a means for sites to earn advertising fees by advertising and linking to Amazon.
We come from a family that LOVES giving Christmas gifts and always passes around a stocking stuffed to the gills on Christmas morning. As always, we most ardently wish to give and receive gifts that will help out in a pinch, amuse, entertain, or please for hours and weeks on end. The saddest gift is one that falls flat because it's only good for one use, or it's some generic grabbed in a last-minute buying panic.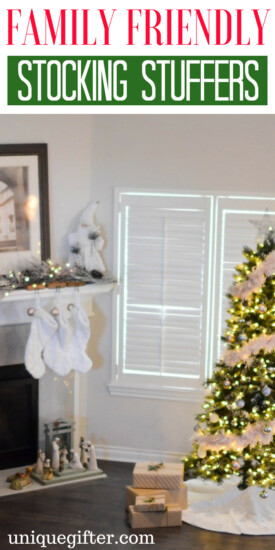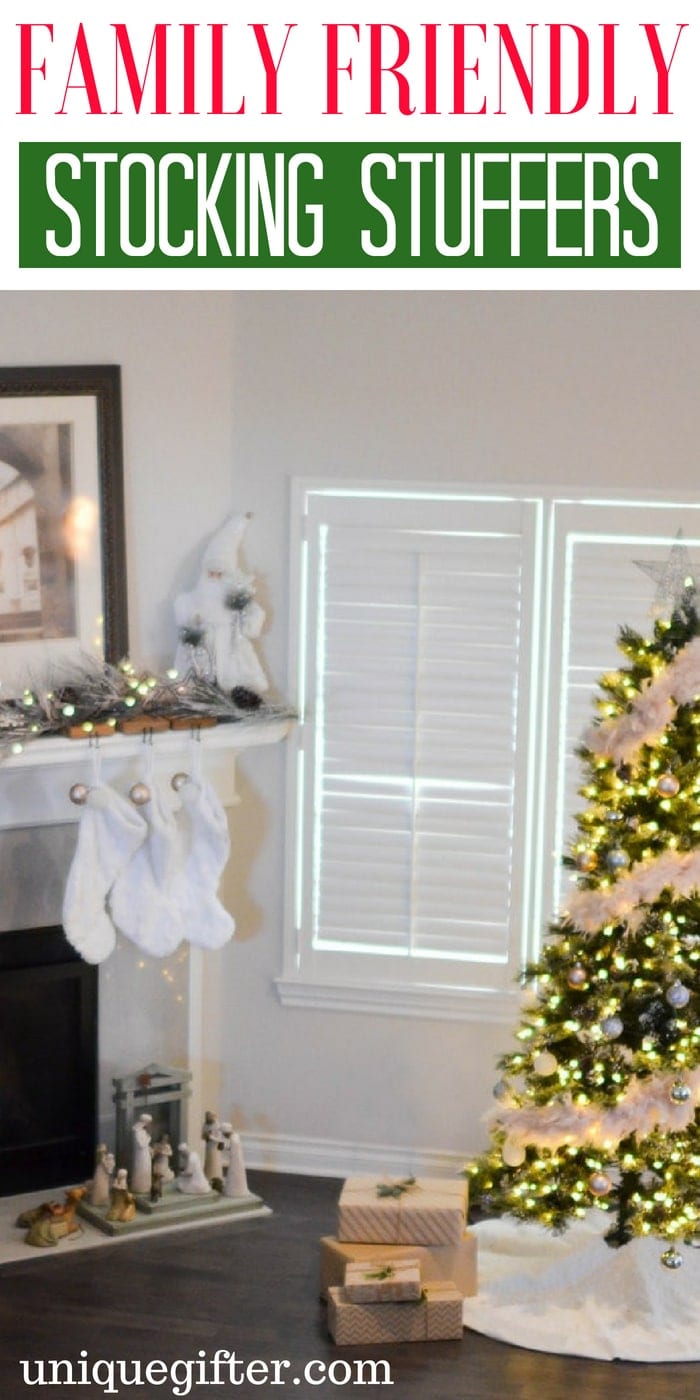 Don't be that person shopping on Christmas Eve frantically grabbing whatever's shiny and closest to you in the end cap. I've been that person, it's depressing when you're shopping AND when they're opening the presents. Pick something from the all-ages list below – they'll be a hit.
Family Friendly Stocking Stuffers For All Ages
We also have fun stocking stuffer ideas under $5!
Drawing Prompts
Bored? Grab the artistic version of Choose Your Own Adventure and explore this book's MANY drawing prompts.
Etch-a-Sketch
This is a classic for good reason. Even novices will get a kick out of twisting and turning the knobs to create their vision, and experts will dazzle with their creations.
Nose Frida
For new parents: my child is the only one in the universe who screamed bloody murder when we tried to use this, but every parent I've ever met has recommended this heartily so trust them!
Wikki Stix
Deceptively simple, these pliable Wikki sticks are the building blocks for a plethora of play. Once twisted, bent, and stuck into a shape, they can be pulled back apart to start afresh without losing their pliability.
Painter's Tape
I had no idea this was as useful in home renovation, decoration, safely stick up paint chips, etc, as it is for kids at play. Go crazy and get a roll for everyone in the family!
Stomp Rocket
These are hilarious and send kids and adults into fits of laughter alike.
Magnetic Hangers
Set up an art gallery full of your burgeoning artists' masterpieces without putting holes in your walls, or sticking unsightly tape on the art.
Lavender Sunscreen
My sunsoaked poolside childhood can be instantly evoked with a whiff of Banana Boat. But nostalgia notwithstanding, this lovely lightweight lavender sunscreen pleases the nose and absorbs into the skin quickly,
Detangling Spray
A gentle leave in conditioning spray, moms love using this both for the all natural detangling and for the bonus feature of repelling lice!
Sandbusting Baby Powder
I haven't seen a kid melt down over sand in their shoes but I've definitely seen adults lose it! Help everyone by tucking a wee jar of baby powder in their beach bags.
Glass Jar with Lid
One jar – so many possibilities. Store all your art supplies in one, store all your cookies in another. It may be a little big to fit in a stocking, though.
Infinity Scarves
Infinite ways to wear it, infinite ways to use it when out and about: sunshade for a stroller, a quick blanket on the grass for a lie-down, light blanket…
Tiny Screwdrivers
Such a useful set of tools! Every kids' toy that takes batteries, eyeglasses, and even cell phones these days use the ittiest bittiest screws.
Drawstring Bags
Pack a few bags with the essentials that you always need for your hobby, kid, or pet, and free yourself to just grab one and go without having to think about whether or not you have everything you need one more time. We do this for swim, for the dogs, for hiking – it's awesome!
Pediatric Humidifier
Some of the toughest cold symptoms, congestion and sore throats, can be eased by flipping on this vaporizer.
Aquaphor
This stuff is great for so many problems: diaper rash, chapped lips, scratches, dry skin – you name it, it probably helps! Warning: Not intended for use in hair.
Klean Kanteen Canister
This container can keep food hot for 5 hours or cold for 8 hours, and is so much more environmentally friendly than all the plastic take out containers floating around.
String Bags
We love these for beach trips, quick grocery runs, library books… you name it, we've tossed it in the string bag!
GoStak Twist n' Lock Storage Jars
From a mish mosh of storage containers, we created a version of these storage jars last year but the complete set is so much better. Especially if you want to thwart someone from eating the treats at the top first!
Wet Ones
I used to think these wipes were silly or unnecessary until I became an adult and fully realized all the many ways I had to make a mess of myself. Add in a dog, cat, or kid, and I never leave home without a pack.
Pipe Cleaners
These take me way back to elementary school – Preschool, even! Add some sticky Elmer's glue, pipe cleaners, some paper and scissors and there was nothing you couldn't craft!
Jumbo Magnifiers
How cool are these? Each glass comes with a flip out stand for a hands-free viewing experience. These are good for little learners as young as three.
Condiment bottles
I love a good dual purpose bottle! Did you know these make fantastic water fight, er, watering bottles? (But also great for squirting errant siblings on a hot day.)
Instant Cold Packs
These are amazing! You don't always have access to ice or ice packs wherever you might take a spill (curbs are the most dangerous for me) but with these in your bag or car, you can instantly soothe painful bruises.
Light Fleece Blanket
It seems too simple to be true but when you're having a cold, bad day (or night), what more do you want than a warm blanket to cuddle in while you clutch your mug of tea or cocoa and ignore the outside world?
Model Magic
Non-crumbling dough, like Play-doh, but still works if it dries out AND it's shimmery. What's not to love?
Silicone Sippy Lids
Accident prone kids? (Are there any other kind?) Bring a few of these with you when dining out and turn any glass into a spill proof sippy. I regret only that it's not ok for adults to use these too.
Chopstick Helper
Not everyone grew up using chopsticks as often as forks and spoons, and mastering the art can feel futile for beginners. Pop on these helpers to start to get the hang of it, they're culinary training wheels!
Water Wow
Kid tested – these can really take a beating. Our brush is positively mangled but it's still gamely spreading water over the white pages to reveal beautiful little scenes.
Food Scissors
I was the mean mom who'd say "you have sharp teeth, just bite a piece!" whenever we dined out because I didn't have any easy way to cut up food for my kiddo. Help a parent of young'uns out, get them awesome food scissors!
Glitter and Metallic Markers
I'm an adult who colors but even if I wasn't, these glitter and metallic markers would still be irresistible.
Night Light
If you've ever stumbled to the bathroom in the dark and massively stubbed your toe(s) because you hate being blinded by the light in the middle of the night, this may be the perfect gift.
Bubbles
I'm hearing the Toys'r'us song in my head (RIP, TRUS) right now because who doesn't enjoy a rousing round of bubble blowing? Especially if you can send dogs and children after them! Bonus points if you can lure the cat into pouncing on the bubbles too.
White Noise Machine
I'm a chronic insomniac and it only took 30+ years for me to discover that white noise machines can calm the most jittery of minds for sleep.
4-Compartment Food Containers
If stacked containers don't fit your lifestyle or packing style, these flat style containers might be more to your liking. I love these for picnics, they don't have a high profile to get knocked or blown over.
Cotton Rope Storage Basket
Again, perhaps a touch large for a stocking but it's a pretty fabulous gift nonetheless. The gift of classy organization!
Toothbrush Teether
https://www.amazon.com/Baby-Buddy-Babys-First-Toothbrush/dp/B000GKU7C0
For young ones at the teething stage, this is genius. What few teeth they have must be brushed, and they won't stop putting everything in their mouths anyway. Make a virtue of necessity, I say.
Rechargeable Battery Kit
This is a neat little trick where – you can recharge 6 AA or AAA batteries, or pop in the adapters and charge C and D batteries!
Set of Flashlights
Have you ever found yourself in a blackout with no idea where your flashlights are, or if you even have any? Or go walking on a winter evening and forgotten how quickly it gets dark? Yeah, so do we.
Touchscreen Gloves
When it's cold out, and you really need to answer that text or pick up that call, touchscreen-friendly gloves are just the ticket.
What little extras make your life easier that would make a great little gift?
Check out some of our other amazing stocking stuffer ideas: