Disclosure of Material Connection: Some of the links in this post may be "affiliate links." This means if you click on the link and purchase an item, I will receive an affiliate commission. Disclosure in accordance with the Federal Trade Commission's 16 CFR, Part 255. This site is a participant in the Amazon Services LLC Associates Program, an affiliate advertising program designed to provide a means for sites to earn advertising fees by advertising and linking to Amazon.
Families can be notoriously hard to shop for. As a parent of 5, I think I'm pretty good authority on the subject.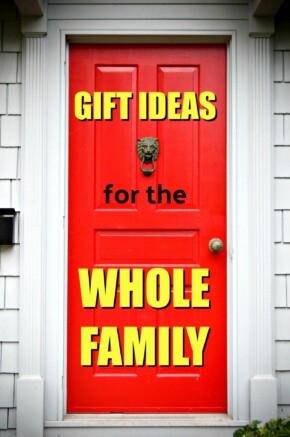 These gifts were carefully chosen for two reasons: 1. Great for kids and parents of almost every age and 2. Great for families big and small.
Gifts that Work for the Whole Family
Beat The Parents Game
What's more fun than putting parents and kids head to head? This game has the parents answering questions about kid things and the kids answering parent stuff.
Popcorn Maker
Popcorn is a great, cheap, and healthy snack – perfect for family movie nights or snack attacks. You know what would be really cool? A theatre style popcorn maker. If that's not in your budget any air popper is a great choice.
Matching PJs
This may not be a hit amongst all families but matching pajamas are a cute family gift, especially if the kids are on the younger side.
Shower Speaker
Take singing in the shower to the next level with a waterproof speaker. This is great because it can be used by every member of the family even if parents have to put the tunes on.
Picnic Set
All packed and ready to go, picnic kits take the stress out of planning and packing for a picnic. All they have to do is grab the food.
Dinner Out
Sometimes eating a dinner out can be expensive for families and a rare treat. Grab a gift card to their favourite family restaurant so they can enjoy some family time together.
Giant Bowling Set
Doesn't this look fun? It's a great gift for indoor or outdoor play and best of all no one gets hurt.
New Family Traditions
It seems that more and more families are struggling to create new traditions that suit them. This book can help them along in crafting rituals that bring their family together.
Clear Bird Feeder
Take bird watching to 11 with a clear bird feeder. Young kids will love watching the birds inside the feeder and older ones or adults can work at identifying them before they fly away.
Swimming Pool
There's lots of options depending on family size and age of the kids but a pool is always going to be a summer hit.
Family Fun Night Book
Over 300 activities for family fun night ideas will keep them busy every friday night for the next 6 years.
Telescope
Families can look to the stars together with an at home telescope. It's a great educational tool, too.
Baking Set
Encourage the family to get into the kitchen together with a baking gift set. Pick something that suits their personality and the ages of the kids and pair it with some baking ingredients.
Busy Family Calendar
Families always seem to be busy but you can help them stay just a little bit more organized.
Family Birthdays Sign
Not only is this a nice decoration it's also a practical way to keep track of what birthdays are coming up all year long.
Marshmallow Roasting Kit
These marshmallow roasters will keep kids safe while warming up gooey deliciousness. Also great for smokeys!
940 Saturdays Keepsake Journal
There are only 940 saturdays from birth to age 18, make the most of it. This book helps record keepsakes and memories and has family activity ideas.
Family Scavenger Hunt
With a few different age configurations this scavenger hunt kit is a fun way to spend an afternoon indoors or out.
Video Game Console
What you pick might vary based on the ages of the kids and family interests but video games are a great way for families to spend time together.
Family Vacation
If you can't get them a whole vacation then a gift card to help pay for it is a fantastic idea. There's nothing that brings a family together like spending some time away from home together.
I know any of these gifts would be a huge hit in our house!