Disclosure of Material Connection: Some of the links in this post may be "affiliate links." This means if you click on the link and purchase an item, I will receive an affiliate commission. Disclosure in accordance with the Federal Trade Commission's 16 CFR, Part 255. This site is a participant in the Amazon Services LLC Associates Program, an affiliate advertising program designed to provide a means for sites to earn advertising fees by advertising and linking to Amazon.
Your uncle has been there for you, thick and thin, and you have been thinking about what you want to get him for Father's Day… but you're not sure what that is. Well, worry no more, I have just the list of gifts for you to choose from! While he isn't your dad, he has done a lot for you and been a father figure in some ways. Show him how much he means to you with one of these awesome gifts: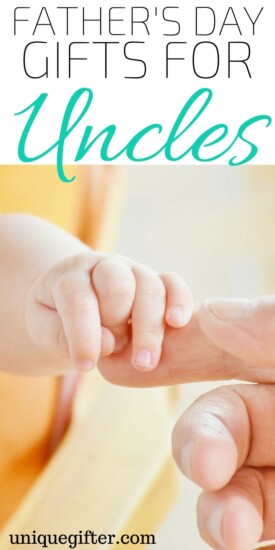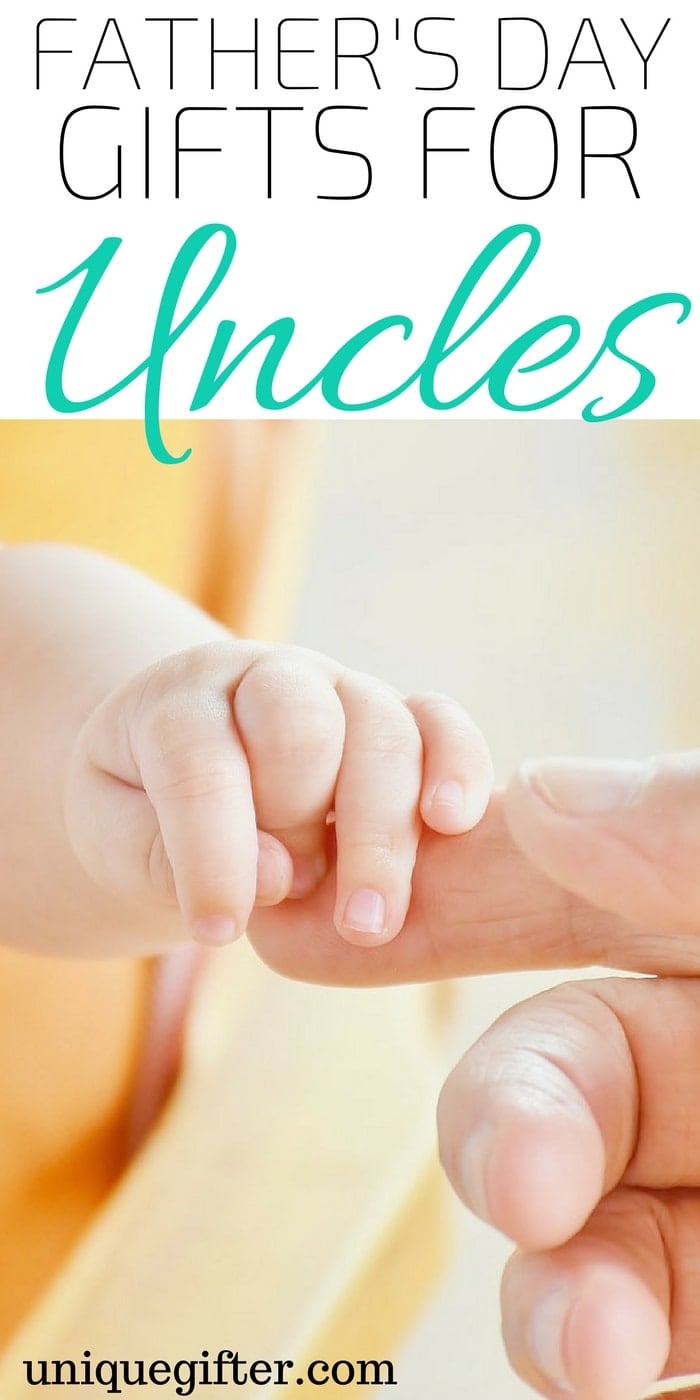 Father's Day is Just Around the Corner!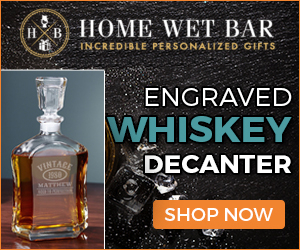 Father's Day Gifts for Uncles
Hey, uncles are fathers too! Check out these Father's Day gifts for uncles. Getting the uncle in your life the perfect gift is so important! 
"The Man, The Myth, The Funcle" Coffee Mug
He is the man, the myth, the funcle, for sure. He is the one who brings the fun every time!
"Demo day" Shirt
Along with the fun, there is usually some kind of destruction whenever he is around, which means that this "demo day" shirt will make the perfect gift for him this year.
"We love you" Keychain with Hammer Charm
Remind your uncle how much you love him with a simple "we love you" hammer keychain.
Personalized Cigar Case with Cigar Cutter
If he enjoys cigars, he will certainly love this personalized cigar case that comes with a cigar cutter. He will be all set!
"Only the best brothers get promoted to godfather" Pint Glass
If you are getting a gift for your brother to let him know that he is going to be an uncle, then this pint glass is the most perfect gift. Not only will he be your kid's uncle, but he will be their godfather too. What an honor!
"Eat, sleep, cars" Coffee Mug
When your uncle is obsessed with cars, all he does is eat, sleep, and think or talk about cars.
Laugh and Love Dictionary Cufflinks
Uncles are the ones who bring the love and laughter, therefore your uncle needs this "laugh" and "love" cufflinks to go with his suits.
"Unclesaurus rex" Hat
He's the "unclesaurus rex," there's no doubt about it. He even does the dinosaur noises! Since Father's Day comes right when summer is starting, this hat will come in super handy.
"My favorite niece gave me this shirt" Shirt
You are his favorite niece, he can't really deny it, can he? Help him show it off with his new shirt that shouts it out to the whole world.
Personalized Bottle Opener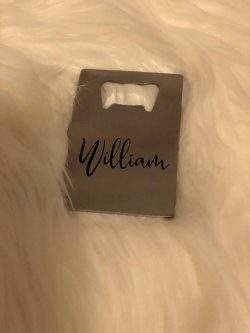 Every uncle needs a bottle opener with his name on it, right?
"I'd rather be on my boat" Coffee Mug
For the boat loving uncle who would always rather be on his boat, this mug is for him.
"Supportive Generous Encouraging Available Mentor" UNCLE Printable
Your uncle is all of these things. Buy this printable, frame it, and give it to him for Father's Day. It is definitely going to make him smile!
"The world's best uncle belongs to…" Personalized Keychain
He's the world's best uncle, and he belongs to you. How awesome is that?
"If found sleeping, do not disturb" Shirt
He loves his sleep! Let the world know not to disturb him when he is sleeping with this fantastic shirt.
"My cape is in the wash" Coffee Mug
He is a superhero to the family, but he may not always have his cape handy!
"You are the best uncle because…" Journal
Fill this journal out with all the reasons he is the best uncle, and as he reads it, he will be filled with such honor and love.
"Who needs a dad when I have you?" Keychain
When you have an uncle who is like a father to you, especially if your father wasn't there or wasn't able to be there, he needs to know how much that means to you.
Man and Child Galaxy Art Print
This powerful art print will look amazing on his wall at home!
"But did you DIE?" Shirt
When your uncle is a daredevil, or just simply likes to drive like a maniac, then this is the shirt he needs, no doubt about it!
All of these awesome gifts for your uncle on Father's Day, and that's not even all of them. He is a special person to you and these gifts can show him as much. These Father's Day gifts for uncles are the bomb.com.