Disclosure of Material Connection: Some of the links in this post may be "affiliate links." This means if you click on the link and purchase an item, I will receive an affiliate commission. Disclosure in accordance with the Federal Trade Commission's 16 CFR, Part 255. This site is a participant in the Amazon Services LLC Associates Program, an affiliate advertising program designed to provide a means for sites to earn advertising fees by advertising and linking to Amazon.
Father's day is almost here so it's time to find the perfect gift to show dad how much you love and appreciate him. If you have a dad with a great sense of humor this list of Funny Father's Day Gifts will definitely have something for him. Check it out below!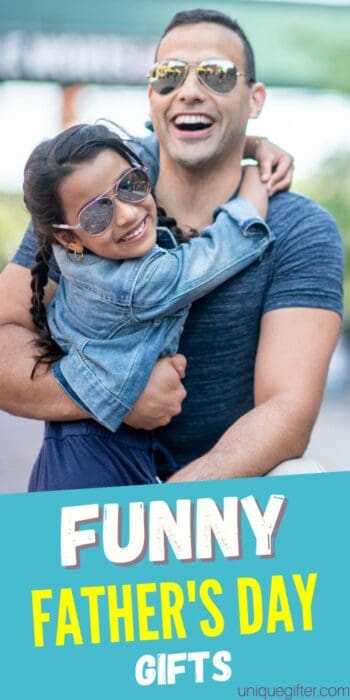 Funny Gift Ideas For a Funny Father's Day
When it comes to selecting the perfect gift for dad it can be difficult, Do you go homemade, funny, or super sentimental. If you like to have a good laugh with your dad definitely pick one of these. From funny cards, t-shirts, to fish flip flops (yup flip flops). This list has something for everyone.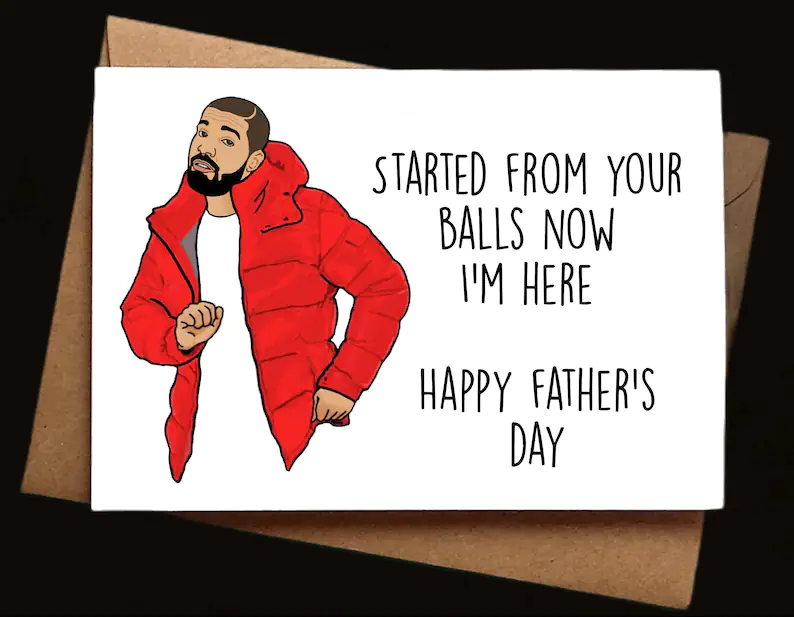 Funny Card
Cards are always a great gift, pair it with another item from this list or throw in a gift card. Dads are sure to have a good laugh with this one.
BBQ Chef Apron
BBQ aprons are always a classic Father's Day gift. Dad's are just known for being grill masters and they definitely need a nice apron to protect their clothing. So why not gift them this hilarious apron.
Daddy's Sippy Cup
Hey, everyone needs a good "sippy" cup! Sure to bring a few laughs to everyone in the room.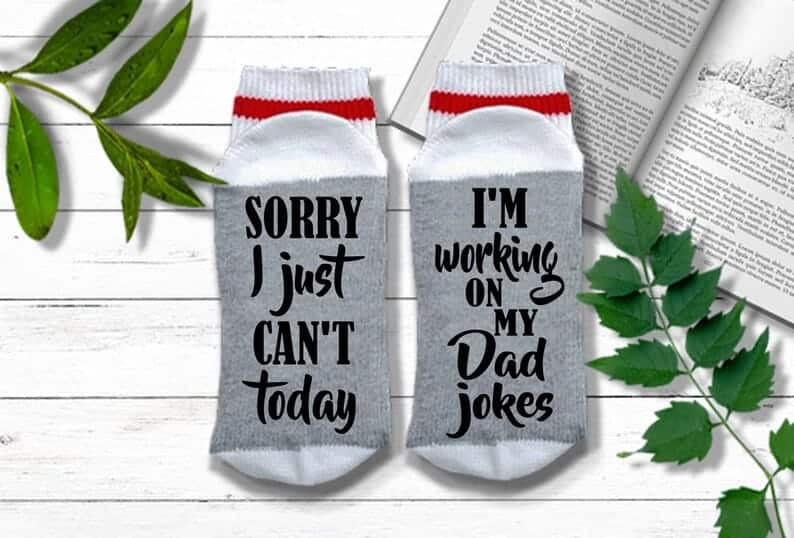 Dad Joke Loading Socks
No gift list in my opinion is complete without a good pair of socks! These ones are funny and practical. Keep his feet warm while he is working on those "hilarious" dad jokes.
Funny Travel Tumbler
I can almost sense the eye roll when reading this one, its the PERFECT dad joke themed tumbler. Keep his coffee warm while spreading his jokes around.
Dad Joke Loading T-Shirt
Everyone loves a good t-shirt! This one lets the world know they are a dad and will be telling you ALL the bad dad jokes once fully loaded.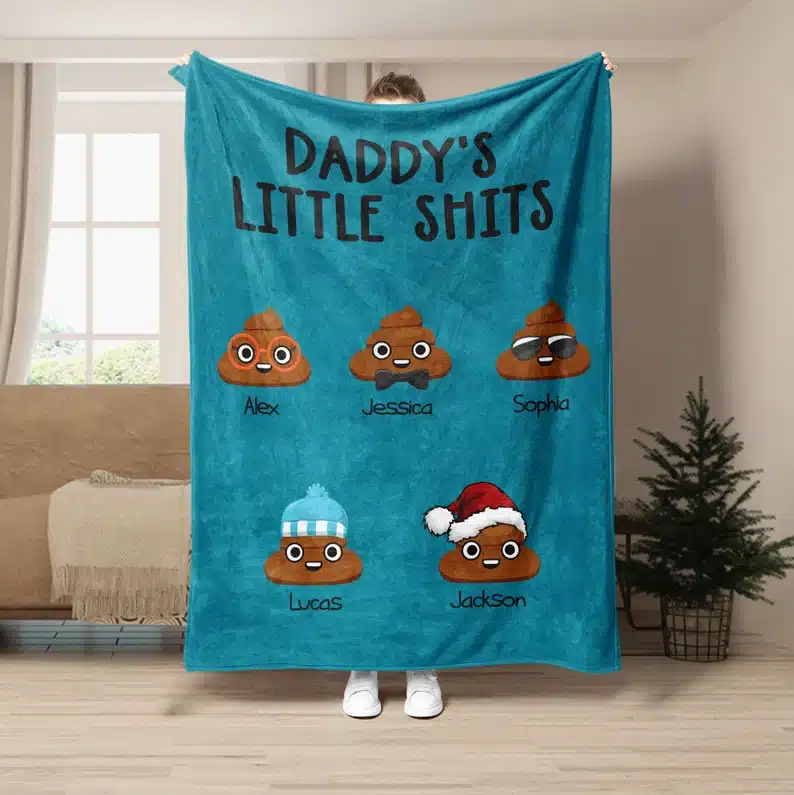 Daddy's Little Shits Blanket
Maybe at one time your dad has called you a little shit, so why not play off that and get him this hilarious cozy blanket with all his favorite "shits" on it. It even comes in 12 colors, so you can pick his favorite color.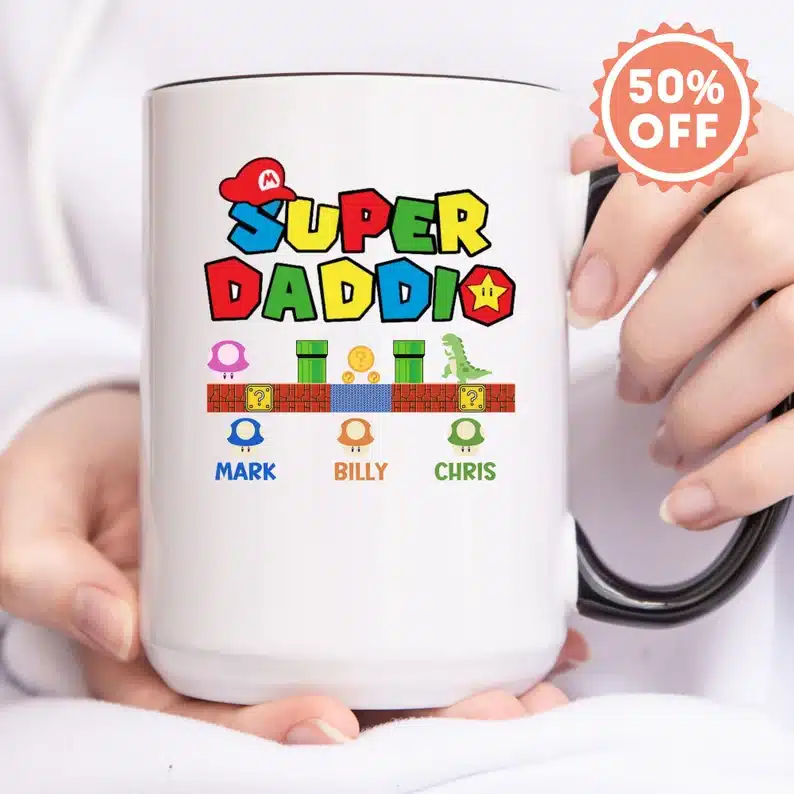 Super Daddio Coffee Mug
Perfect play on Super Mario for that video game loving Father! Let the father in your life know just how super he is.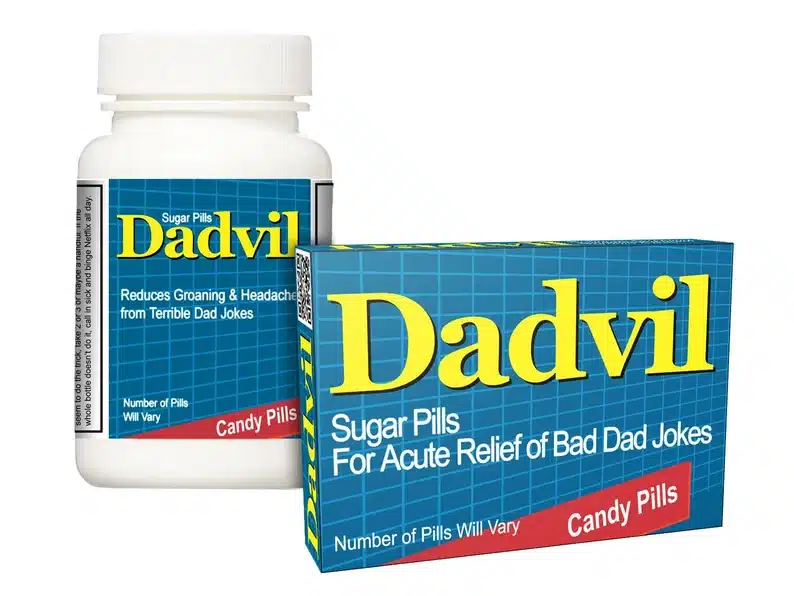 Dadvil Set
I'm sure you've heard your fair share of bad dad jokes over the years. This hilarious gag gift is a play on Advil to help give everyone some relief from those terrible dad jokes.
Money Clip For Dad
Money clips are always a nice gift and this one has a funny saying that's sure to make dad have a good laugh. Maybe throw in some bills to really show dad you appreciate him, we all know that money will come back your way anyway.
Lets Par-Tee Golf Tee Set
Avid golfers need this hilarious Par-Tee bag and tee set for their next big golf game! Each Tee has a different saying on it, so really its the gift that keeps on giving throughout the day.
It Takes A Lot of Ball Funny Golf Towel
Sticking with the golfing theme for a minute, this hilarious golf towel is a must add to your shop list for the golfer in your life. Its clever and practical after all.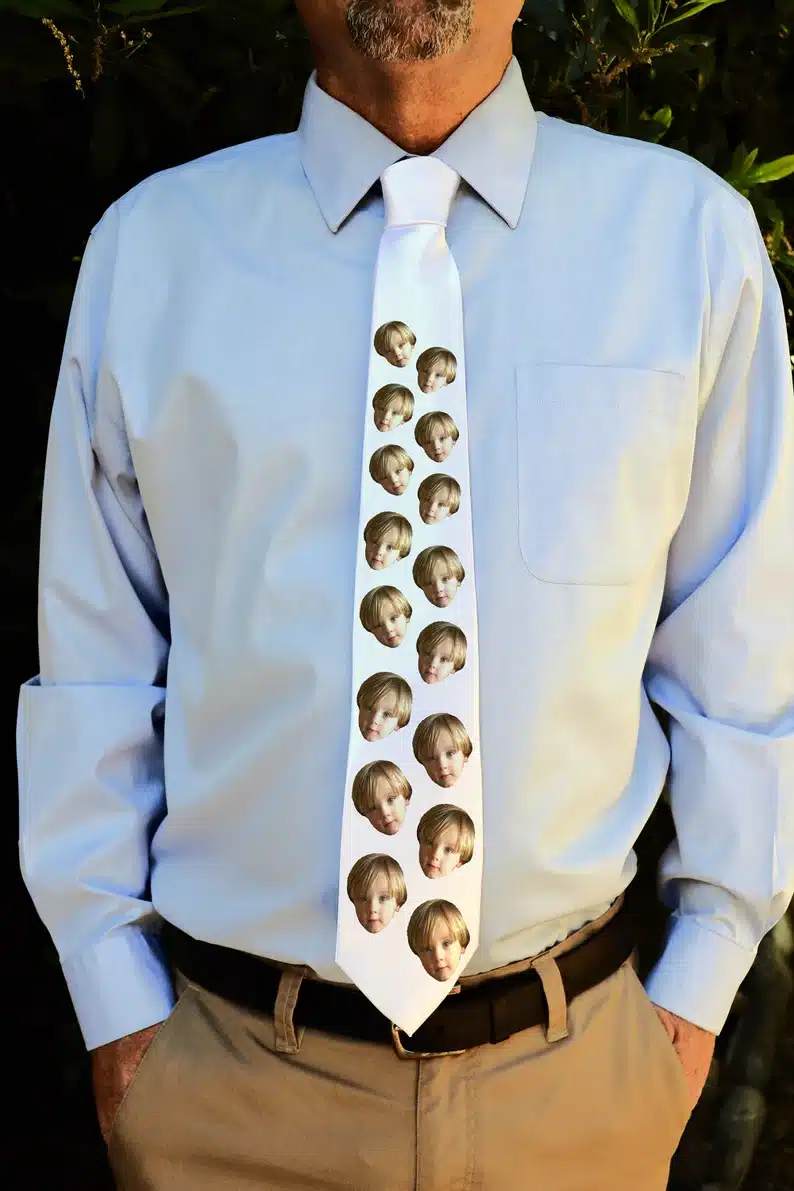 Custom Face Tie
Never let dad forget your beautiful face while he is at work. This custom face tie is sure to turn some heads (in a good way…I'm pretty sure). You can even add more than one face so every kkid can shine.
Best Farter Ever Hat
Baseball hats are always a great gift idea and this one lets dad know he truly is the best in many ways.
Candle
While we are on the topic of farting, how about this gentle reminder for dad to light a candle after he lets one rip?
Fish Flip Flops
Is your dad really a fishing fan if he doesn't own these amazing fish flip flops! These are beyond stylish! The best part? They come in many different colors, so why not buy him a couple.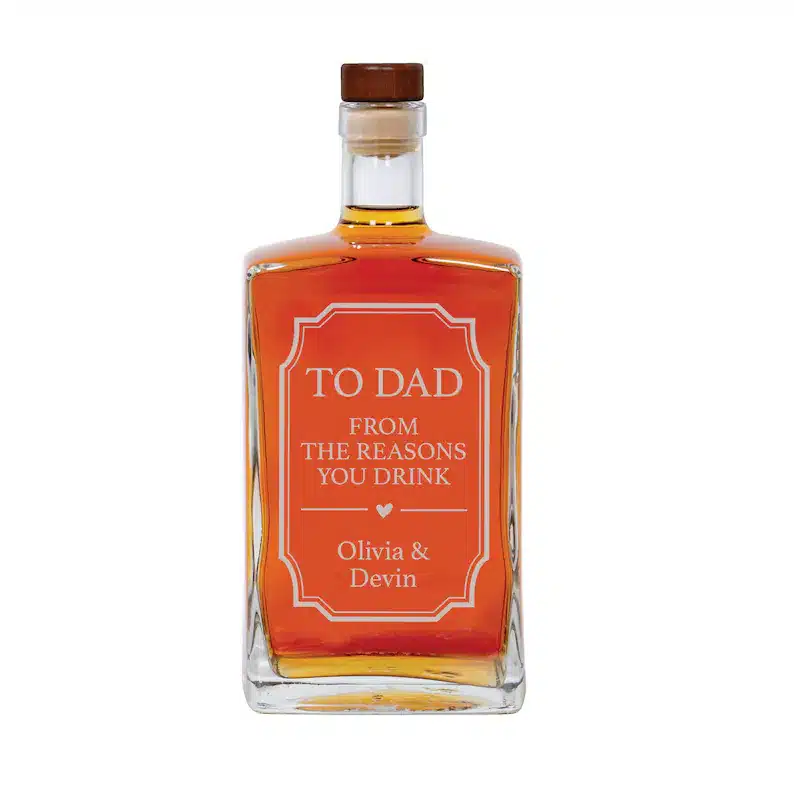 Personalized Whiskey Decanter
Calling all Whiskey fans! This personalized decanter is the ultimate gift for this Father's day! After all you are the reason he may need a couple drinks.
Best. Dad Jokes. Ever.
Maybe your dad needs to work on their dad jokes or is in desire need of new ones. This book is the perfect gift for him!
Toilet Timer
The running joke is how long dad's spend on the toilet. This funny toilet timer is a great gift to remind them everyone's time in valuable, so hurry up!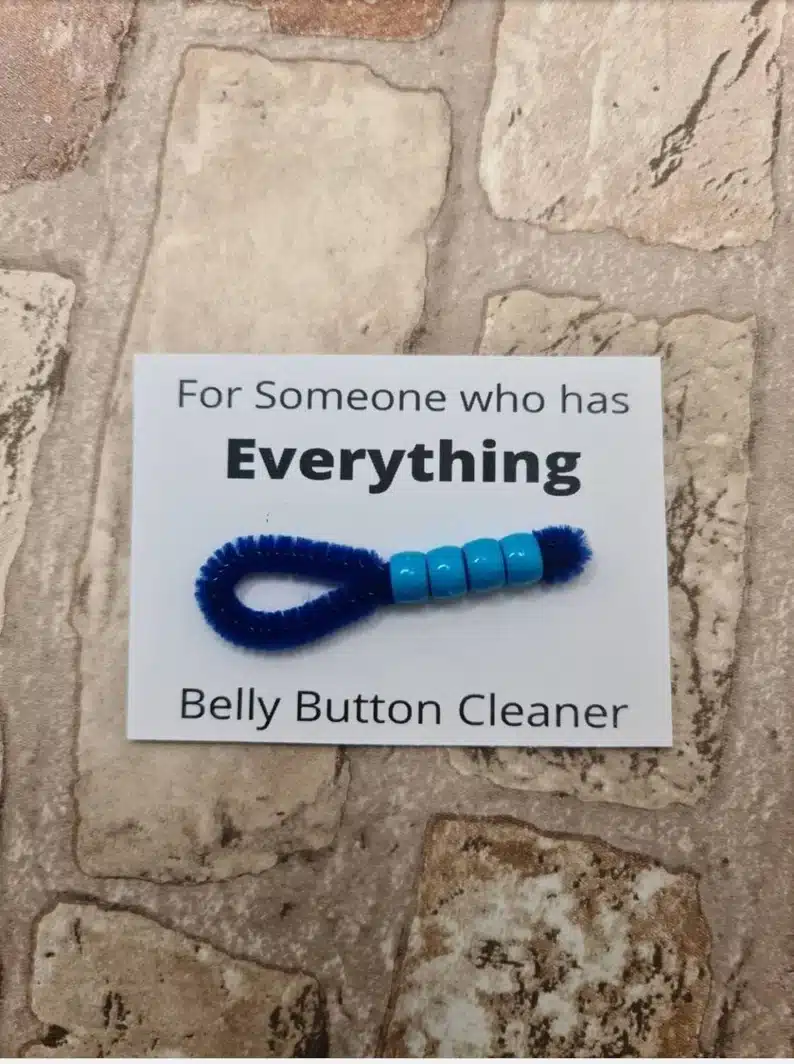 Belly Button Cleaner
For the dad who has absolutely everything! This funny little belly button cleaner is sure to make dad laugh.
There you have it. The best collection of funny Father's Day gifts. Hopefully you found something perfect for dad that'll make him have a good laugh. If you need some ideas for what to make on Father's day check out this list of easy lunches kids can make for dad on Father's day.