Disclosure of Material Connection: Some of the links in this post may be "affiliate links." This means if you click on the link and purchase an item, I will receive an affiliate commission. Disclosure in accordance with the Federal Trade Commission's 16 CFR, Part 255. This site is a participant in the Amazon Services LLC Associates Program, an affiliate advertising program designed to provide a means for sites to earn advertising fees by advertising and linking to Amazon.
Stockbrokers has to have a lot of knowledge and experience in buying and selling stocks. They help their clients make wise investments, most of the time, and when they do, you may want to get them something to thank them. Maybe you even know one as a friend or family member, and need to get them something awesome for a holiday or special occasion. Check out these ideas here to get you off on the right path.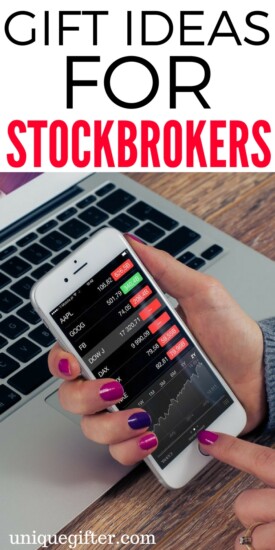 Unique Gift Ideas For Stockbrokers
Pursuit of Happyness DVD
In the Pursuit of Happyness movie, Chris becomes a stockbroker after much hard work and struggle, meaning that it can be an inspirational movie for your stockbroker to watch even if they have seen it many times already.
"I turn coffee into money" Coffee Mug
Your favorite stockbroker drinks coffee in the morning, and turns that coffee into money throughout the day.
"Invest like a pro" Coaster Set
Their favorite advice is likely to "invest like a pro."
100 Dollar Bill Canvas Art
This one hundred dollar bill canvas art will look great somewhere in their home or at the office.
Bitcoin Soap
Bitcoin decorative soap will look great in their bathroom or kitchen, reminding everyone who comes through their home of what they do.
"Stockbroker but only because hero is not a job" Shirt
Hero isn't a job title, so they had to become a stockbroker, of course!
Sell and Buy Cufflinks
Every stockbroker needs sell and buy cufflinks to go with the suit he wears to work.
"Stockbroker? Do you mean Stock Market Wizard" Coffee Mug
They are a stock market wizard, stockbroker doesn't do them justice!
Stockbroker Uniqued Framed Collectible with Personalized Engraved Plate
A great piece of wall decor for their office or home to keep them inspired and working hard.
Bull and Bear Bookends
The bull and bear are markets in the stock world, it's only natural that your favorite stockbroker would use them as bookends.
Half Asleep in Frog Pajamas by Tom Robbins
This novel is a great read, with an entertaining story about a not-so-ethical stockbroker.
"I love hedge funds" Baby Bodysuit
For the stockbroker's baby, they need an "I love hedge funds" bodysuit. Not only is it adorable, but it's a great conversation starter too.
Buy Low, Sell High Cufflinks
Any stockbroker knows that it is important to buy low, and sell high, and they can wear these cufflinks to work as a reminder either way.
The Wolf of Wall Street Movie
Another great movie about stockbrokers is The Wolf of Wall Street. It is even more of a perfect movie if they are a fan of Leonardo DiCaprio.
Frankincense Money Candle
For their home or office, the frankincense money candle will work great to keep things smelling better and still look stylish and fitting too.
Changing the Rules: Adventures of a Wall Street Maverick by Muriel Siebert and Aimee Lee Ball
A true story about a woman who became a stockbroker, perfect for the woman stockbroker in your life who fought to get where she is today.
Marble Black and Gold Phone Case
Gold is a lovely representative of riches, which means this marble black and gold phone case could be the perfect gift for them.
Personalized Money Clip
Every stockbroker certainly needs a money clip that is personalized with their initials.
The Big Short Movie
Movies about stockbrokers are sure to be a hit, unless your favorite stockbroker is sick of watching them, which is completely possible.
"Price is what you pay, value is what you get. -Warren Buffet" Typography Instant Download
What you pay is the price to do business, but with a quality stockbroker, you get a ton of value in exchange.
No matter the occasion, these stockbroker gifts will make an excellent gift for the broker in your life. You can say thank you, happy birthday, or congratulations so easily with these ideas!