Disclosure of Material Connection: Some of the links in this post may be "affiliate links." This means if you click on the link and purchase an item, I will receive an affiliate commission. Disclosure in accordance with the Federal Trade Commission's 16 CFR, Part 255. This site is a participant in the Amazon Services LLC Associates Program, an affiliate advertising program designed to provide a means for sites to earn advertising fees by advertising and linking to Amazon.
Your favorite couple is getting married or celebrating a momentous occasion together, and you want to help congratulate them by giving them a thoughtful and amazing gift that they will love! These are some of the best hers and hers gifts! Check some of them out to see what your favorite couple might really love for their wedding or anniversary gift!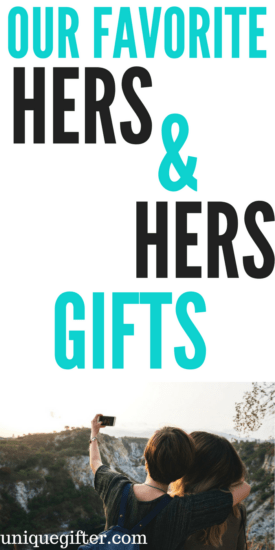 I'm Hers, She's Mine Matching Coffee Mugs
There's nothing better than sitting at the kitchen table with matching coffee mugs to drink their coffee from and these are super cute, each claiming the other as theirs.
Wifey & Wifey Pillow Cases
Help them decorate their bed with these double "Wifey" pillow cases!
Her One, Her Only Necklaces with Dates and Initials
With these necklaces, they can put the date they got married or started dating, as well as their initial on each. Plus they show their unity by wearing the matching necklaces.
"Bride with pride" Tank Top
Help them show their pride while they plan their wedding with this tank top, just make sure to get two of them so they each have one to wear.
She's a Catch, She's a Keeper- Harry Potter Throw Pillow Covers
If one or both are a fan of Harry Potter, these "She's a Catch" and "She's a Keeper" throw pillow covers are awesome for displaying on their couch!
Mrs. and Mrs. Wine Glasses
These matching Mrs. and Mrs. wine glasses are absolutely perfect for them to drink wine together out on their porch, or to have a nice relaxing night together watching a movie.
Personalized Queen Pillow Cases
Personalize these queen pillow cases with your favorite couple's names and they'll love them forever.
Hers and Hers Set of 2 Bracelets
Sort of like combining matching rings or BFF bracelets, hers and hers bracelets are a symobilism of unity and teamwork.
Stainless Steel "Key to Heart" Rainbow Crystal Couple Necklaces
Help your favorite couple show their love for each other, and how much they are connected, with these key to heart couple necklaces.
"Mrs. Cooks it All" and "Mrs. Eats it All" Matching Aprons
One of them cooks, the other one enjoys eating what they cooked. Perfect aprons for the perfect team!
Together Forever Stainless Steel Heart Puzzle Necklaces
Connecting puzzle piece necklaces that put on display how their hearts are connected, and they make each other whole, are such a nice and thoughtful gift that they will cherish!
Hers and Hers Matching Wooden Coasters
A nice homey gift to adorn their living room with, one for each of them to set their drinks on and protect their tables in style.
"Hers Sip Happens" Matching Wine Glasses
Stuff happens, sometimes they need a glass of wine to drown out the bad stuff together. That's what having a partner means.
"BFF because everyone else sucks" Matching Shirts
They are not only lovers, but best friends forever. They need these matching shirts to wear!
Hers and Hers Towels with Tote Bag
Monogrammed towels are a must when a couple get married, and these hers and hers towels come with a choice of colors!
Mrs. and Mrs. Ring Dish
To put their wedding rings in when they're not wearing them, this lovely Mrs. and Mrs. two-sided ring dish is a lovely choice.
Mrs. and Mrs. Cat Matching Coffee Mugs
On each of these mugs is a cute cat wearing jewelry. If your favorite couple are cat lovers, the mugs will be even better of a fit for them.
Handstamped Bride and Bride Wedding Forks
A great gift for their wedding, hand stamped matching bride and bride wedding forks. More for decoration than anything else but beautiful nonetheless.
Her One, Her Only Puzzle Piece Keychains
Her One, Her Only fitting puzzle piece keychains are the perfect place for them to put the ring to their shared house or car on.
Show how happy you are for your friends with any one of these gifts. They are certain to please!