Disclosure of Material Connection: Some of the links in this post may be "affiliate links." This means if you click on the link and purchase an item, I will receive an affiliate commission. Disclosure in accordance with the Federal Trade Commission's 16 CFR, Part 255. This site is a participant in the Amazon Services LLC Associates Program, an affiliate advertising program designed to provide a means for sites to earn advertising fees by advertising and linking to Amazon.
If your aunt has been there for you thick and thin, and is a mother herself, it is only natural to get her a gift for Mother's Day as well. Sometimes our aunts are like a second mother or step up to take on the roll of a mother in our lives, and then they definitely deserve a special gift this holiday. There are so many awesome things to choose from, and there are only some of them listed here!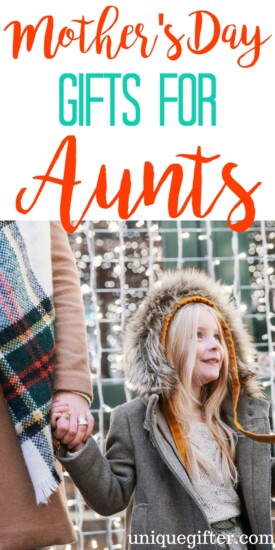 Mother's Day Gifts for Aunts
"You are always in my heart" Keychain
Your aunt will always be in your heart, no matter what!
Lemonade Wax Melts
Lemonade wax melts will get her house smelling like lemonade and summertime.
"Blessed aunt" Shirt
She is a blessed aunt, to have you in her life!
Teardrop Stud Earrings
Teardrop stud earrings will make her ears look even more elegant, and she can wear them with any outfit since they would go with both casual and dressy clothes.
"Aunts: like moms only cooler" Coffee Mug
An aunt is like a mom, but they are so much cooler. This mug will give her a smile every morning as she sips her coffee.
"My role at family functions is to look the best and drink the wine" Tank Top
Is your aunt's role at family functions to be dressed nice and drink all the wine? This tank top would be awesome for her to wear on relaxing days.
"Rings & sparkly things" Jewelry Dish
Every aunt needs a place to set all of her rings and other sparkly belongings, and what a pretty jewelry dish to put them in!
"Fairy godmother" Keychain
Your aunt is sometimes your fairy godmother, she makes your wishes comes true and adds to your life on so many levels.
Personalized Garden Apron
If she is a gardener, she needs a personalized garden apron to keep as much of the dirt off of her clothes as possible, especially when she decides it's a good idea to garden in her regular clothes.
"Only an aunt can give hugs like a mother, keep secrets like a sister, and share love like a friend" Shirt
Your aunt gives you hugs like a mother, keeps your secrets like a sister would, and shares love with you like a friend does.
Rouxbe Online Cooking Course
Does the aunts in your life love to cook? Splash out and get her an online cooking course from Rouxbe. There are tons of class choices and as a bonus, she can bake or cook you delicious delicious food while she takes a course! Click here to read a full review of Rouxbe.
Pink Infinity Scarf
This beautiful pink infinity scarf will go really nicely with her outfits and keep her neck warm or covered when necessary. Who needs a sunburn anyway?
"I love how we don't have to say out loud that I'm your favorite niece" Coffee Mug
It's an unspoken rule that you are her favorite niece!
"We love auntie" Wood Sign
If you go in on a gift with your siblings, this beautiful sign will make her day.
"An aunt is God's way of making sure we never walk alone" Tote Bag
You may feel like God made aunts to make sure you will never walk alone and that you will always have someone to lean on.
Floral Crochet Scarf
A unique scarf that is a floral crochet instead of cloth. It will catch the eye and be the envy of so many people who see your aunt wearing it.
Coconut Lime Verbena Scented Soy Candle
Every aunt needs a nice smelling soy candle to give their home a delicious aroma.
Proverbs 31:25 Print
Your aunt is so strong, so dignified. She needs this Proverbs 31:25 print to hang up on her wall at home and remind her that she has what it takes to move forward each day.
"Auntie est. _____" Bracelet
If you are your aunt's first niece or nephew, or your child is their first niece or nephew, this is a super cute idea to forever remind her of the year she became an aunt or great-aunt.
"My favorite person gave me this shirt" Shirt
Everyone knows, you are your aunt's favorite person!
"Creme de la Creme" Coffee Mug
She is the best of the best, but sometimes she needs a little reminder!
Spoiling your aunt for Mother's Day will make it even more special for both of you. You will make her happy and you will find joy in making her happy.