Disclosure of Material Connection: Some of the links in this post may be "affiliate links." This means if you click on the link and purchase an item, I will receive an affiliate commission. Disclosure in accordance with the Federal Trade Commission's 16 CFR, Part 255. This site is a participant in the Amazon Services LLC Associates Program, an affiliate advertising program designed to provide a means for sites to earn advertising fees by advertising and linking to Amazon.
Have you been trying to find the perfect first look gift ideas for him? If so, you are in the right place! I have compiled a list of presents that he is going to love. Men like to act like they are macho and aren't sentimental, but I promise on your wedding day he will be feeling extra lovey and mushy! You can give him something that is big and fancy or something that is more sweet, sentimental and meaningful to your relationship. Your options are really endless. The most important thing is that you are marrying the love of your life and that you want to give him a little token of your appreciation. Take a look at these first look ideas.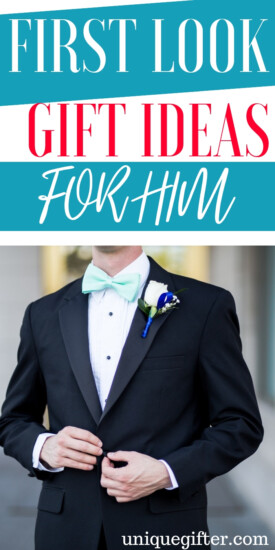 20 Creative First Look Gift Ideas For Him
Show the love of your life how much he means to you with any of these presents.
Handkerchief
This sweet handkerchief is a beautiful souvenir for the beautiful day when you become husband and wife. Your hubby will love how thoughtful it is.
Watch
This watch is made from sandalwood and can be personalized. It is sleek, stylish and he will think of you every time he checks the time.
Personalized Cufflinks
These cufflinks can be personalized with words from your wedding song. What a meaningful gift he will cherish all the days you are together.
Cold Feet Socks
Don't worry; he won't have cold feet when you give him these comfy and hilarious socks! You will both get a good laugh and will be able to relax a little once you see each other.
Song Lyrics Art
This elegant and stylish art piece would be a sweet gift that he will love for a long time. You can capture the words of your love for your groom with this piece.
Bullet Shaped Whiskey Stones
If your groom loves guns and whiskey, he is going to be excited when he opens his gift. These stones look cool and will keep his whiskey cold without watering it down.
Wooden Beer Mug
You can enjoy hot or cold drinks out of this mug. It is made of oak and looks fabulous. Personalize it with the details of your wedding day or another particular phrase.
Claw Hammer
Is your future husband a handyman? He will think it is incredible to have such a cool hammer. It will mean a lot if you put a personal message on it too.
Pocket Knife
Everyone needs to have a pocket knife and what would be better than one that is customized? The blade is stainless steel and comes with a pocket clip.
Wooden Organizer
You can choose the type of wood and wording for the organizer. He can store his keys, sunglasses, ring, phones and more all in one spot. It is convenient and looks terrific.
Personalized Underwear
Personalized underwear is a perfect gift that is flirty, fun and romantic! Plus, he will love being yours!
Guitar Pick
If your future husband loves to play music or just listen to music, he will love this customized pick! Each one is custom made, and hand stamped.
Cigar Labels
Give him these unique labels with some cigars so he can have one with each exciting event that happens during your marriage. You will have to buy the cigars separately.
Customized Wallet
Pick a phrase or quote that is special between the two of you, and he will melt with emotion. Each time he opens his wallet he is bound to think of you!
Bottle Opener
Your groom can use this bottle opener for years and years to come, and each time he will think of your wedding day. Plus, it looks fantastic!
Tie Patch
I love this tie patch, it is so sentimental, and he will know when he sees you walking down the aisle how much you love him.
Passport Holder
If the two of you are going on a honeymoon or just love to travel, he will be grateful for this passport holder. It is leather and can be customized.
Laser Engraved Cross
A thoughtful gift to commemorate your wedding day. It is beautiful and made of cherry. Personalize it and add your own flair.
T-Shirt
If your man is a gamer, he will love this first look gift! It adds some humor to a stressful, but magical day.
Atlas Art
Tell your love story in this piece of art made from an atlas. It is unique, fun and makes a terrific gift for your future husband.
Which gift idea do you think your future husband is going to like the most?