Disclosure of Material Connection: Some of the links in this post may be "affiliate links." This means if you click on the link and purchase an item, I will receive an affiliate commission. Disclosure in accordance with the Federal Trade Commission's 16 CFR, Part 255. This site is a participant in the Amazon Services LLC Associates Program, an affiliate advertising program designed to provide a means for sites to earn advertising fees by advertising and linking to Amazon.
No more restless kids when you use this FREE printable rainy day scavenger hunt idea! Keep your children from being super bored and help entertain them with this awesome free scavenger hunt. If you live in an area that gets a lot of rain, I don't need to tell you that children will be practically crawling up the walls if you don't give them something to do. I thought you would enjoy this fun activity almost as much as they will.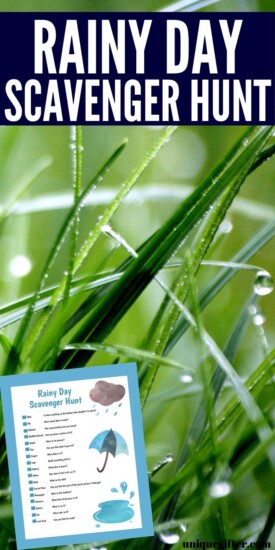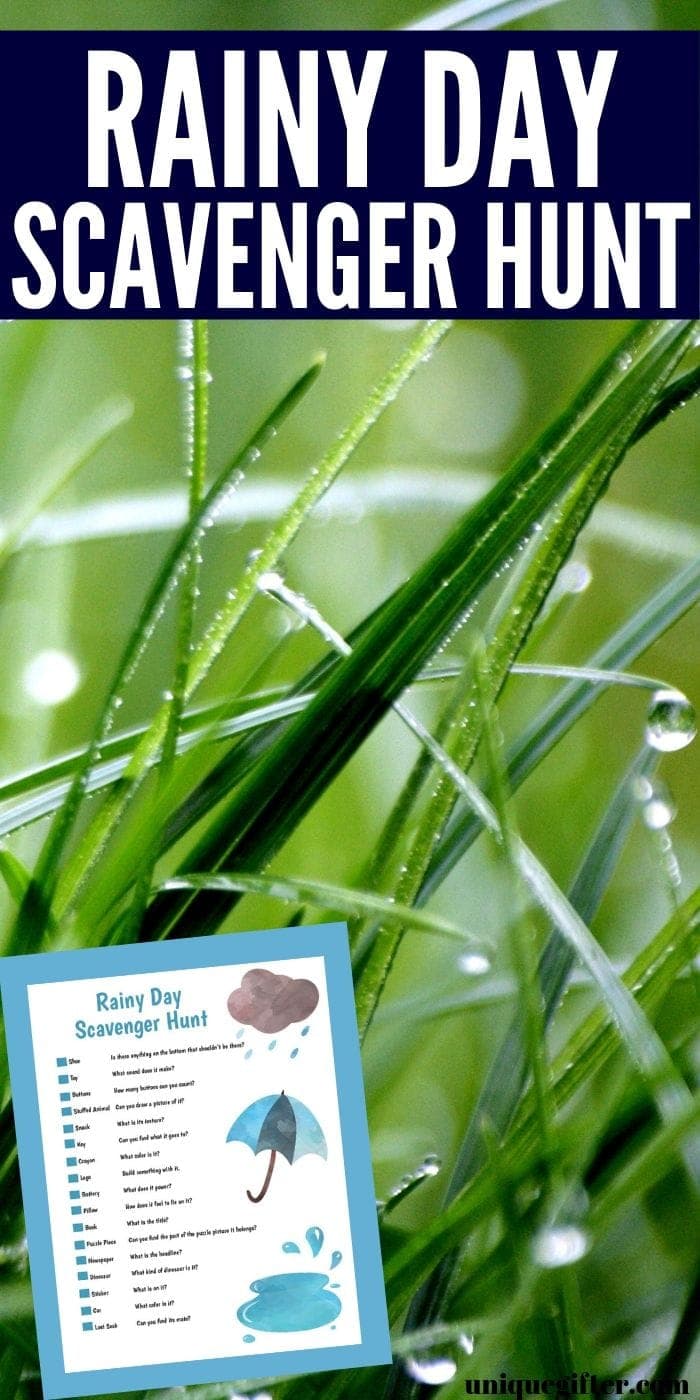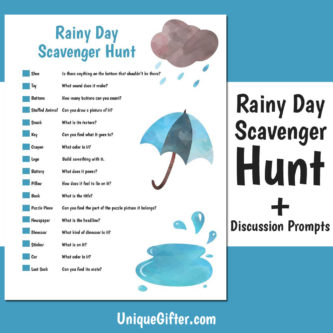 How To Download Free Rainy Day Scavenger Hunt
You will be pleased to know it's practically effortless to download your rainy day scavenger hunt! All you need to do is enter your email address in the form below, and we will zap that baby right to you! Super easy and minimal effort on your part. Then you can print your free scavenger hunt as many times as you wish. This is great for daycares, or you can even have an indoor scavenger hunt for kids while they are in school too.
Scavenger Hunts For Kids
While these scavenger hunts are aimed at younger kids, you could make them harder for older kids. Instead of just giving them the list and them finding the items in a few minutes, maybe give them a super quick time limit. You could say, 20 seconds or something crazy! They will love to beat the clock and will enjoy being involved. Take a look at the website Riddle Me, for some other unique and creative ideas to keep the older kids involved.
Prizes For Rainy Day Scavenger Hunt
Prizes aren't a necessity, but they are a blast to receive. Plus, kids are often motivated by small trinkets and items. You can give out prizes to the fastest person, most creative, best leader, or anything else you could think of. Here are some of my favorite ideas:
Umbrellas – I don't care how old you get, an umbrella is always fun to have. Kids will laugh and smile when they have an umbrella, so I know you can't go wrong with this prize idea.
Parachutes – These hand throw parachutes are a BLAST! Yes, they should probably be played outside, but if you have a space in your home without breakables, the kids will go wild with them.
Rock Painting – Let your kiddos get super creative with these rocks. They can paint all sorts of things that fit their personalities.
More FREE Scavenger Hunts
We have all kinds of free scavenger hunts for the kids. Take a look at these links to get access to them.
Don't Forget To Sign Up!
Just add your email below and you will be all set!