Disclosure of Material Connection: Some of the links in this post may be "affiliate links." This means if you click on the link and purchase an item, I will receive an affiliate commission. Disclosure in accordance with the Federal Trade Commission's 16 CFR, Part 255. This site is a participant in the Amazon Services LLC Associates Program, an affiliate advertising program designed to provide a means for sites to earn advertising fees by advertising and linking to Amazon.
Load up the kids and head on an adventure with this FREE printable park scavenger hunt! The park is always a wonderful place to take the kids to unwind and just have some good old fashioned fun. Going to visit the park can be so much more than just playing on the swings, merry-go-rounds, and sliding down the slipper slide. If you bring along a park themed scavenger hunt, the kids can be even more in tune with the world around them. They will enjoy searching around for all the items on their list.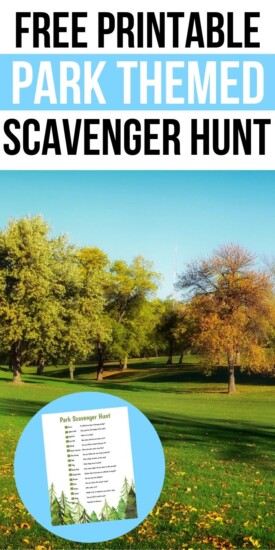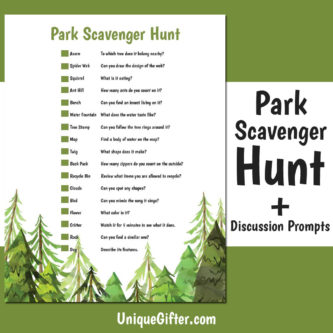 Download Your FREE Printable Park Scavenger Hunt
You don't have to do anything crazy to get your download of this printable park scavenger hunt. Just type in your email address and then we will email it to your inbox. That's it! Print it, gather the kids, and head to the park. The best part is that you can make as many copies as you wish; there is no limit!
Outdoor Scavenger Hunt For Kids
There are days when you get stuck indoors for whatever reason. On those beautiful weather days, you don't want to waste them being cooped up inside. Get out and go on an adventure. It doesn't have to take a day, just a simple trip to the park and the fun will take over. The best part of outdoor scavenger hunts is that you get to experience nature, breath the fresh air, and work as a team to find everything on the list. If you have older kids joining in, make it a little more difficult by giving them a time limit. They will still have a blast trying to beat each other, and you will feel good about entertaining them all. If you are looking for some other ideas, check out Riddle Me. It's a fabulous website all about scavenger hunts. SO MUCH FUN!
Park Scavenger Hunt Prizes
You don't have to choose expensive or lavish gifts. In many cases, the kids are happy with picking up a few rocks along the way. If you are working with a large group, it is even more exciting to know there is a prize at the end. It teaches kids if you work really hard, good things happen. Here are some unique ideas to try out:
Wooden Tree Rustic Pencils – One thing is for sure, kids always get a kick out of pencils. These are really awesome too!
Sticky Hands – Okay, these sticky hands are a blast no matter how old you get. ;)
Glow In The Dark Slime – We all know that slime is a favorite of all ages of kids. This prize will be a fan favorite!
Download Even More FREE Printable Scavenger Hunts
You have SO many choices when it comes to these free printable scavenger hunts. Download them all!
Enter your email below to get your downloadable scavenger hunt!